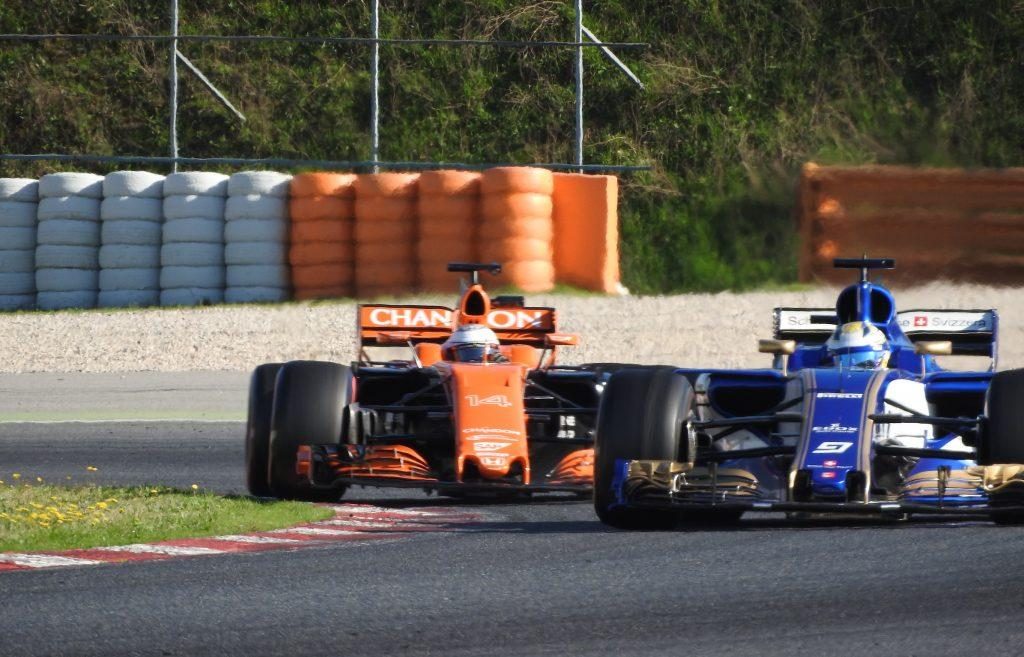 Last week, we spent a couple of days at Circuit de Barcelona Catalunya during the first week of 2017 F1 preseason testing. With a new set of technical regulations, it was an opportunity to see the latest generation of Formula 1 cars in action for the first time, and get some sun after a long European winter.
All images

©

f1destinations.com
The new cars look awesome, despite the sharkfins…
Unsurprisingly, Mercedes impressed in Barcelona, racking up lots of track time on their way to the fastest lap of the week, though Ferrari were also on the pace. The wider cars with fatter tires are a big improvement and several teams, notably McLaren, Toro Rosso and Sauber, have gone for new liveries. From our perspective, the latter two teams have done a great (paint) job, but the McLaren looks more like a midfield GP2 car; let's hope it's faster than it looks!
Circuit de Barcelona Catalunya is excellent for spectators
Having been to around half the current F1 calendar in the past few years, Circuit de Barcelona Catalunya ticks a lot of boxes for the F1 spectator. The circuit has lots of natural elevation, which makes for great general admission viewing. It's also small enough to easily navigate, and you can walk the whole perimeter of the circuit, which is not possible at most current F1 venues. The fact that the organizers also offer Free Friday (where you can sit in all the grandstands) on Spanish Grand Prix weekend is an added bonus.
You need to wear comfortable shoes…
Just two entrance gates were open for testing (gates 1,3) and entry cost
€
20 per day. Only a handful of grandstands were open (learn more
here
), notably the main grandstand and the G grandstand in the stadium area, but it was possible to wander around all the general admission areas. The cars are allowed on track for 8 hours per day; from 09:00-13:00 and 14:00-18:00. It was quiet on the track at times, but a couple of cars were circulating at most times. There were only two places to buy food and drink – behind the main grandstand (next to gate 3) and behind grandstand G (next to gate 1). The circuit remains a dry zone with only non-alcoholic beer on sale trackside.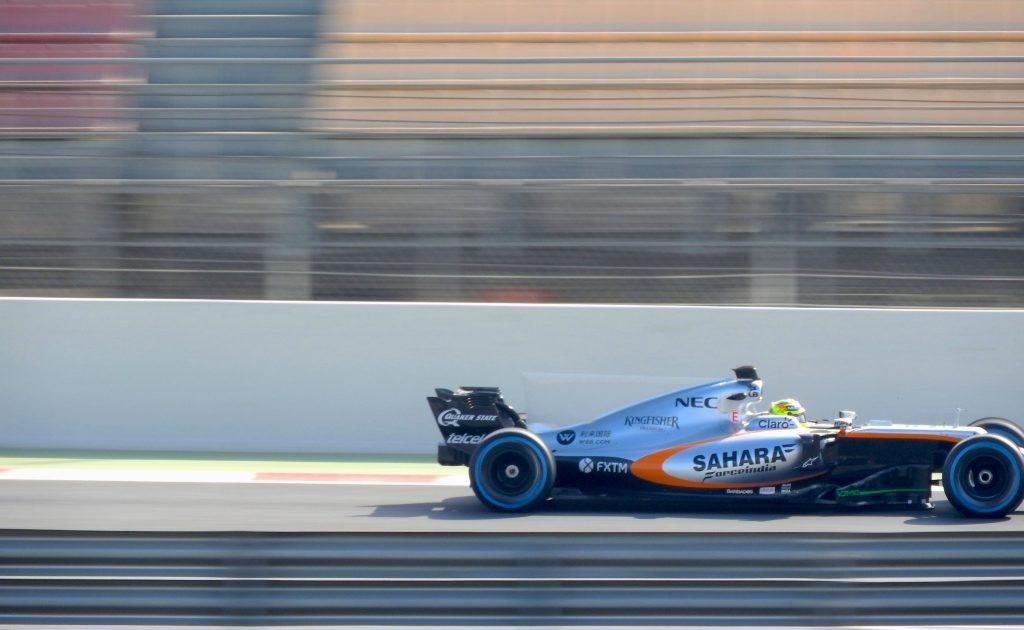 It's possible to take decent F1 photos without a professional camera
We used a Nikon Coolpix P610 camera with a 60x zoom to take all the photos in this article. We didn't use a tripod or any other equipment. The camera was on 'sport mode' for fast continuous shooting, but all the settings were automatic. As you can see, it's possible to get some decent photos using such a camera. Our favorite places for getting some good shots (more below) were on the exit of turn 3 for high-speed action and turns 14-15 for slow speed shots. With so much running time, there's also the opportunity to check out the cars in different light, especially at the end of the day (testing finishes at 18:00 and sunset at this time of year is around 18:30). The organizers also watered the track on Thursday to give the teams some running on a wet track, which offered another perspective for photography. There are countless vantage points in both grandstands and general admission areas at Circuit de Barcelona Catalunya; get out there and explore!
You need to get in early to book a circuit tour during F1 testing
Special guided tours of the paddock and circuit are offered during the testing days, but we were a bit slow and missed out when tickets sold out around 2 weeks before the first test. The average F1 fan doesn't get too many opportunities to go behind the scenes of the sport like this, so the 90 minute tour is good value at
€
50, including circuit access for the day.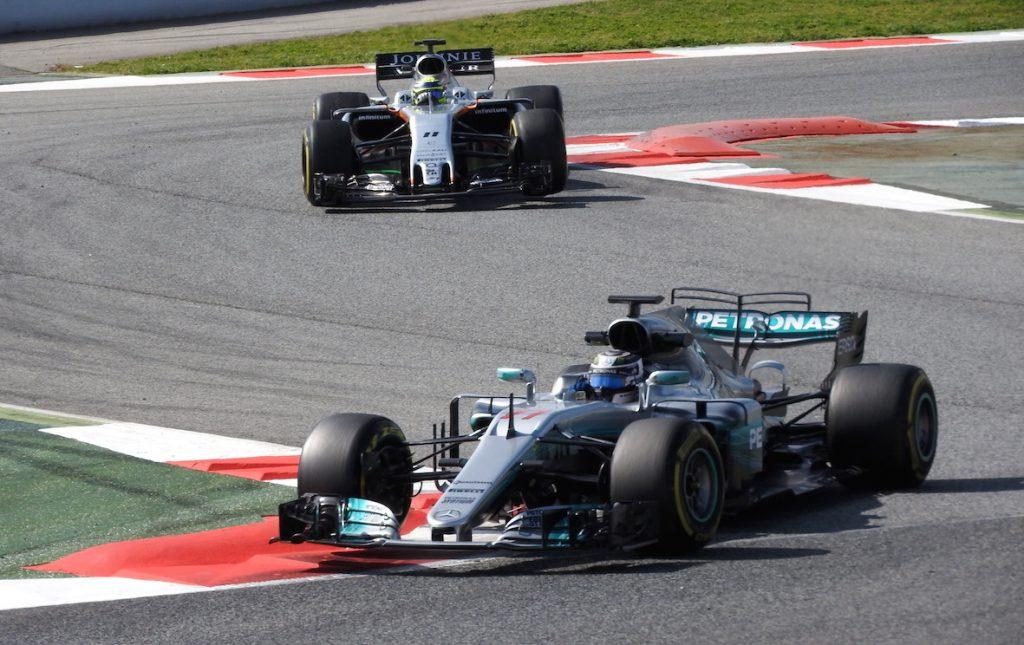 It's worth becoming a circuit member
If you are considering making more than one trip to Circuit de Barcelona Catalunya this year, it definitely pays to
become a circuit member
. There are different types of membership available, which include either general admission (Pelouse) or grandstand entry, but the key benefit is getting access to the Pelouse Privilege area, which is exclusively reserved for members. This zone is located on the inside of turn 1 and also offers views of turns 2, 3, 5 and 6. It was open during F1 testing, but you'll need to be a member for entry during the Spanish F1 GP in May and Catalunya MotoGP race in June. See below for some images of the member's area. Recommended!
The Williams body shop will be busy this year
We didn't see Lance Stroll hit the wall on the exit of turn 5, but we heard it from just a few meters away in the member's zone. We are still not sure how Stroll managed to lose it at this spot! It looked like a big impact and he took some time to get out of the car, but was fine. Sadly, this ended the week for Williams one day early, as the damage to the car was too much to repair overnight.
Staying on the Costa Brava and driving to the circuit is a good option
Flying with Ryanair into Girona airport and traveling with family, it made sense to stay on the Costa Brava coast and drive to the circuit each day. The 60km trip from Blanes to the circuit took less than an hour each way on the motorway and was easy to navigate with a decent GPS (tolls were around
€
4-5 each way). Parking was free at the circuit and there were plenty of spaces available next to gate 3, behind the main grandstand.
Barcelona is still an incredible city
Another advantage of the circuit from a tourist's perspective is its proximity to Barcelona, one of the world's great cities. Although we didn't stay in Barcelona this time, we did spend a day there and you should too if you are coming for the race in May. This was our second visit to the Circuit de Barcelona-Catalunya after attending the Spanish Grand Prix last May, and our experience at F1 testing confirmed that from the spectator perspective, it's high on the list of our favorite F1 tracks.
Click here to read our guide to 2017 F1 testing, which continues this week on March 7-10. Check out our 8-part travel guide to the 2017 Spanish Formula 1 Grand Prix, which takes place on May 12-14.