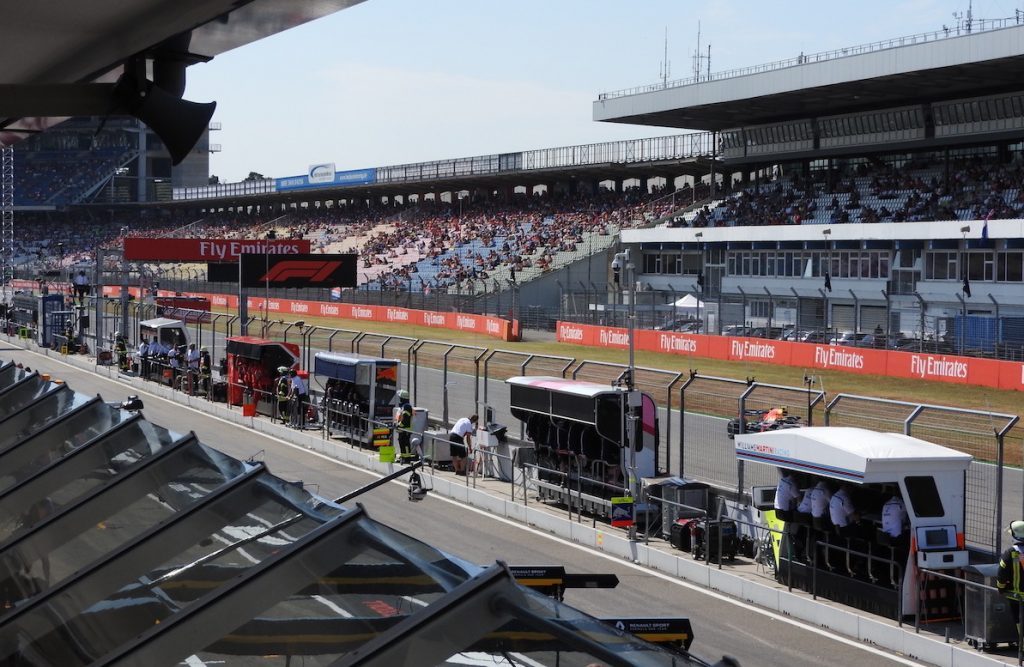 Get the most out of your trip to the 2019 German Grand Prix on July 26-28. Here's our trackside guide to the Hockenheimring, including the full on-track schedule.
With a compact stadium layout and plenty of passionate local fans, the trackside experience at the Hockenheimring is excellent. You are also free to check out the views from most of the grandstands on Friday, which is always an added bonus. One of the highlights of this year's schedule will be Mick Schumacher driving demonstration laps in his father Michael's all-conquering Ferrari F2004, in which he won the last of his seven World Championships. Unfortunately, the Hockenheimring misses out again this year on support from Formula 2 and Formula 3, which appear at most other European races. Instead, the support schedule in Germany includes ADAC Formula 4, Porsche Supercup and Renault Clio Cup racing.
Thursday, July 25
15:00-15:30: Formula 1 Pirelli Hot Laps
16:00-18:00: Public Pit Lane Walk & Track Tours For 3 Day Ticket Holders Only
18:00-19:30: F1 Experiences Exclusive Pit Lane Walk & Guided Track Tour
Friday, July 26
09:45-10:15: ADAC Formula 4 Practice
11:00-12:30: Formula 1 Practice (FP1)
13:00-13:30: Formula 1 Pirelli Hot Laps
15:00-16:30: Formula 1 Practice  (FP2)
17:00-17:45: Porsche Mobil 1 Supercup Practice
18:05-18:35: Renault Clio Cup
Saturday, July 27
09:45-10:25: ADAC Formula 4 Qualifying
10:50-11:20: Renault Clio Cup Qualifying
12:00-13:00: Formula 1 Practice (FP3)
13:55-14:25: Porsche Mobil 1 Supercup Qualifying
15:00-16:00: Formula 1 Qualifying
16:20-16:45: Formula 1 Pirelli Hot Laps
17:00-17:35: ADAC Formula 4 First Race
18:00-18:30: Renault Clio Cup First Race

18:45-19:00: Mick Schumacher demonstration laps
Sunday, July 22
09:30-10:00: Renault Clio Cup Second Race
10:25-11:00: ADAC Formula 4 Second Race
11:25-12:00: Porsche Mobil 1 Supercup Race
12:15-12:35: Formula 1 Pirelli Hot Laps

12:45-13:00: Mick Schumacher demonstration laps

13:30-14:00: F1 Drivers' Track Parade
14:00-14:15: Starting Grid Presentation
15:10-17:10: Formula One Emirates Grosser Preis von Deutschland 2019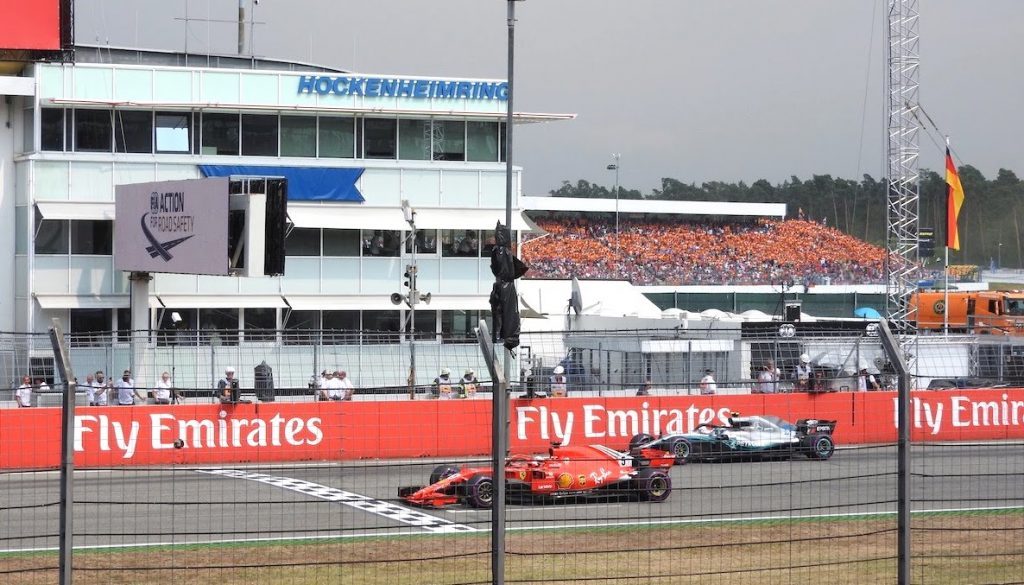 Grandstand Hopping on Friday
On Friday, spectators are free to check out the following grandstands: Südtribüne A-E-H,  Nordtribüne B, Innentribüne C and Mercedes-Tribüne A-F.
Access to the following higher-priced grandstands is restricted to fans holding tickets for one of the grandstands: Haupttribüne, Südtribüne Yellow, C &D and Mercedes G-M.
The following grandstands are closed on Friday: Südtribüne B-F-G, Innentribüne A/B & Nordtribüne A-C.
Explore the original Hockenheimring layout
For the younger fans; Before the current layout was introduced in 2002, the Hockenheimring was a high-speed track with long straights deep into the forest, devoid of spectators.  This layout featured legendary slipstream battles between drivers like Senna, Prost and Schumacher. After 2002 the old track layout was reforested. In areas where they drove cars at 350 km/h, it is now just grass and trees, but you can still make out the old circuit. For F1 fans who like adventure or just want a nice walk, this is the perfect place.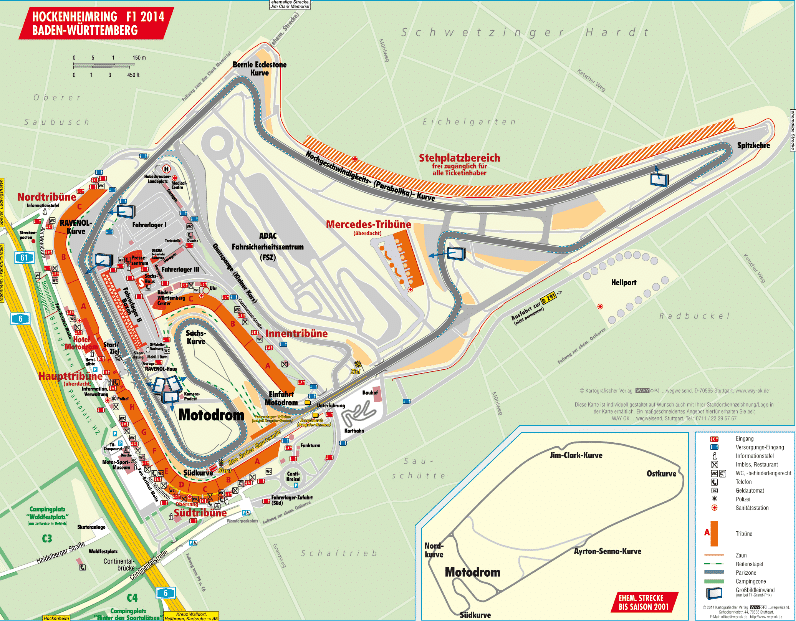 Hockenheimring Museum
The on-site museum at the Hockenheimring is worth checking out. Located between the South Grandstand and the A6 Motorway, entry is just €1 if you present a valid race ticket (otherwise €6). The display measures over 2000m2 and features 300 exhibits, including F1 cars from Zakspeed, ATS, Minardi, Benetton and Williams!
F1 Fanzone
As usual, the F1 Fanzone (located behind the Main Grandstand) has plenty of activities to keep you occupied when there's no action on the track. You can purchase the latest team merchandise or test your skills on various simulators and in pitstop and reaction time challenges.
Been to the Hockenheimring? Leave a comment with your trackside tips!