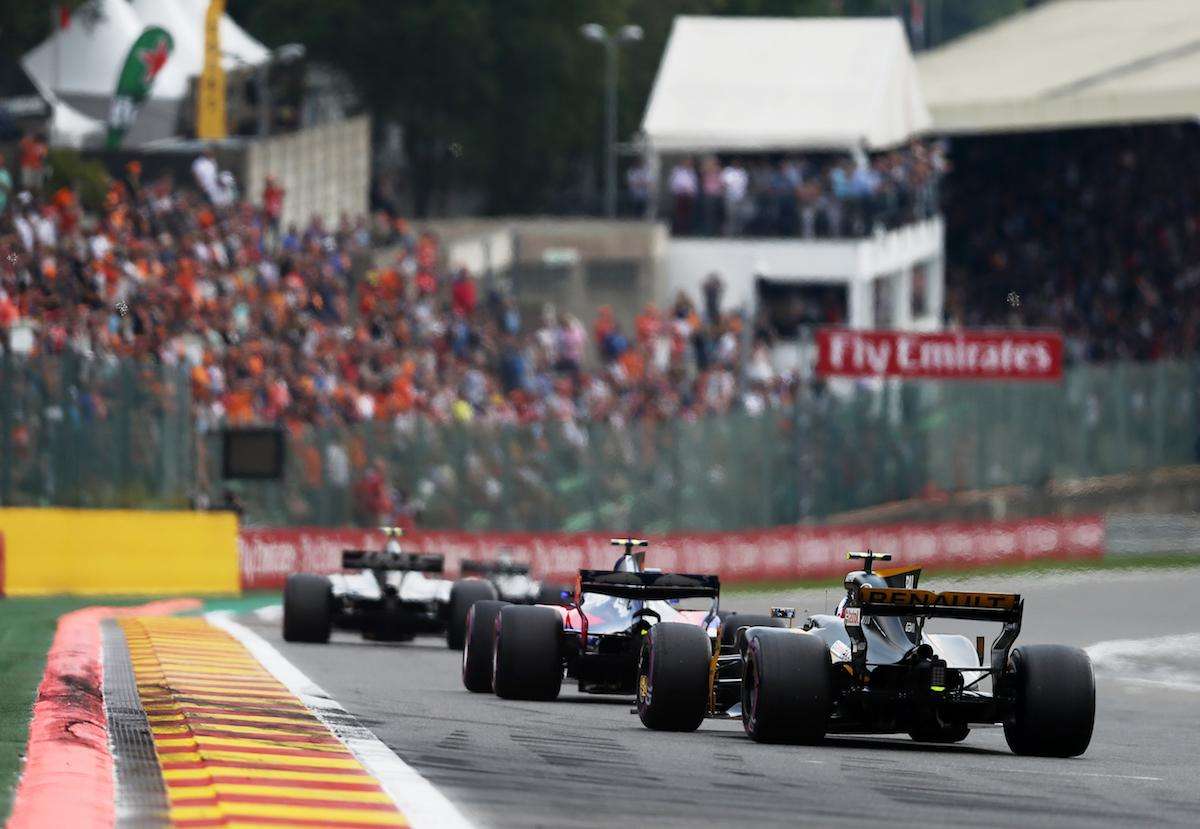 Spa Francorchamps was first used to host Grand Prix racing events as far back as 1925 and was also part of the first year of the modern World Championship in 1950.
In the early years, Spa Francorchamps was a treacherous 14km track designed for speed, which used mainly local public roads. The circuit hosted a round of the inaugural Formula 1 World Championship in 1950, with Fangio taking the victory. Spa remained on the F1 calendar until the late 1960s, but fatalities were common and drivers began voicing their concerns at racing on such a dangerous circuit.
The Belgian Grand Prix would move to other tracks at Zolder and Nivelles in the subsequent years before a return to Spa on a much shorter and safer 7km circuit in 1983. Apart from two years when the race wasn't held in the 2000s, Spa has remained a constant presence on the Formula 1 calendar ever since. Map of the old and new Spa circuits, overlaid (courtesy Wikipedia)
Michael Shumacher bursts onto the F1 scene at Spa in 1991
Schumacher made his Grand Prix debut for Jordan in 1991 at Spa, qualifying in an excellent seventh place. His race was over with a broken clutch on lap one, but he had made an instant impression and was poached by Benetton for the remainder of the season. One year later, he recorded the first of his 91 Grand Prix victories at Spa. The circuit remained one of his favorites; he recorded six victories at the track during his career, the most of any driver. At the 2017 Belgian Grand Prix, Michael Shumacher's son Mick did a parade lap in the 1994 Benetton that his father took to his first World Championship.
1998 Belgian Grand Prix
Held under atrocious conditions, the 1988 Belgian GP will be remembered for a series of accidents, notably a first-lap shunt involving 13 cars! After the restart, Michael Schumacher's Ferrari was eliminated from a commanding lead when he crashed into David Coulthard's McLaren as he tried to lap him. A furious Schumacher tried to remonstrate with Coulthard in the pits immediately after the incident. Emerging from the carnage, Damon Hill led home his teammate Ralf Schumacher for a Jordan one-two, the team's first ever F1 victory. Watch the highlights here.
Belgian GP: did you know?
The fearsome Eau Rouge/Raidillon corner, arguably the most famous on the current F1 calendar, features an elevation change of 35 meters from its lowest to highest point.
Of current drivers, Kimi Raikkonen has the best record at Spa with 4 victories (Lewis Hamilton has won 3 times and Sebastian Vettel twice)
Max Verstappen was born in Belgium to a Belgian mother, but decided to represent The Netherlands, where his father comes from. Nevertheless, Spa represents his defacto 'home race' and thousands of Dutch fans come out to support him here.
At 7.004km long, Spa is the longest current F1 circuit. Despite this, it has one of the smaller spectator capacities on the current calendar (70,000 fans)
Spa is not only famous for Formula 1. It also holds other popular annual events, including the Spa 24 hours and the 6 Hours of Spa Francorchamps for sportscars.
Circuit Name
Circuit de Spa Francorchamps
Race first held
1925
Track Length
7.004km (20 turns)
Race Distance
44 laps (308.052km)
Lap Record (2007-present layout)
1:47:263, Sebastian Vettel (Red Bull, 2009)
2017 result
1st Lewis Hamilton (Mercedes) 1:24:42.820
2nd Sebastian Vettel (Ferrari) +2.358
3rd Daniel Ricciardo (Red Bull) +10.791
Your detailed guide to buying tickets and where to watch the action at Spa Francorchamps for the Belgian Formula 1 Grand Prix.
Read Post
Tags: belgian grand prix, circuit de spa francorchamps, did you know belgian grand prix, history of belgian grand prix, spa f1 facts, spa francorchamps facts, spa francorchamps interesting facts, Spa-Francorchamps