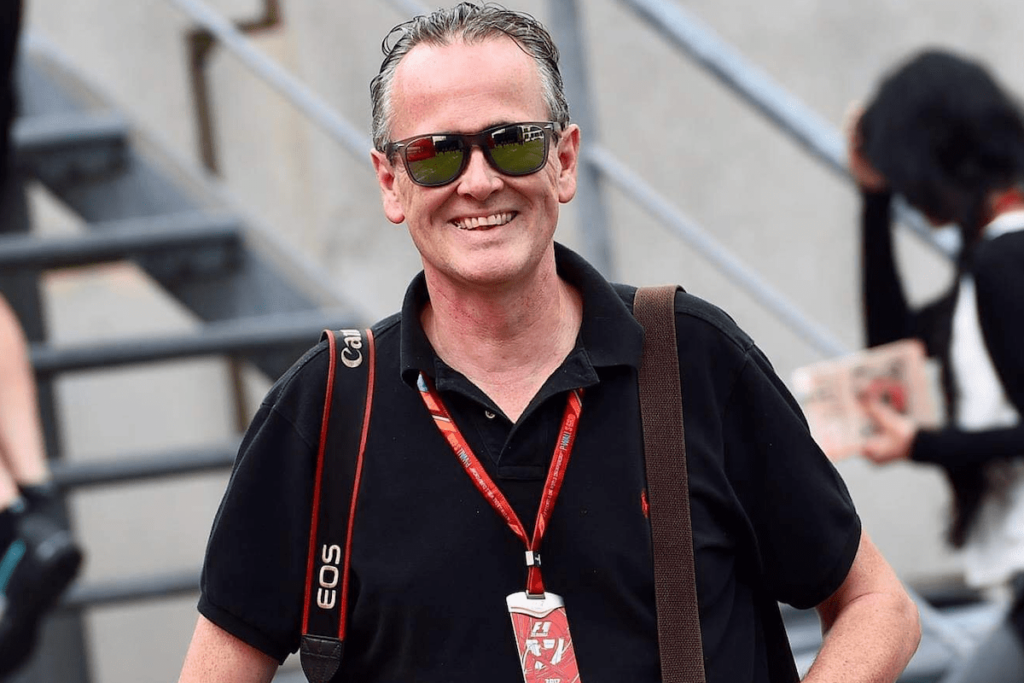 A veteran of 579 races, 54-year-old Steve Domenjoz is one of the hardest working photographers in the Paddock. We caught up with the Swiss to find out more about his life in F1.
All images © Steve Domenjoz
How did you get into Formula 1?
My brother Luc [Swiss F1 journalist and commentator] and I were big F1 fans growing up. We used to watch all the races on Swiss TV. My first live race was the Swiss Grand Prix at Dijon-Prenois in 1982. I was 16 years old and I took lots of photos…without remembering to put any film inside. A big disappointment! My career in Formula 1 started in 1985, when I was accredited by a very small swiss newspaper with a distribution of only 3000 copies. They didn't pay us, but the accreditation gave us the access. My brother Luc and I covered eight races in 1985, starting with Monaco. He wrote the text and I provided the pictures.
What camera kit do you use?
I use a Canon EOS 1 DX body and the following lenses: Sigma 12-35mm, 85 mm Canon at 1.2, 24-105mm Canon and my favourite, Canon 200mm at 2.0.
Who do you supply your photos to?
I'm the official photographer for the sporting department of Formula 1, headed up by Ross Brawn, which is in charge of all logistics and sporting action. I also provide some pictures to Heineken. I'm freelance but contracted by Formula 1. I deliver around 1000-1800 images per race, but many of these are technical pictures.
How does a typical F1 weekend look for you?
After arriving on Thursday and taking my place at the Media Center, I get straight to work and don't stop until well after the chequered flag. I follow a detailed brief to take pictures of all relevant installations, as well as all activity managed by F1 around the track – before, during and after the race. Formula 1 needs complete and detailed photos of all the installations at the track. The paddock, pit lane, support event paddock, vending area and Paddock Club. The list goes on. Those pictures are used to prepare next year's event. If Formula 1 decides to modify something at the track in the future, they work from my pictures. The brief I use is very long and detailed. In the Paddock Club for example, I need to photograph the guest areas, but also kitchens and toilets. Every detail. In terms of track action, I also need to provide pictures of the Top 3 qualifiers. I also shoot the drivers parade in wide angle, as well as the pre-race grid ceremony and the post-race podium. My mission also involves taking picture of the 4 trophies on the podium, 20 laps before the end of the race. Then I need to place them on the right side of the podium at the end of the shooting, ready to be handed out.
You also take aerial photos of the track, correct?
Yes, I'm also responsible for photographing all the tracks from the helicopter. Not a bad mission. Helicopter shoots are also very important. Formula 1 have maps and plans of all the tracks and paddocks, but a picture is more detailed and real. The helicopter flight is normally scheduled on Saturday after FP3. It's the same F1 helicopter that covers all the on-track action with an F1 cameraman all weekend. We only fly when F1 are not on the track, and for around 15-20 minutes. We tried once to do it during an F1 session, but we were up in the air too long and I felt sick, as the helicopter was following the F1 cars around the track. To do this job you need to be very precise with the way you shoot the ground. If not, your pictures will not be usable. I'm a qualified helicopter pilot myself since 2006, so I never feel scared doing this job.
Do you always stay in the same hotels and eat at the same restaurants on Grand Prix weekends?
I always travel with my friend Mario Renzi. He is an official photographer for F1 as well, but for the commercial department. We stay in different hotels most years, and we try to never eat at the same place during the weekend. My favourite hotels include the
Fairmont Bab Al Bahr
in Abu Dhabi,
Hotel Planamar
on the Costa Brava for the Spanish Grand Prix and the
Cosmopolitan Hotel
in St Kilda for the Australian Grand Prix. The
Grand Vista in Hanoi
is also fantastic, I was there in February, nice place. My favourite restaurants include
La Polpetta in Monaco
, not only on race weekend,
Baton Rouge
for ribs in Montreal,
Trattoria Pomo D'Oro
for good Italian food in Budapest
,
La Luna
next to Sochi Autodrom,
Fogo de Chão
in Sao Paulo and
Texas Roadhouse
in Austin.
You also have an F1 tour company?
My wife and I started SDF1 in 1999. We offer full travel packages for our Swiss-based clients. We normally have around 100-300 guests across the season and offer a very personalized service.
Best F1 travel memory?
When Ford was still involved in Formula 1, they offered some Swiss journalists and photographers, me included, the chance to fly to the Hungarian Grand Prix in a private Cessna Citation Jet. I was a VIP for one day in my life.
Most memorable F1 race you witnessed?
Brazil 2008, when Felipe Massa was World Champion for one minute only…looking at his defeated face on the podium was hard.
Favourite F1 host city?
I love Melbourne, it's my favourite host city. We always stay in St Kilda. Fantastic place, nice people and the first race is normally a good one. Not this year.