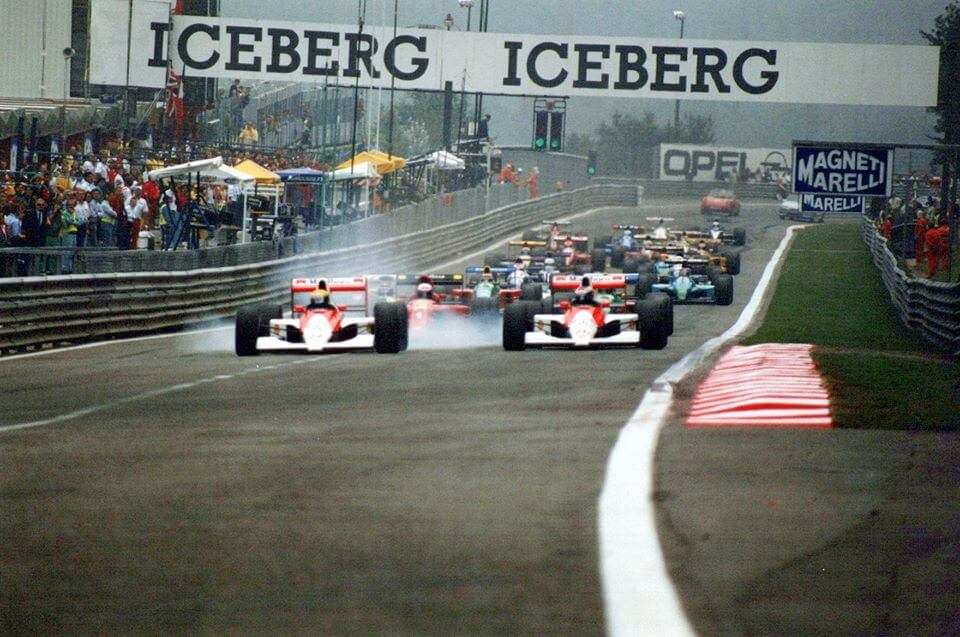 Nigel Barrett caught a lucky break at the 1990 Belgian Grand Prix and ended up working in the Paddock. He shares his memories and some awesome photos from the weekend. 
All images © Nigel Barrett
When did you first start watching Formula 1?
My first race was the British Grand Prix at Silverstone in 1973. My Dad had some contacts at Shell and got us tickets in the Woodcote Grandstand, which is right where Scheckter had his off that started the huge pile up. I can remember it like it was yesterday, and I was hooked!! Niki Lauda had a starring role that day, so I started following him. Little did I realize what a career he would have! I have been to every British GP since then – I am hoping to get my 50 consecutive races in, but that nasty virus may have put paid to that! I have also been to lots of overseas races – Monaco and Spa about 10 times each, Abu Dhabi, Melbourne, Magny Cours, Paul Ricard, Zandvoort, Osterreichring, Monza, and Barcelona.
How did you get to Spa and where did you stay?
I drove from my home near Birmingham to Dover, then took the Page and Moy coach from there. Spa is only about 4 hours from Calais by road. I think we stayed in Brussels near the airport, which was a bit of a hike each day, but it was cheap!
How did you end up working in the Paddock?
I met a guy on the coach that took us to the Belgian GP in 1990. He had an "all access" pass that had been given to him by the guy who ran FOCA TV, who was his old school friend. I said that would be great if he could get me one, but didn't think too much more about it. On Saturday evening, we were sitting on the coach ready to leave the circuit and he handed me one of the passes. I nearly passed out! After years of blagging my way into the paddock (and sometimes getting thrown out) I was going to be in legitimately!!
What was your exact role at Spa in 1990?
The slight catch was that we worked hard carrying the spare videos and batteries around for the cameramen, but we got to go everywhere. I watched the race (when it finally started) from the run off road at La Source! They must have liked what I did as they asked me to do more races but work and family commitments meant I only did another three; France, Britain and Spa (again) in 1991. By the end I had a more senior role. I had a radio connection to the control centre and would help the cameraman to be in the right place to catch action like pitstops.
How did a typical day at the track look like for you?
We would drive to the circuit, park up (we even got F1 car passes!) and then go to see the boss, Chris Davies, who would assign us to a cameraman for the day. We basically followed them around and carried all the spare equipment they needed. We would have lunch with the Minardi team and then help get all the stuff sorted for the next day. We would also help pack everything up at the end of the weekend. We walked miles! We didn't get paid but what an opportunity to get right in the middle of it!
Do any memories stand out from your time working in Formula 1?
I only did race day at Spa in 1990. They needed three starts to finally get the race underway and Martin Donnelly parked his broken car right by where we were standing. I also got to attend the post-race interviews with the top 3 drivers. Lunch in the Minardi hospitality tent was fabulous. We ate pasta of course and the people were so friendly. I am still good friends with Nick, the guy who got me the passes. What a lucky break meeting him!
At Magny Cours in 1991 I was told to go get Ayrton (my new hero since Niki had retired) for an interview that the TV crew had arranged. I had to go to the McLaren pit and catch his eye. He saw my pass and nodded, then about 5 minutes later he came and said hello, and we walked back to the control centre. I cannot remember everything we talked about, but I do recall he was really interested in what I was doing outside of F1 and was amazed that my day job was a Finance Director and that one of the FOCA TV crew helpers had a Porsche 911!
What camera were you using? How did you find time to take photos?
I had a Canon T90 with 100 and 400 lenses, I think. We weren't supposed to take photos as we were there to help the cameramen, but they knew what the score was and provided we were always really when they needed us it was fine. At the 1991 British GP I was busy in pit lane for the whole race and got no photos – although we did go on the grid and I got some great ones!!