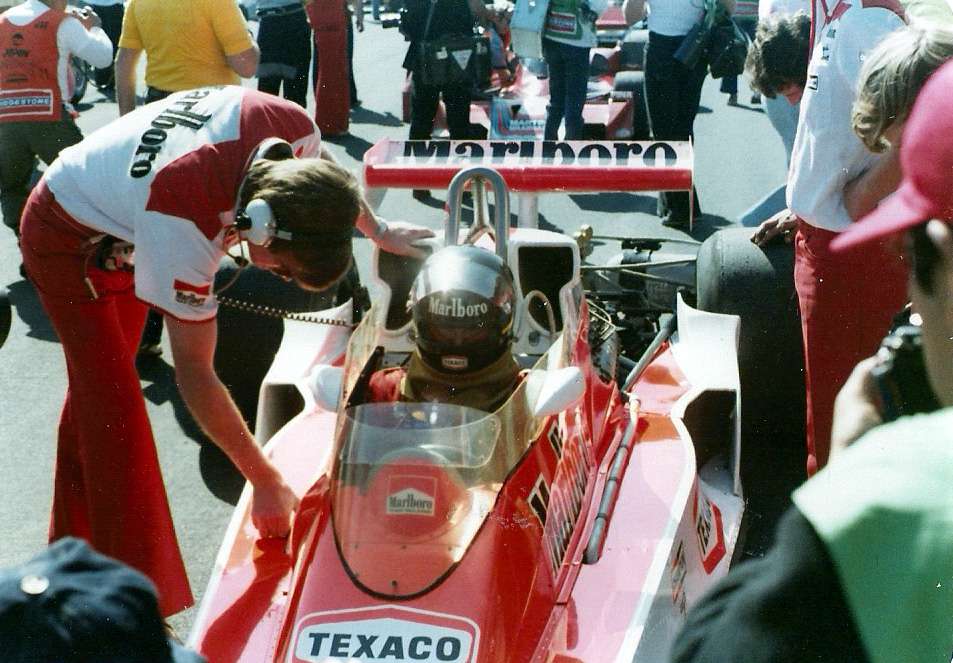 Kent Howell's job with Japan Airlines got him a trip to the 1976 and 1977 Japanese Grand Prix at Fuji Speedway. Here's his memories and original photos.
I was employed by Japan Airlines at JFK airport and was a long time F1 enthusiast. Word came that our London office had contracted with Bernie and the Formula 1 Constructors Association (F1CA) to transport the teams and cars from North America to Japan for the inaugural Japanese Grand Prix, then on London afterwards. Right up my alley! My role was to look after the logistics movements in North America.
1976 Japanese Grand Prix
The 1976 Japanese Grand Prix was held after the United States Grand Prix at Watkins Glen. The cars were transported to JFK and loaded on a Boeing 747F for their flight to Japan. The teams and many of the drivers traveled on one of our regular scheduled 747 passenger flights, which was a good opportunity for an enthusiast such as myself to get some good autographs and talk to drivers and team personnel before the flight departed. I was also given a Race Staff ID as I would be flying out a couple of days later to attend the race.
After arriving in Tokyo, I was invited to attend the official welcome ceremony where I got a nice picture with James Hunt. Race day dawned pouring rain and continued for most of the race.  This was the race where Nikki Lauda retired his car after the first lap due to the heavy rain and unsafe conditions. It was won by Mario Andretti and Hunt finished third; just enough to win the World Championship.  Due to the weather, I didn't get any pictures but I did get to watch the race in the very comfortable VIP areas and covered staff grandstand. My wife and four-year-old daughter were able to attend with me and they were glad to be out of the pouring rain!
1977 Japanese Grand Prix
In 1977, the race followed the Canadian Grand Prix, which was held at Mosport Park near Toronto. Japan Airlines sent a chartered Boeing 747F to Toronto for the cars. I traveled to Vancouver on Canadian Pacific Airlines with the teams, then connected with a Japan Airlines flight to Japan. My wife and daughter joined me again, but flew via JFK.
This time the weather was great and I got to spend the day in the pit and paddock with paddock passes compliments of Bernie and the Brabham team for my wife, daughter and the son of my Japanese colleague. It's incredible that the entire Brabham team at the time seemed to consist of about ten mechanics. You need twice that many these days just to change a set of tires!
The 1977 Japanese Grand Prix was won by James Hunt.  Since my wife is English, we decided to return to London with the teams. Of course, London was fogged in and we had to divert to Amsterdam.  Most of the European drivers wanted to get off there. It shouldn't have happened, but we managed to clear a few through Dutch immigration!