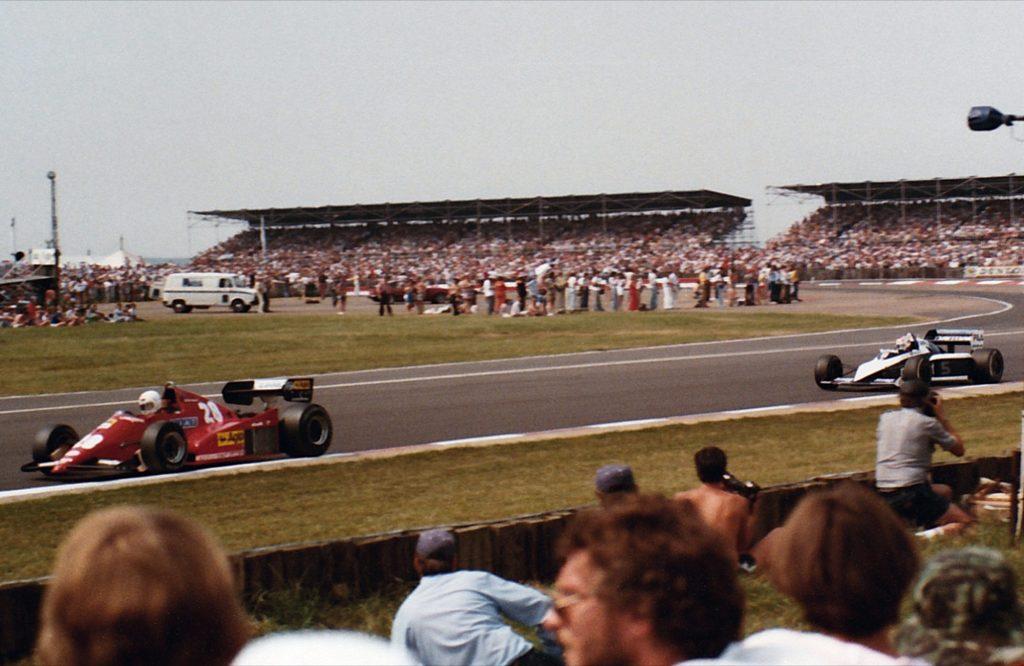 In our third historic trip report, Rob Rapson shares his memories – and awesome photos – from his visit to Silverstone for the 1983 British Formula 1 Grand Prix .
All images © Rob Rapson.
The 1983 British Grand Prix was only the second F1 World Championship event that I had attended, the first being the same race four years earlier. It was actually supposed to have been my third race, but our trip to the Belgian Grand Prix at Spa Francorchamps two months earlier had to be aborted en route when our car broke down in France! 
I was desperate to see another race and Silverstone was going to be it. Waking up very early on race morning, I jumped into my MKIII Ford Cortina and sped off to pick up my girlfriend. We bombed up to Silverstone, only to be stopped in our tracks miles from the circuit by a traffic jam that took four hours to negotiate. That was the last time I ever drove up on race day – never again!
It was a burning hot July day and after arriving we went straight for a pit lane walkabout. The cars were being prepared for the race and it was fantastic to be able to see them up close and take shots. I had never seen F1 cars in such close quarters and I was mesmerized. We also got to see many legends of the sport, including drivers who I had only ever seen in books, magazines or films. I saw Sir Stirling Moss on a scooter with his wife Susie and even managed to photo bomb him decades before it was invented!
The British Formula 3 race was held before the Grand Prix. Ayrton Senna and Martin Brundle were embroiled in their season-long fight for the title and finished the race first and second respectively, with Calvin Fish in third. Back then, Formula 3 was THE stepping stone to F1 and a title win in that series virtually guaranteed you an F1 drive so a lot was at stake for both of them.
By late morning the tension was starting to build, as it does on race day. People poured into the circuit looking forward to seeing a great fight at a classic track. René Arnoux was on pole with his teammate Patrick Tambay in second, followed by the Renault of Alain Prost, the Lotus of Elio de Angelis and the Brabhams of Riccardo Patrese and Nelson Piquet. We went round to the exit of Copse to wait for the start. 
After the cars had made their way round on the warm up lap off they went, tearing down towards Copse and screaming past us! The usual blur of noise and colour! You can't beat the first lap of a Grand Prix standing trackside!! Hard to imagine now but in that era there was no debris fencing in front of us so the view was great. The three British drivers in the race, John Watson, Derek Warwick and Nigel Mansell had great support as always from the loyal Silverstone crowd. Mansell in particular had a fantastic race in his Lotus, finishing 4th after starting 18th!
Alain Prost won the race for Renault and raised his arms in celebration (see below) as he came past us out of Copse on his in-lap! Nelson Piquet finished second and Patrick Tambay was third. As they came round on the victory parade Nelson Piquet enjoyed himself by pouring water from a bottle over the baking hot fans.
Murray Walker: the consummate professional!
After the race, we wandered over into the paddock, where mechanics were scurrying around packing up the cars and equipment, and everyone else was winding down from the day's events. Murray Walker was doing a few pieces to camera, one of which was interrupted by a guy who walked behind him with his arms waving all over the place and pulling faces. Murray stopped and chased after him, shouting, "Did you do that on purpose?" repeatedly to which the prankster replied "No!" There was a bit of a stand off before Murray gave up and returned to recording his report. Ever the professional, you wouldn't have guessed anything had just happened!
Nigel Mansell came past us into the paddock on the back of a scooter. We later saw him talking to the Lotus designer Gérard Ducarouge, who appeared to be congratulating him on a wonderful drive. This was Mansell's first F1 race at Silverstone. Throughout his career, Mansell always seemed to outperform when he raced in front of his home fans, even in some average cars. He was a worthy World Champion for Williams in 1992.
We also got to see the legendary Ken Tyrell, who seemed to be doing some kind of post-race debrief next to his motorhome, judging by the various papers he was shuffling. No hand held computer devices back then!
Doing this report and looking at my photos has brought it all back into sharp focus. I can't believe it's 33 years ago; it only feels like yesterday! Just three weeks later a mate and I drove over to Hockenheim for the German Grand Prix in my MkIII Ford Cortina…. but that's another story!