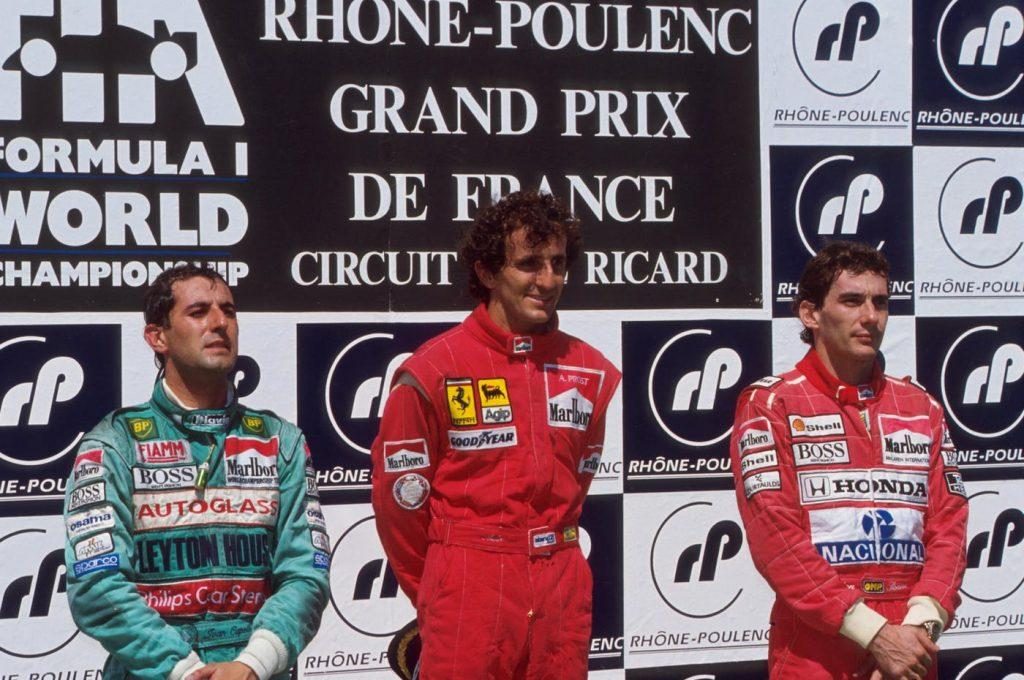 With a long and illustrious motorsport history, plenty of French drivers have experienced success at home, particularly at Circuit Paul Ricard. We take a look back at France's home race heroes!
The first French Grand Prix took place in 1906, and is widely recognised as the first modern day Grand Prix race. The event attracted no less than 23 French drivers. Georges Boillot was the first home winner of the race in 1912, a feat he repeated the following year. French drivers won the event six more times in the pre-F1 era.
The French Grand Prix visited a number of circuits through the first two decades of the modern Formula 1 World Championship. The success of French drivers at their home race during this period was minimal, with just three podium finishes – Robert Manzon and Jean Behra at the Reims-Gueux Circuit in 1954 and 1956 respectively, and Jean-Pierre Beltoise at Circuit de Charade in 1969.
Debut wins on home soil
It wasn't until 1979 that a French driver won their home race in Formula 1. That was Jean-Pierre Jabouille, who won at Dijon; a race in which fellow Frenchman René Arnoux also finished on the final step of the podium. Not only was it Jabouille's maiden F1 win, it was also Renault's first victory. Two years later, Alain Prost also claimed his debut win at home on the Dijon circuit. Arnoux was France's 'second-best' once again in this race, having taken pole position, but he could finish no better than fourth.
Home successes at Paul Ricard
Circuit Paul Ricard itself has treated French drivers well since it joined the F1 calendar in 1971. They've had five pole positions at the track, behind only British drivers who have taken seven poles. They've enjoyed five wins here – which was the outright record for a nation at the track until Lewis Hamilton claimed the fifth win for a British driver last year. In total, a French driver has appeared on the podium at the circuit fifteen times – more times than any other nation, and six appearances ahead of British drivers.
By far the most successful driver at the circuit is Alain Prost. France's only World Champion won four times at Circuit Paul Ricard – first in 1983 and then three straight wins from 1988 to 1990. Prost and the Renault team dominated the 1983 weekend. The Frenchman took pole by over two seconds from his team-mate Eddie Cheever and won the race by thirty seconds ahead of Nelson Piquet. In fact, Prost's 1990 win here is the only one which was taken by less than half a minute. Ivan Capelli, driving for the Leyton House team finished just eight seconds behind on that occasion. It was a race which Leyton House – who had failed to qualify for most of the previous rounds in the 1990 season – led for much of the afternoon. Prost eventually overtook Capelli with only three laps remaining.
Prost continued his home race success when the French Grand Prix moved from Le Castellet to Circuit de Nevers Magny-Cours, finishing as runner-up in 1991, and taking his final home victory in 1993. In total, Prost won at home six times. Along with Brazil, France is the country in which the Frenchman won the most. His tally of French Grand Prix wins is bettered only by Michael Schumacher, who won the event eight times.
Controversy in 1982
René Arnoux is the only other French driver to have won at Circuit Paul Ricard. His only victory at the track came in controversial circumstances in 1982. He and Renault team-mate Prost had agreed before the race that, should Arnoux be leading, he'd move over and let Prost past in a bid to boost his hopes of taking the title. Arnoux failed to do so, and took the third of his seven F1 wins. In this race, all of the top four finishers were French, with Ferrari's Didier Pironi and Patrick Tambay finishing behind Arnoux and Prost. This would turn out to be the last podium appearance and last race start for Pironi, whose career was cut short by a near-fatal crash at the next round of the championship.
There have been other modest successes at Circuit Paul Ricard for French drivers, beginning with the very first F1 race here in 1971, where François Cevert claimed his first podium appearance at his home race. He finished on the podium again in 1973. Meanwhile, Patrick Depailler made his only home race podium appearance at the track in 1976. A number of French drivers made their debut at Circuit Paul Ricard, including Jean-Pierre Jabouille in 1975 and Jean Alesi and Eric Bernard, who lined up alongside each other on the grid in 1989. At the same event, Bertrand Gachot qualified for the first time in his career, while Olivier Grouillard scored the only point of his career with a sixth-place finish for Ligier.
From 1990 to 2019
Since Prost last won at Circuit Paul Ricard in 1990 from the circuit's return to the calendar in 2018, there were just two other French winners in Formula 1, each winning only a single race.
Jean Alesi took his only career victory at the 1995 Canadian Grand Prix. Alesi is the only French driver other than Prost to have taken a podium finish at his home race during its tenure at Magny Cours. He finished third in the 1996 running of the event. Meanwhile, Olivier Panis recorded his only win at the 1996 Monaco Grand Prix.
The return of Circuit Paul Ricard
When Formula 1 returned to France in 2018, the crowd had three home stars to cheer on – Romain Grosjean at Haas, Esteban Ocon at Force India and Pierre Gasly at Toro Rosso. It wasn't a vintage weekend for the trio, however.
Grosjean reached the final stage of qualifying. He failed to set a time in the top ten shootout after crashing out on his first attempt at a hot lap. In the race, both Ocon and Gasly were eliminated in a first lap crash, while Grosjean finished outside the points in eleventh. In 2019, Gasly reached Q3 with Red Bull and went on to score a single point in tenth place.
Since F1 last visited France, the nation has a new winner in Pierre Gasly – who took victory in the dramatic 2020 Italian Grand Prix. Gasly has had a strong season so far in 2021. Both he and Ocon will be hoping to score on home soil.
Read more about visitng Circuit Paul Ricard in our comprehensive French Grand Prix Travel Guide.