Talip Ates
My name is Talip, I'm 21 years old and from Germany. Since I was a little kid, I've been fascinated by all kinds of cars and racing. I start watching F1 in 2009 and have never missed a race since then. F1 is my passion and I want to give back to my fellow fans by writing about it. My inspirations are Fernando Alonso and Michael Schumacher, because of their fighting spirit. "Never surrender" is my creed.
Talip Ates's Latest Posts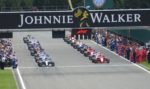 Talip Ates and Svenja Reber travelled from their homes in Germany to the 2018 Belgian Grand Prix at Spa Francorchamps. Here's their report.
Svenja and Talip from Germany went to their home race at the Hockenheimring this year. Here's their report!
The best things to do away from the Hockenheimring at the 2018 German Grand Prix, including the most interesting nearby attractions. The Mercedes-Benz and Porsche museums in nearby Stuttgart and the incredible Technik Museum Sinsheim top our list!