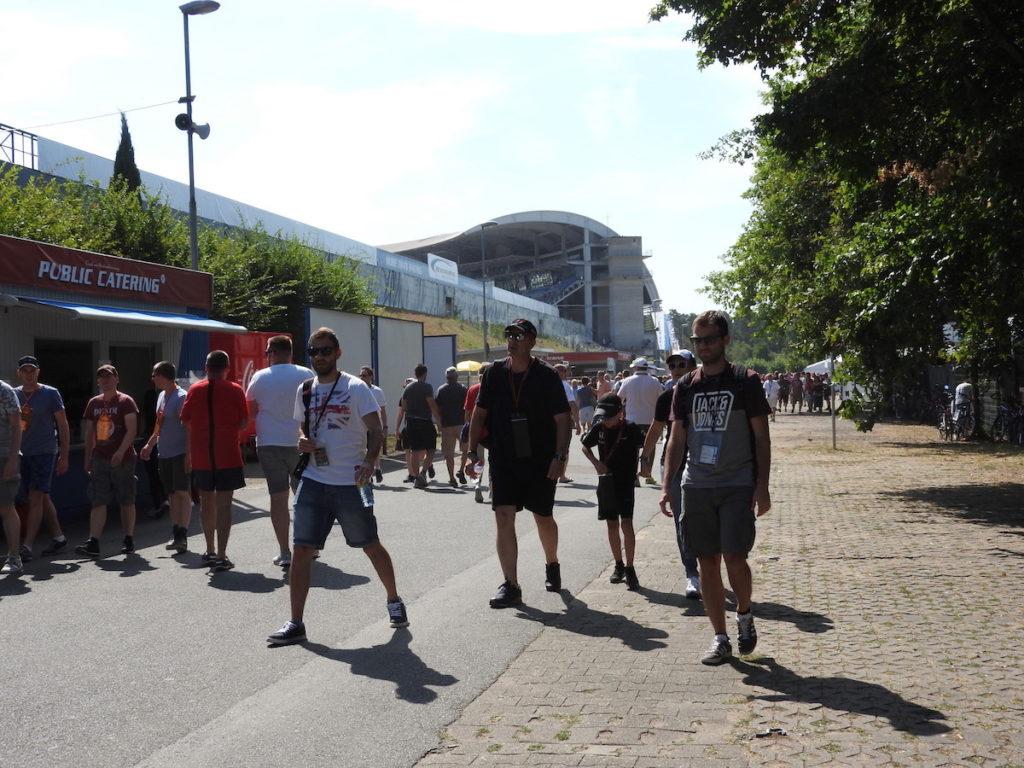 Svenja and Talip from Germany went to their home race at the Hockenheimring this year. Here's their report!
Images by F1Destinations, Talip Ates and Svenja Reber. Talip: In addition to my planned trip to Belgium this year, I also got the opportunity to visit my home race in Germany. With great anticipation for seeing my second live Grand Prix, my journey started from the south of Bavaria. I took the train to Munich and then to Stuttgart. After three hours on the train, my good friend Svenja picked me up at the Stuttgart train station. We visited her home at the Schwarzwald (Black Forest), where I stayed with another friend for the next few days Before traveling to the track on Friday, we stocked up on food at the supermarket. As mentioned in many race reports at F1Destinations, we recommend taking your own food with you to the track. You can save a lot of money, even it's only food and drink. We made our own sandwiches every day before we went to track, and also took some snacks with us. It was more than sufficient! When we saw the long queues and the expensive offers (typical of every big event) we knew our plan had really paid off.
Friday – FP1 & FP2
Svenja: After final preparations, we were off to the track at 8am. We decided to try something different and drove directly to the track, as we had booked a trackside parking space. But it didn't turn out to be such a good idea. There was a huge traffic jam near the circuit. We don't know if it's always like this or there was an accident. Despite the early start, we got to the track very late, after FP1 had already started. We decided to switch our plan for the next day. Our tickets for the weekend were for "Innentribüne C" ("Inner Grandstand C). But as on many other Grand Prix, on Friday we were able to do grandstand hopping, so we tried another view on Friday. From the Nordtribüne C (North Grandstand C) there's an excellent view of the whole pitlane. The cars did some practice starts there, so I was able to get some good photos: During the break between FP1 and FP2, we went to the F1 Fanzone. This year all the team merchandise stalls are in a big hall. It was very cool! But it was often very congested and packed. I recommend buying your merchandise on Thursday, as I had done at Spielberg this year. For FP2, I stayed at the Nordtribüne C, because I wanted to take more good pictures of the cars.
Saturday – A Dream Come True!
Talip: For Saturday, we decided to switch to Plan B because of Friday's traffic problems. We drove to the train station in Wiesenstadt and took the train to Hockenheim. At the train station in Hockenheim, we then took one of the shuttle busses. We arrived at the track without any problems and early enough for FP3. It was a lot more relaxed compare to the stressful Friday. In between FP3 and Qualifying we again went through the F1 Fanzone. After "our" McLaren drivers and Perez (a favorite driver of my other friend) were knocked out early in qualifying, we decided to scrap the last half of Q3, to avoid the queue of people going back to the F1 Fanzone. To be honest, the overcrowding this year was very frustrating. During the breaks people were often completely stuck. We usually attend every autograph session during race weekends, but this weekend it was not an option. People without tickets were able to go to the F1 Fanzone, where the autograph stage was located. There was already a big crowd waiting, even before qualifying. It seemed unlikely to be able to get your favorite driver's autograph; it depended on the time they came out and if you were in front of them at that precise moment. It felt completely random. That's when Svenja and I did something special. We got the opportunity to make a short visit to the F1 paddock. This was a dream come true for me, because it was always a life goal to visit the paddock and maybe work there in the future. The moment when we got our VIP passes was magical! In the paddock, we saw David Coulthard, Jacque Villeneuve and many other well-known people from TV. It was awesome seeing all the motorhomes. We took some photos in front of the McLaren Brand Centre! Unfortunately, we didn't see Fernando Alonso. But it was still a cool moment that I will definitely never forget!
Sunday – The Race
Svenja
: On race day, we arrived again without any problems at the track using the train and shuttle buses. For the first time since 2006, the grandstands were completely sold out. There were also additional grandstands! The weather was good and the crowd atmosphere of the crowd was amazing. As soon as the race started, it got very exciting. It was starting to rain and many drivers were switching their tires, because of the weather. Sebastian Vettel didn't switch onto wet tires and crashed right in front of us. As we all know, Lewis Hamilton won the race. Immediately after the race a thunderstorm hit the circuit and it began to rain very hard. The whole track was under water. Despite that some fans walked the track as soon as the gates were open. But, for safety, we stayed under our covered-grandstand for another hour. As the weather was getting better, we went home but we had to walk through tunnels, where the water was very high! Despite that we got home without any problems. What an eventful and crazy weekend. After a sold out German GP, we hope that F1 will stay in Germany for the next few years.
Write your own Trip Report for F1Destinations! Find out more here.