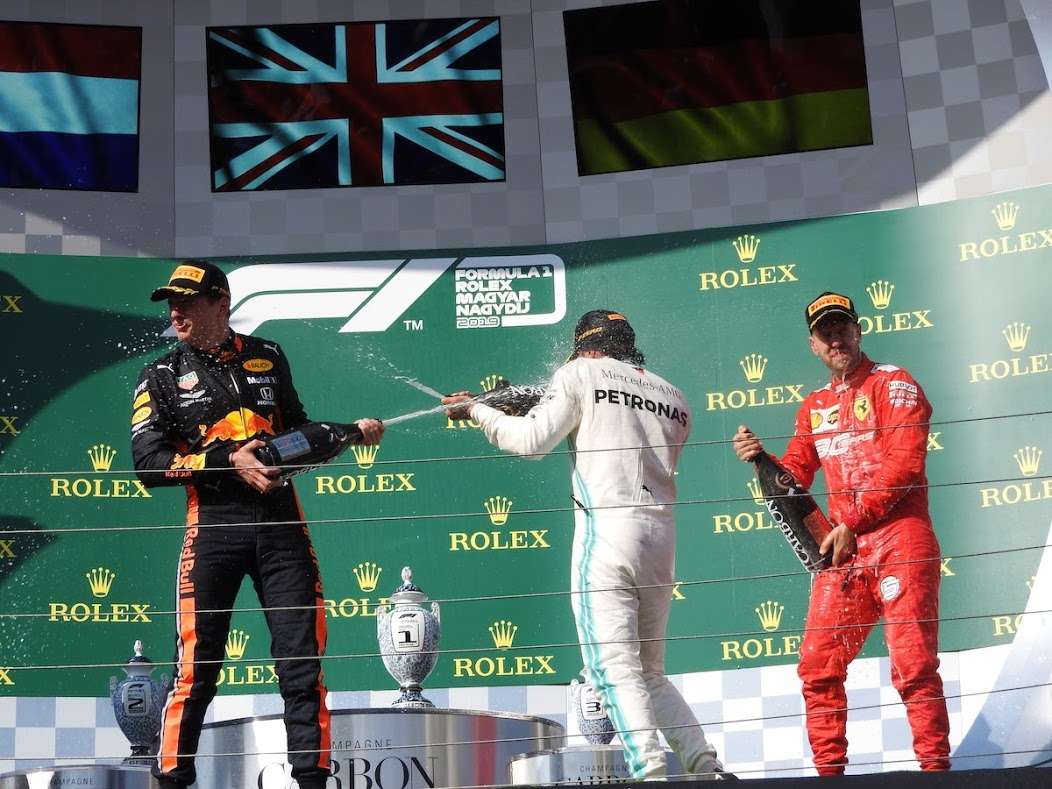 Mercedes are on course to win the championship, Honda are on course for a strong home showing and there's a typhoon on course for the Suzuka circuit. Here are the talking points ahead of the 2019 Japanese Grand Prix weekend!
This weekend's Japanese Grand Prix is under threat before it has begun thanks to Typhoon Hagibis. The powerful typhoon, which is currently classed as "violent" with wind speeds of up to 172mph, is expected to make landfall on Saturday.
It's not the first time that the Japanese Grand Prix at Suzuka has been threatened by adverse weather conditions. Typhoon Ma-on saw all Saturday running cancelled in 2004 – though the typhoon never made an impact at the circuit – while in 2010 heavy rain meant that Saturday was a wash out. On both occasions, qualifying was run on Sunday morning instead. Most recently, 2014 saw Typhoon Phanfone bring heavy rain to the Japanese Grand Prix, with almost half of the event being run behind the Safety Car. The event was subsequently red-flagged following the ultimately fatal crash of Jules Bianchi.
There has been no official word from Formula 1 on contingency plans for the weekend, but the weather looks set to be a predominant talking point in the build-up to the Grand Prix. The current forecast suggests that the worst of the weekend's weather will be on Saturday, with conditions improving for Sunday's race.
For the first time in 2019, we have a potentially title-deciding race. While Lewis Hamilton can't win the Drivers' Championship this weekend, Mercedes can secure a record-equalling sixth consecutive Constructors' Championship.
The team have had eight 1-2 finishes so far this season, and another one in Suzuka will secure them the title. Failing that, Mercedes would need to out-score Ferrari by 14 points in order to claim the title in Japan. Mercedes have every right to be confident about their chances. They have won every Japanese Grand Prix since 2014, and have finished 1-2 in three of those five races. They have also out-scored Ferrari by at least sixteen points at Suzuka in all of the last five years.
In the Drivers' Championship, a win for Lewis Hamilton in Japan would make Valtteri Bottas his only mathematical title contender. Hamilton is highly likely to be in a position to win his sixth World Championship in Mexico.
The ever-enthusiastic Suzuka crowd will be out in force to support the Honda-powered teams this weekend. It's the first time that Honda have had a real shot at taking victory at their home track since rejoining the sport in 2015.
Red Bull's pace seems to have faded somewhat since the summer break – or rather their rivals' pace has improved – but the twisting layout of Suzuka may well suit their package. The team have finished with at least one car on the podium in nine of the last ten races at the circuit, and they'll be keen to do so again this weekend. Look out for Toro Rosso too, who were able to get both cars in the top seven on last year's Japanese Grand Prix grid.
Despite Toro Rosso's strong qualifying showing last year, a Honda-powered car hasn't scored a point at the circuit since Jenson Button took fourth place with the works team in the 2006 Japanese Grand Prix. The manufacturer's last win at Suzuka came courtesy of Gerhard Berger in 1991.
A 3-way fight for the win?
For the reasons mentioned above, it's difficult to predict who will come out on top this weekend. Mercedes have won the last five races at the circuit, the track may well suit Red Bull's 2019 package and Ferrari's recent pace has been impressive. In contrast, Ferrari's recent form at this track has been relatively poor, while Red Bull have lost ground to their competitors in recent races and the weather conditions could further shake up the order.
Championship leader Lewis Hamilton says that the Japanese Grand Prix has the potential to be "awesome" as a result of these factors, while Team Principal Toto Wolff says that Mercedes will bring "minor upgrades" to help cover the threat from Ferrari.
Ferrari themselves will have to manage the rivalry between their two drivers, which has been brewing in recent events. Charles Leclerc was unhappy with the strategy call which saw Sebastian Vettel win in Singapore, while the team deployed controversial orders in the opening laps of the Russian Grand Prix. The issue was nullified by Vettel retiring from the race due to a loss of power. Will there be more drama for Ferrari in Japan?
There's good news for the home supporters, as Toro Rosso will field Japanese driver Naoki Yamamoto in place of Pierre Gasly during the first practice session this weekend. The 31-year-old is the reigning Super Formula and Super GT champion. Yamamoto won the Super GT alongside team-mate Jenson Button.
His results in those series mean that he has reached the required number of super license points to be eligible to take part in a Formula 1 session. It will be the first time fans at Suzuka have had a home star to cheer on since Kamui Kobayashi raced with Caterham in 2014.