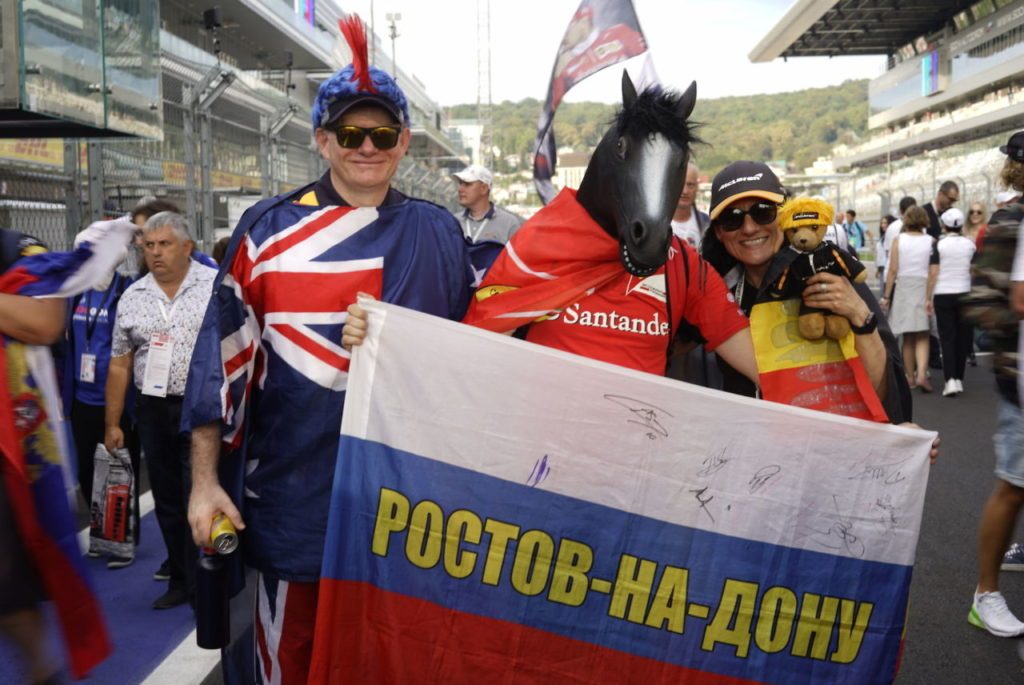 Jacqui and Michael traveled from their home in Australia to the 2018 Russian Grand Prix at Sochi Autodrom. Here's their report and recommendations.
Images

©

Jacqui & Michael. Read our Russian Grand Prix Travel Guide.
Why Sochi? Did you organize the trip yourselves?
"Why on earth are you going to the Russian Grand Prix? It's boring and there's nothing to do there. The circuit is in the middle of nowhere." We heard this repeatedly before we left, mainly from people who'd never even been to Sochi. Let me tell you, they were wrong! We decided to go to Sochi because it was paired back-to-back with the Japanese Grand Prix, and since we're trying to attend all of the races on the calendar, this was the perfect opportunity to tick Russia off the list. We flew direct from Singapore to Moscow, after attending the Singapore Grand Prix of course. Our race tickets, accommodation and flights were organized by Russian travel company
ART-TOUR
, who were very helpful and reliable. They work in partnership with a number of F1 circuits so they have extensive knowledge when booking anything F1 related. Another advantage is that they speak English. Some places can be tricky to book online in Russia if you don't speak Russian, so these guys were a huge help.
Where did you stay?
Sochi Autodrom is located in Adler, which is approx. 30-40 minutes away from Sochi city. This is worth mentioning as it's best to organize accommodation in Adler, closer to the circuit. We stayed at
Sochi Park Bogatyr Hotel
in Adler, which is in the amusement park next to the circuit. It's a fun hotel with large comfortable rooms, and you also receive a one-day pass to the amusement park. The biggest advantage is that it's within walking distance to the circuit. There are other accommodation options in Adler that are also within walking distance from track. Book these early as they do fill up quickly because most of the teams stay there. You might even get to have breakfast with a driver or two before heading to the circuit each day!
Did you explore the area near the circuit?
Most people will tell you that there isn't much to do near the Sochi Autodrom, but if you walk towards the beach there are some cool streets lined with cafes, bars and restaurants. The food was pretty amazing too, with a good choice of Russian, Georgian and Western cuisine available. The two restaurants we can recommend are
La Punto
and
Boho
. Be sure to try proper Russian Vodka too, or the local Sochi version called Cha-Cha. You're in Russia after all. You can also visit the amusement park. We recommend going up on the Ferris Wheel for great panoramic views of the track.
Any problems getting into the circuit?
The security at the circuit entrance gates uses X-ray machines, scanners and metal detectors, similar to most airports. If you are taking mobile phones and cameras you will be asked to turn them on before proceeding. This ensures that your devices are legitimate and not being used for any destructive activity. It sounds extreme, but Russia is very security conscious and you can understand why when you consider it's in conflict with many countries surrounding it. Don't let this detract you from going though, just be aware so you're prepared when you go through security.
Where did you sit?
We were sat at Turn 2 for the weekend – Section 7, Row 17. We wanted to be above the fence, so we could take some good pictures. It was a great view as we could see the cars coming out of Turn 1, down the straight towards Turn 2 then around to Turn 3. The only downside was that the TV screen in front of us was a bit small and hard to read, so we didn't always know what was happening on other parts of the circuit.= The commentary at the circuit is in Russian and English, however it's very hard to hear it over the cars. People in the main grandstand said they could hear it so that's another thing to keep in mind when booking tickets, especially as the F1 app wasn't work all weekend. Unless you are in the Main Grandstand, the toilets are a bit of a walk away from the stands. You will also notice the queues get longer day-by-day. We recommend bringing your own paper or tissues. Toilet paper in Russia is very rough and sometimes runs out.
How was the food and drink at Sochi Autodrom?
Food and drink is widely available at the track at reasonable prices. There are vending machines located behind the grandstands so you don't have to queue up if you just want soft drink or water. One of the conditions of entry was that no food or drink is allowed in the circuit. I asked if I could bring my coffee into the circuit on Thursday and it was allowed, but this may have been different on the other days. On Saturday for example, they didn't allow us to take unopened bottles of water into the grandstand. We were asked to open them and hand over the bottle caps. The rules seemed to change on a daily basis with food and drink so just be aware and don't buy 6 bottles of water at once!
Did you participate in any trackside activities?
The queue for the pit lane walk was the longest we had ever seen! Be willing to line up for a long time if you want to access the pit lane. Once you're in, you are free to roam around for as long as you like. They don't herd you through and make you leave after 10 minutes like at some circuits. When the pit lane walk was over, security escort everyone out in a polite, orderly manner. It was the same for the Formula 1 autograph sessions on the main stage in Medal Plaza. Again, the queues were very long and there's no guarantee you'll be able to meet your favorite driver, as they normally only stay on stage for about 15-20 minutes. The Formula 2 autograph session on Sunday was better. We arrived an hour before the session commenced and passed the time by chatting to other fans and making new friends. Once the session started we were ushered onto the stage and met all of the drivers. They were only too happy to autograph memorabilia and pose for photos.
How long was your trip?
We were away for 4 weeks. We started off at the Singapore Grand Prix, then went to Moscow for a week and Saint Petersburg for 4 days before heading to Sochi. After the Russian Grand Prix, we flew to Japan and went to Suzuka for the Japanese Grand Prix. It was pretty cool that we managed to see three races in four weeks! If you're planning a trip to the Russian Grand Prix, we highly recommend spending 3 or 4 days in Moscow. Red Square is stunning. It's one thing to see photos of it online, but when you're there it's an experience within itself. Saint Basil's Cathedral, The Kremlin and The Bolshoi Theatre are just a few of the other star attractions with rich history and natural beauty. Saint Petersburg is a little chillier but just as beautiful. Both cities are very easy to navigate by train, taxi or Uber. Taxis and Uber are very cheap in Russia.
How much did the trip cost?
Return flights from Singapore to Sochi (via Moscow) approx. USD $2,000.00 per person
Accommodation at Sochi Park Bogatyr Hotel for 5 nights including breakfast and 1 day free entry to the Amusement Park: $1,300 USD for 2 people
Turn 2 Grandstand tickets: $190 USD per person
Spending money to cover lunch, dinner, snacks, drinks, souvenirs and taxi fare to and from the airport: approx. $500 USD per person
Would you recommend going to the Russian Grand Prix?
We highly recommend it! The fans are very friendly and love interacting with international F1 fans, particularly if you wear an outfit. It doesn't have to be anything over the top, even carrying a flag is a good conversation starter. There are lots of off-track activities so you'll never be bored. Pit lane walks, autograph sessions, motorbike demonstrations, activities for children and the Sochi Autodrom Museum located in the Main Grandstand. The only issue was the long queues for pit walks, merchandise, some food outlets and toilets, but this happens at many other circuits too.
Any final tips?
Sochi is generally warm and sunny (up to 30°C some days) in late September when the race is held, so bring a hat and sunscreen. It can also rain, as it did during the Formula 2 race, so bring a poncho just in case.
The airport is only 15 mins away and we didn't encounter lots of traffic like you would in Moscow or other large cities. Arrive early though, as security at Russian airports is very thorough.
Most people speak English in Sochi so it's quite easy to communicate. Bear in mind though that English isn't their first language so you're going to come across someone here or there who may not understand you, but there's always someone close by who can translate.