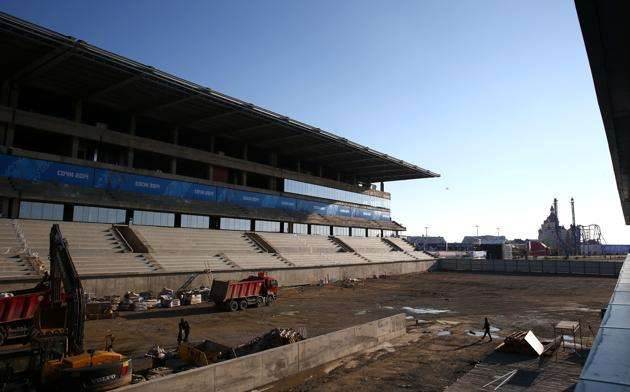 The eyes of the world are on Sochi as the unlikely sub-tropical venue prepares to host the 2014 Winter Olympics in a few days time. In October, Sochi will also become F1's newest destination when the inaugural Russian Formula 1 Grand Prix is held at the new $200m circuit Sochi Olympic Park circuit designed by Hermann Tilke.
An F1 race in Russia, mooted for over 30 years and earlier planned for either Moscow or St Petersburg, was finally given the go-ahead in 2010 when the commercial rights holder for F1, Bernie Ecclestone, signed an agreement in the presence of Vladimir Putin for the race to be staged in the Black Sea resort of Sochi for seven years beginning in 2014.
As you can see from the photos below, the circuit is nearing completion though the final track surface will not be laid until after the Winter Olympics. At 5.848km, the clockwise Sochi street circuit will be the third longest on the current F1 calendar, shorter only than Spa and Silverstone. It is constructed around the Sochi Olympic park, which will host the main stadium for the opening and closing ceremonies of the 2014 Winter Olympics as well as ice hockey and speed skating.
The experience of international visitors to Sochi for the 2014 Winter Olympics this month will provide valuable travel guidance for F1 fans considering attending the F1 race later this year. The US Department of State has issued a travel advisory for US citizens attending the Winter Olympics which you can read here.
Ticket sales for the 2014 Russian Formula 1 Grand Prix at the Sochi Olympic Park circuit will commence on March 4. The official website of the circuit promoter is currently only in Russian – presumably, a new site with more language options will be launched when ticket sales commence.