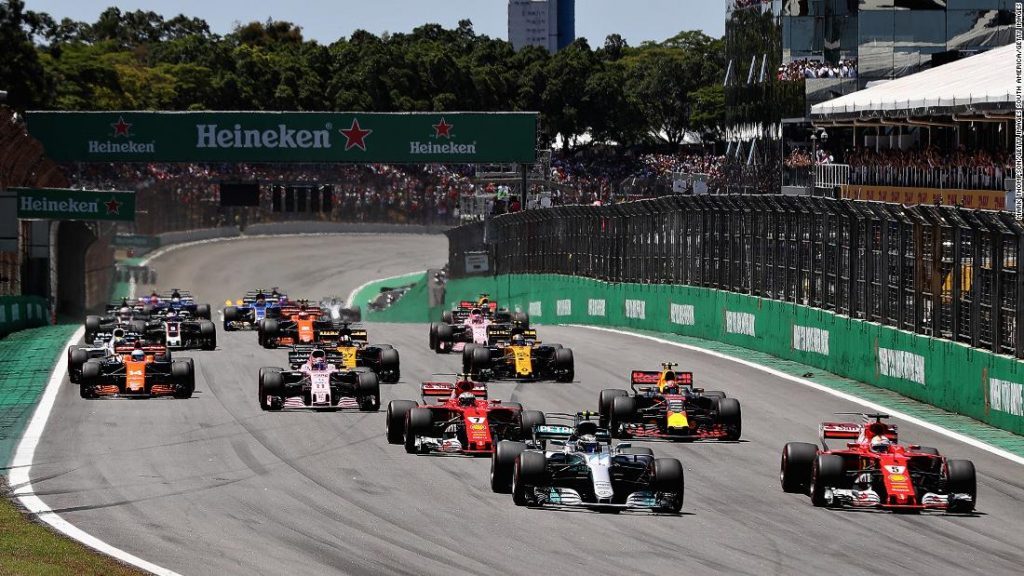 Your trackside guide to Autódromo José Carlos Pace for the 2021 Brazilian Grand Prix on November 5-7, including the race schedule and useful tips to maximise your trip to Interlagos.
This guide will be fully updated when the on-track schedule is announced for the 2021 Brazilian Grand Prix, normally around 1 month before the race. weekend. In the meantime, most of the information below remains relevant.
Interlagos may not be the most modern circuit or the best organized race on the calendar, but these shortcomings are more than compensated by the amazing trackside atmosphere and friendly, passionate local fans (even if they don't respect the numbered tickets and sit wherever they want!) The circuit has a relatively small capacity for just 80,000 spectators, with no general admission areas and no infield access.
Read Getting There & Around for more information about how to get to Interlagos.
The circuit gates open at 08:00 and close at 15:00, and there's no pass outs.
Children under 5 are not allowed to enter the circuit, whilst children aged between 5-12 must be accompanied by a parent/guardian
No food or drink can be brought into the circuit. The full list of prohibited items at Interlagos is available here.
Snack bars with food and drinks are located in the A, M, G and Q sectors. You can also buy drinks and ice creams from the comfort of your grandstand seat! Please be aware that you will need to purchase a pre-paid card for most food and drink purchases at Interlagos. Whilst it is possible to get back unused credit, it's better to load the card with smaller credit amounts and then top it up as you go,
All grandstands and spectator areas at Interlagos are wheelchair accessible
There's a "GP BRASIL F1" app available for IOS/Android, but it's not available in English.
Brazilian Grand Prix Schedule
The Brazilian GP doesn't have the best on-track schedule when compared to other races. In addition to 6-7 hours of F1 action on the track, there are only two additional Porsche support categories. The schedule below is from 2019, but is expected to be similar for the 2021 Brazilian Grand Prix.
Friday

11:00-12:30: Formula 1 practice (FP1)
13:00-13:30: Porsche Cup 4.0 qualifying
15:00-16:30: Formula 1 practice (FP2)
17:00-17:30: Porsche 3.8 qualifying
Saturday

10:30-11:00: Porsche 4.0 first race (25 mins + 1 lap)
12:00-13:00: Formula 1 practice (FP3)
15:00-16:00: Formula 1 (qualifying)
16:30-17:00: Porsche 3.8 first race (25 mins + 1 lap)
Sunday

08:30-09:00: Porsche Cup 3.8 second race (25 mins + l lap)
09:30-10:00: Porsche Cup 4.0 second race (25 mins + l lap)
12:30-13:00: F1 Drivers' track parade
13:00-13:15: Starting Grid Presentation
14:10-16:10: Brazilian Grand Prix (71 laps or 120 mins)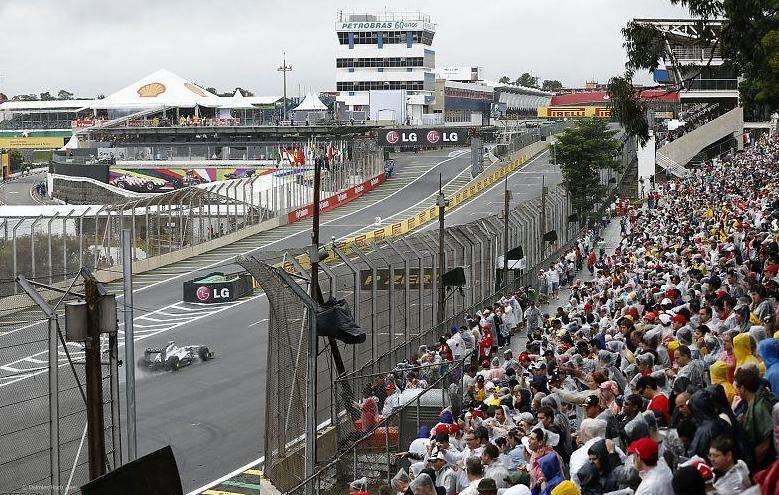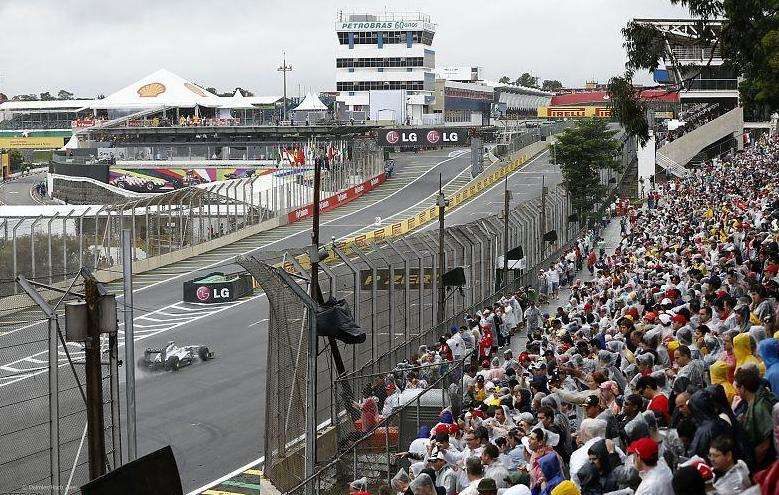 Interlagos Tips

The weather is unpredictable at Interlagos and rain is common, so check the weather forecast and be prepared! There's little shade from the sun, so pack your hat, sunglasses and sunscreen. Even if warmer weather is forecast, it's worth bringing a sweater as it can get cool and breezy in the afternoons.
If you're sat in the cheapest "A" grandstand, be aware that these are concrete bleachers; bring along a small cushion or something to sit on.
Danielle Mota, our Brazil expert on sector A at Interlagos: "The atmosphere in this sector is amazing. There are people from all over Brazil and around the world. Everyone is friendly and just happy to be at Interlagos. Watching the GP from here is a unique experience." Read more here.
Alice West went to the race in 2013: "Don't bother packing an anorak for rain as you can buy a lightweight plastic poncho from vendors for next to nothing. Interlagos operates a no re-entry policy and they confiscate umbrellas, water and all sorts of other useful things on entry, so come with very little. Refreshingly, food and drink is pretty good and not expensive here and the toilets are clean and plentiful." Read Alice's report here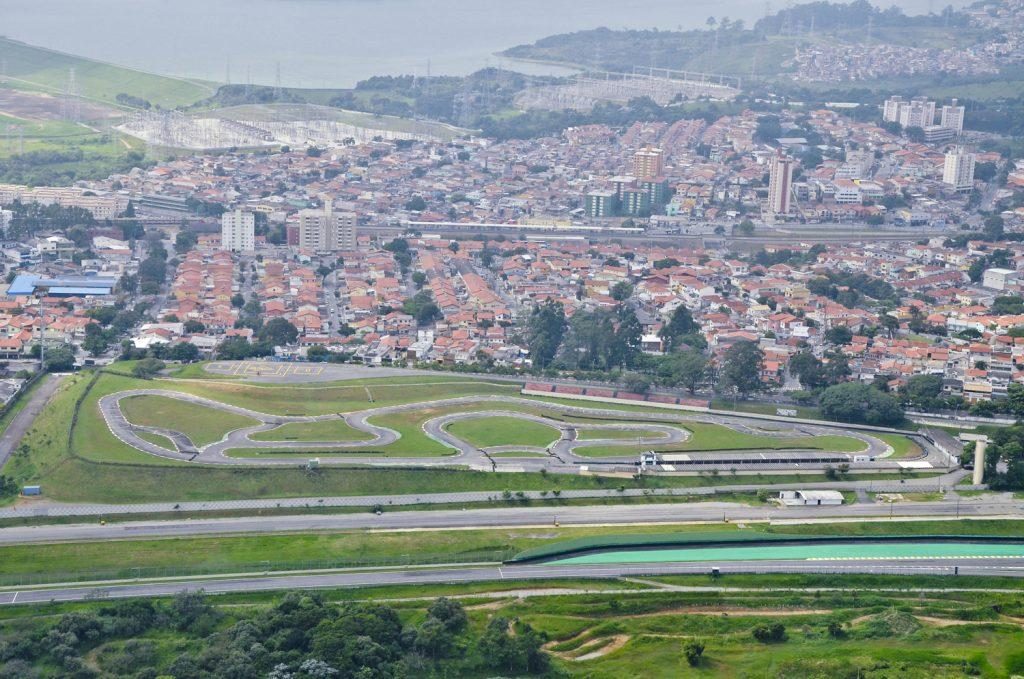 Kartódromo Ayrton Senna
No trip to Interlagos would be complete without a visit to the historic Kartódromo Ayrton Senna, a 1150 meter kart track adjacent to the main F1 circuit. Opened in 1970, this is where the careers of many of Brazil's greatest drivers began, including Nelson Piquet, Ayrton Senna and Rubens Barichello. Twenty-five minutes behind the wheel of a racing kart will set you back R$120 (approximately $37 USD). Opening hours are Tuesday-Friday (17:30-23:00), Saturday (12:30-23:00) and Sunday (12:30 to 21:30). It's probably worth booking ahead on Grand Prix weekend. More details here.
Visiting Interlagos on a non-race weekend? There's a public park for walking and cycling around the perimeter of Interlagos. Access is via gate 7 or 9 and it's open from 07:00-17:00, 7 days a week (but not during the race weekend.) You can also contact the circuit to arrange a track tour.
Been to Interlagos for the Brazilian Grand Prix? Leave a comment with your experience!