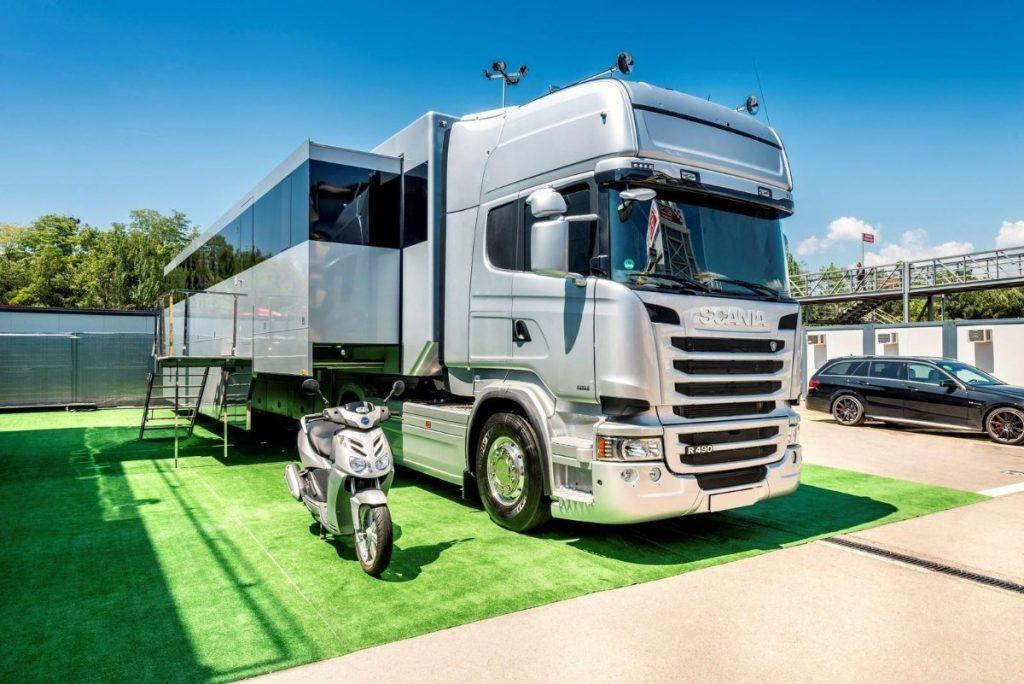 The luxury motorhome once owned by 2016 F1 World Champion Nico Rosberg is on the market for an undisclosed sum. The German driver used the motorhome at European races from 2009 until his retirement one year ago.
A sale advertisement for the motorhome appeared this week on the LinkedIn profile of Piers Donnelly, Director of Visibly Loud Limited, suppliers of luxury motorhomes, outside broadcast trailer shells, mobile medical units, and race trucks/trailers.

Rosberg began using a motorhome for the European races and tests in 2007, his second season of Formula 1.
He was quoted
at the time: "I think there are two advantages in having your own motorhome. First, it allows me to create a home from home while I'm on the road because I have all my favorite things around me. Pictures, books, stuff like that. Second, I don't have to worry about getting caught up in traffic on race morning, which means I can stay in bed a bit longer!"
Motorhomes are especially popular at the British Grand Prix. The narrow country roads near Silverstone get badly congested on Grand Prix weekend, so staying at the circuit makes a lot of sense. CNN reported how Nico Rosberg and Mercedes teammate Lewis Hamilton parked their motorhomes next to each other at Silverstone in 2015. Also taking their own motorhome to Silverstone that year was Nico Hulkenburg, plus ex-drivers Jensen Button and David Coulthard: "We had a barbeque on Thursday night and there was [1992 world champion] Nigel Mansell, Coulthard, Jenson and Hulkenberg," explained former F1 team boss Eddie Jordan. "We were in a little huddle there and DC was burning the sausages."
The traditional European Formula 1 season kicks off next year on May 13, 2018 at the Circuit de Barcelona-Catalunya in Spain and concludes on September 2 at Monza in Italy. Formula 1 also visits Monaco (May 27), Paul Ricard in France (June 24), the Red Bull Ring in Austria (July 1), Silverstone in the UK (July 8), the Hockenheim ring in Germany (July 22), the Hungaroring outside Budapest (July 29) and Spa Francorchamps in Belgium (August 26).
Is this the ultimate home away from home for the cashed up F1 fan? Leave a comment below!