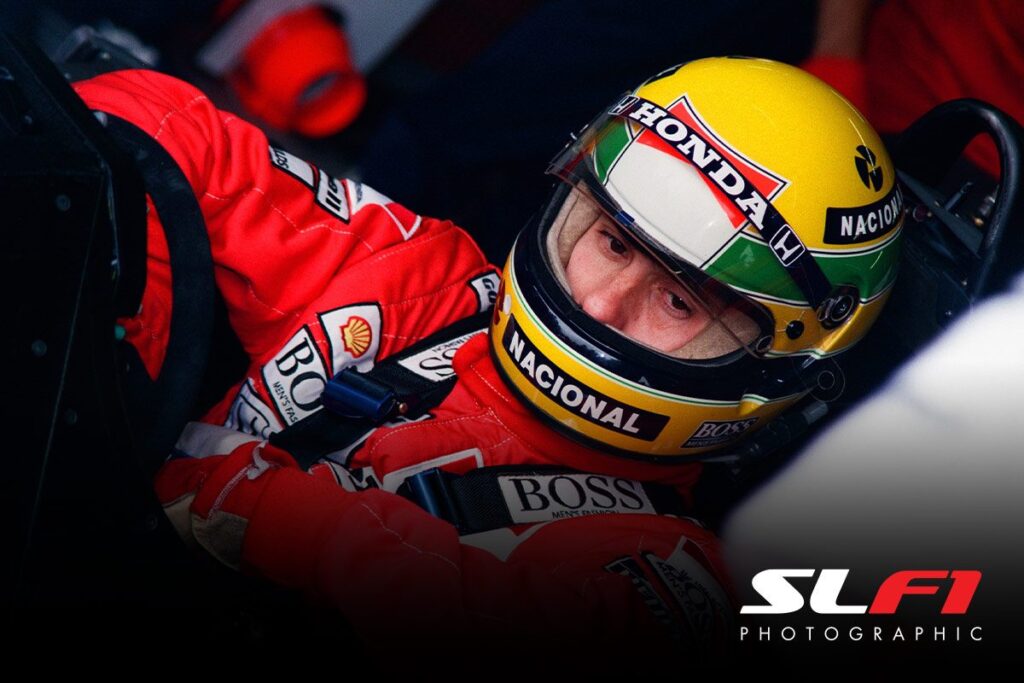 After developing a passion for Formula 1 at a young age, Lee Cunningham has spent his life in and around motorsport as a photographer, race car driver, instructor and VIP host. Recently, he began releasing an exceptional archive of his own previously unseen F1 images from the 1980s and early 1990s, which you can view at slf1photo.com.
All photos © Lee Cunningham / SLF1Photo
How did you get interested in F1?
My first experience of Formula 1 was at Brands Hatch for the 1977 Race of Champions. I was 11 years old and immediately got hooked on the speed, noise, smell and color of the sport. It was so dangerous and violent at the time, and the drivers instantly became my heroes.
Which period does the SLF1 photo archive cover specifically?
The core of the collection is from 1982 through to 1992, but the site will also have images ranging up to 2010. We are in the process of digitizing a lot of other photos. In all there will be 5,000+ photos to view and purchase on the site over the next year.
Were you working at these races in an official capacity? How did you get such good access?
I was trying to cut my teeth as a freelance Grand Prix photographer through the 80's but it was a very competitive and hard environment to break in to. I had a very good contact at the time in the Brabham F1 Team, so was able to get behind the scenes access and accreditation to go anywhere I wanted. As you can see from my images, I made the most of that.
Which races did you attend during this period? Which circuit was the most challenging to photograph?
I went to most of the European rounds for a few years, but my hardest race was the 1988 Brazilian Grand Prix at the Jacarepaguá circuit in Rio de Janeiro. It was a very edgy place and you had to watch your back there. It was also really hot and there was no cover to speak of at the track. Having said all that, it was still one of my best experiences at a Grand Prix. It was Ayrton Senna's first race for McLaren and the beginning of his intense rivalry with Alain Prost.
What camera were you using at the time?
It was really nothing special. Most of my shots were taken on a very old 35mm film SLR Pentax ME super camera, but if you get it right with a camera like that, the richness in color and feel is still very good. None of the images on the SLF1 website have been photoshopped or heavily edited. I wanted to keep them all original, as I think it gives a style and feel in keeping with this classic period of Formula 1.
Did you have a personal relationship with any of the drivers during this era?
I got to know Piquet and Senna a bit because I was always there taking shots of them. I remember one test day at Silverstone in 1987, when Senna was driving the Camel sponsored Lotus. It was a very wet day and very few teams were running. There was only a handful of mechanics with the drivers in the garages, and Senna was on his own sitting on some tyres and looking out at the rain in the pit lane. I went up to him and congratulated him on winning the recent Monaco Grand Prix. It had been the first of his six victories there. He showed me his right hand and told me how much pain he was in from a huge blister. The drivers used to complete around 3,000 gear changes during the race in Monaco back then! Even then, Senna had something special about him, but the one driver who I think could have been even better was Stefan Bellof, who died in a sportscar race at Spa in 1985. He was the most committed Grand Prix driver I have ever seen!
What was the best race you attended during this era and why?
The 1986 British Grand Prix at Brands Hatch, my home track. The cars were putting out 1,300bhp with a manual gearbox and no driver aids. It was a proper old school track with virtually no runoff. The ultimate test for a Grand Prix driver! I was on the grid before the start of the race and on the pit wall for the start and the first 20 laps. There was no fence. You could have put your hand out and touched the cars going past. Standing within an arm's length of Piquet, Senna, Prost, Mansell and Rosberg coming past you at 180mph on the run up to Paddock Hill bend was very scary and made the hairs on the back of your neck stand up. Try standing on the edge of a station platform when a train comes passed you at 50 or 60mph and that will give you a bit of an idea what is was like back then.
When did you start racing yourself? Tell us about the highlights of your own career.
I started racing really late. I just didn't have any funding or opportunity until I saved up enough money to take part in a week-long course at the Jim Russell racing school at Donington Park in 1990. I was 25 years old and had never driven a go-kart or racing car up until that point! Since then, I have raced a car in some shape or form every year for the last 30 years. I still love it, and everything connected to it. I have been very lucky to have raced on all the best circuits across Europe and in some of the fastest and scariest race cars made. I love single seaters and have driven every variation from Formula Ford, Formula Renault, F3, F2 and F3000. I've never had the chance to drive an F1 car, but I'm still chasing the dream! I will hopefully get a crack at an historic Grand Prix car one day. I was also a factory driver for Lamborghini in the early 2000's and won the Lamborghini Super Trophy G/Championship in 2001 driving a Diablo GTR. As part of that series, I raced against and beat ex-F1 drivers such as Michele Alberto, Patrick Tambay and Rene Arnoux, to name a few. I was also a test driver for the Murcielago R-GT 1 project and race a Pagani Zonda GT1. More recently, I won the Ariel Atom cup sprint series in 2015. I'm now going back to my roots and have been focusing on classis F3 cars for the last few years.
Tell us more about your current role as a VIP Paddock Club Senior Account Manager.
It's a cool job for someone like me who has been in and around F1 for a very long time. I work for a small bespoke events agency which is contracted directly to F1 and not any team. I manage a team of International Expert Hosts, all of whom are racing drivers themselves, and we look after and service the VIP & Global Partner guests for the F1 Paddock Club. We take guests behind the scenes to make it a more interactive experience. It also gives me the chance to be in the thick of the action and talk about my passion! I'm hoping our first event back this year in the Paddock Club will the Portuguese Grand Prix at Portimão. I think this circuit could throw up a good race, fingers crossed!
What's your favourite current F1 destination and why?
There are too many that are very good for a lot of reasons, but for the complete experience – venue, track, crowd, atmosphere and a great city – I would say Montreal in Canada. However, if you want to see an F1 car at its best, Spa is the connoisseur's choice!
View Lee's photos and purchase prints on slf1photo.com.