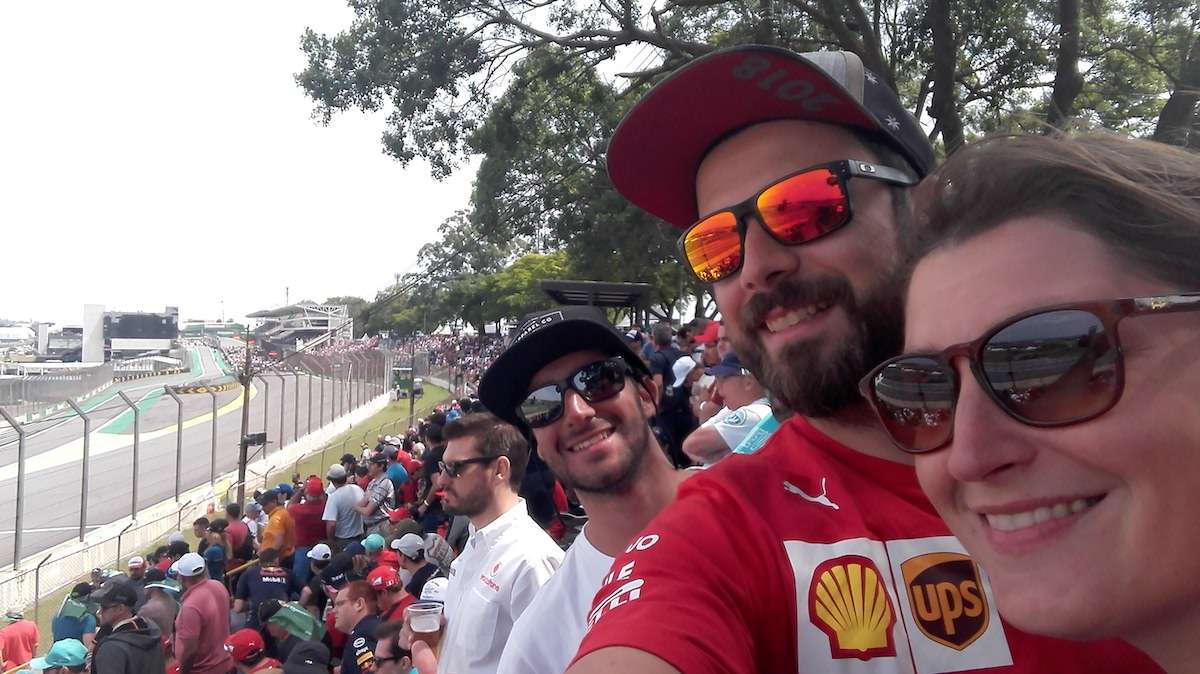 Dominik Giestheuer from Austria was lucky to witness one of the most exciting races in recent memory, the 2019 Brazilian Grand Prix. Here's his report and impressions of Sao Paulo and Interlagos.

My initial plan was to go to Suzuka for the 2019 Japanese Grand Prix, but my work colleague planned a holiday in October, so I couldn't get the time off. My girlfriend came up with the idea to visit South America in November instead and so we planned a trip to Brazil and Peru, including Interlagos of course. We were a bit concerned about safety, but the reality wasn't as bad as everybody thinks it is. We bought our tickets for Grandstand A (€250 each) in April and they were sent to us in October. We flew with Iberia one week before the race to Brazil and visited the Amazon rainforest first, then flew to Sao Paulo for the Brazilian Grand Prix, staying from Thursday to Monday. After that, we flew to Peru for a 2-week adventure including a hike to Machu Picchu via the famous 4-day Inca Trail.
First Impressions of Sao Paulo
We were really positively surprised by Sao Paulo, against all expectations it was very nice and we never felt unsafe or uncomfortable. On Thursday, we did a free walking tours around some of the must-see sights in the city and it really was worth it. The murals around Paulista Avenue are amazing, especially the ones of Ayrton Senna. We found a great place to stay in Jardins, which is a really nice part of the city. It was also close to the yellow Metro line, making it really easy to get to Interlagos. On Friday evening, we had a few drinks in the Vila Madalena neighborhood, which is a really lively part of the city with bars, restaurants and lots of people on the street.
We took the Metro all 3 days to reach Interlagos which in our opinion is the best and safest way. We had to change the line once and it took about 40 minutes. From the station, it was a 25-minute walk to Grandstand A. The station is located behind the back straight, so we had to go all around the circuit. Grandstands R & Q are much closer to the Metro station. At Interlagos, there are no pass outs. You enter the grandstand and stay there; if you leave, you cannot re-enter again. I guess this is for safety reasons. There are favelas [shanty towns] located close to the track, but the police presence was high on race weekend and we never felt unsafe.
Grandstand A was in my opinion the best place to watch the action, simply because it's so large. You can wander around and see almost the whole circuit from some vantage points. Not having a reserved seat wasn't a big issue! The Brazilians sitting near us saved our seats when we went for a beer and we did the same for them. On Friday, we checked out the whole area when it wasn't so busy, looking for the best seat for qualifying and the race. The variety of views in Grandstand A made up for the fact that we couldn't walk around inside the track; this would definitely be a problem in some smaller grandstands, where you are essentially stuck in your seat all day. Interlagos is very different to other tracks, where you can walk around in the General Admission areas. That's why I think we made the best choice with Grandstand A, because it's so large and we were free to walk around a bit.
Most of the locals were surprised that we came all the way from Europe to watch the Brazilian Grand Prix, given that we have so many races near us. There really were not many foreigners at Interlagos. Normally you see lots of fans from the UK and Holland, but not in Brazil. The two Porsche support categories were fun to watch, but there wasn't much else to see on the track. There was plenty of places at the back of the grandstand to buy food, drinks and merchandise. The best thing is that you can still feel the spirit of the great Ayrton Senna there. It would be a real shame if this race is dropped from the calendar.
I definitely recommend going to Interlagos for the Brazilian Grand Prix; you just need to be a little more alert and safety conscious than in most places. Taking the metro was a good idea. We had to walk a little, but to me that's better than being stuck in traffic like the taxis and Ubers. If you do decide to go for Grandstand A, make sure you get there early on Saturday and Sunday for a good seat. We arrived a bit late on Saturday after doing a city tour, and there was a huge line at the gate to get in. Luckily, everyone was calm and the line moved quickly. We entered five minutes before the start of third practice. The race itself was amazing of course, which topped off an excellent weekend. The only downside is that I'm a Ferrari fan and we know that my team didn't have such a great end to the weekend…