Tag: UAE travel guide
Your guide to the best that Abu Dhabi and Dubai have to offer away from the track at this year's Abu Dhabi Grand Prix on November 28 – December 1, 2019.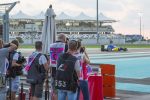 Start planning your trip to the Abu Dhabi Grand Prix at Yas Marina circuit. The final race of the season takes place on November 28-December 1, 2019.