Tag: hungaroring circuit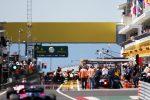 The Hungarian Grand Prix has been held at the Hungaroring circuit outside of Budapest every year since 1986. Only Monaco and Monza can claim a longer continuous presence on the F1 calendar.
The second of F1's in-season test sessions is being held this week (Tuesday, August 1 and Wednesday, August 2) at the Hungaroring circuit in Budapest, here's the lowdown.