Tag: hungarian gp
Learn about the trackside experience at the Hungaroring circuit for the 2019 Hungarian Grand Prix on August 1-4.
The Hungarian Grand Prix has been held at the Hungaroring circuit outside of Budapest every year since 1986. Only Monaco and Monza can claim a longer continuous presence on the F1 calendar.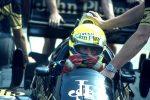 Only Monaco and Monza have featured continuously on the F1 calendar for longer than the Hungaroring. Let's take a look back at the first race in 1986, which attracted 200,000 fans from all over the Eastern Bloc.