Tag: formula 1 tickets
The cheapest F1 tickets in 2018 are offered in China and Russia, whilst Abu Dhabi and Monaco have the most expensive.
Average F1 ticket prices have increased for 2017, but only by a few percentage points. This brings to end a slight overall reduction in ticket prices that we observed in the past few years.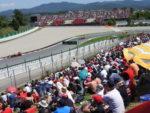 A trip to a Formula 1 race doesn't have to break the bank, with most circuits offering reasonably priced General Admission tickets for budget-conscious fans. We've analyzed the current calendar to come up with our 'top ten' circuits for General Admission tickets.