Tag: featured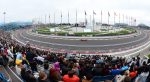 Test your knowledge of the Sochi Autodrom and the Russian Grand Prix.
Your trackside guide to the Sochi Autodrom and the Russian Formula 1 Grand Prix, including the on-track schedule.
The draft Formula 1 calendar for 2019 has been released by Formula 1. Featuring 21 races, the same as this year, the season begins in Australia on March 17 and ends in Abu Dhabi on December 1.
The cheapest F1 tickets in 2018 are offered in China and Russia, whilst Abu Dhabi and Monaco have the most expensive.
Traveling to every race on the Formula 1 calendar in a single year is the dream of many F1 fans, but how much will it really set you back? We've crunched the numbers.