Tag: f1 testing 2019
Over 4,200 laps and almost 20,000km of running have been completed over the first four days of on-track F1 action in 2019. Here are five of the headlines from the first week of winter testing!
From new driver line-ups to new engine partnerships and new regulations, here's what to look out for over the next two weeks!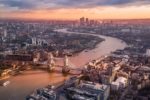 From fading hopes for a Danish GP to the prospect of a London race, plus news of the British and Mexican events excelling in 2018, here's a round-up of all the F1 calendar news from December 2018!