Tag: circuit de spa francorchamps
One of F1's most historic tracks, Spa Francorchamps was first used to host Grand Prix racing events as far back as 1925.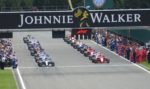 Talip Ates and Svenja Reber travelled from their homes in Germany to the 2018 Belgian Grand Prix at Spa Francorchamps. Here's their report.
Test your knowledge of Belgium, Circuit de Spa-Francorchamps and the Belgian Grand Prix in our new F1 travel quiz.