Tag: british formula 1 grand prix
Start planning your trip to Silverstone for the British Grand Prix. This year's race is on July 6-8, 2018.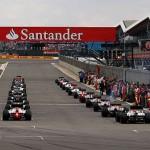 Silverstone, known as the "home of British motorsport," was part of the original World Championship in 1950 and has hosted the British Grand Prix more than 50 times.
F1destinations.com reader Gary Webb from South Africa tells us about his trip to the British Grand Prix at Silverstone in 2011. Why did you decide to go? My Dad phoned me out of the blue and asked me if i wanted to go to England with him to the British grand Prix!! I had never […]