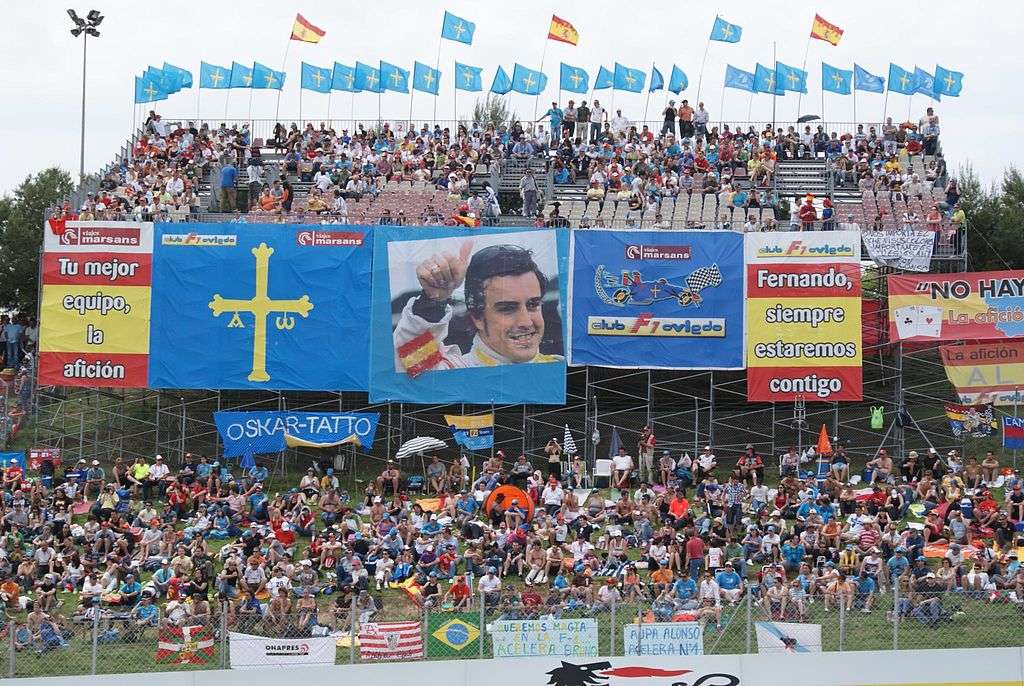 Thirteen Spanish drivers have started a Formula 1 Grand Prix, eight have scored points, but only one has scored multiple poles, wins and World Championships. We take a look at the history of Spanish drivers in F1.
Until Fernando Alonso's 2006 Spanish Grand Prix win, the last Spaniard to win their home Grand Prix was Carlos de Salamanca driving a Rolls-Royce in a sportscar race at Guadarrama back in 1913 – the very first year the event was held. Numerous Spanish drivers competed in Grands Prix at home in the years between the First and Second World Wars, though none had the success of de Salamanca. The last pre-war Spanish Grand Prix was held in 1936, and the event didn't return until 1951, as part of the second season of Formula 1.
Juan Jover and Paco Godia became the first Spanish drivers to compete in an F1 Grand Prix weekend when they both participated at the 1951 Spanish Grand Prix. While Jover failed to start the race at the Pedralbes Circuit due to engine troubles, Godia became the first Spaniard to finish an F1 Grand Prix, coming home in tenth place. Jover would never enter an F1 event again, while Godia raced in F1 until 1958, becoming the first Spanish driver to score points after finishing in fourth in the 1956 German Grand Prix.
Eight more Spanish drivers came and went in F1 over the next three decades. Alfonso de Portago raced for two seasons, with a best finish of second in the 1956 British Grand Prix, sharing the drive with Britain's Peter Collins. He never competed at his home event. Prior to his F1 career, de Portago had narrowly missed out on a bobsleigh medal at the 1956 Winter Olympic Games. Antonio Creus was the next driver to join the list of Spanish F1 stars, though his career was short-lived. He retired from the 1960 Argentine Grand Prix after sixteen laps due to exhaustion, and never competed in the sport again.
Jorge Bagration of Mukhrani was the next Spaniard to attempt to compete in F1, at his home event at the Jamara circuit in 1968 and 1974. He failed to actually race on both occasions. He was refused entry in 1968 and was unable to race in 1974 after the President of the Spanish Motor Sport Federation misplaced the Grand Prix's entry list when clearing out his office! Alex Soler-Roig became the next Spanish driver to join the sport in 1970. From his ten appearances, he never finished a Grand Prix, failing to qualify for three. He made three home race appearances.
Two Spaniards named Emilio made their début in 1976. Emilio Zapico's only entry was for the Spanish Grand Prix that year, in which he failed to qualify while Emilio De Villota also failed to qualify for that race, but made more appearances over the next four seasons. His first finish came at his home event in 1977, when he finished thirteenth. It was one of only two times he qualified for a race in his career.
The de Villota name would return to F1 in 2011 as Emilio's daughter Maria became a test driver at Lotus. She joined the Marussia team in the same role for the following season, during which she would be involved in a crash which left her with life-threatening injuries. Despite recovering and making public appearances, de Villota died little over a year later as a consequence of her injuries.
After Emilio de Villota, Spain went five years without a driver from their nation to support before Adrián Campos made his début in 1987. His home race was one of only two Grands Prix he reached the end of in his two-year career. Campos went on to have more success as a team manager, notably placing a young Fernando Alonso at his team in his junior career. Luis Pérez-Sala became the last Spaniard to compete in F1 in the 1980s. He never scored at his home event, but did take the only point of his career with sixth at the 1989 British Grand Prix.
Six drivers have competed in the Spanish Grand Prix since it moved to the Catalunya Circuit in 1991. After being without a Spanish driver in the sport for almost a decade, Pedro de la Rosa and Marc Gené joined the pack in 1999. Driving for Minardi, Gené retired from his first home race appearance, while de la Rosa had better luck in the Arrows car, crossing the line in eleventh. Gené would contest his home event just once more, in 2000, where he finished fourteenth. De la Rosa competed at the Catalunya track another five times, but never bettered his eleventh place finish from 1999.
It wasn't until 2001 that Spain's superstar arrived in the sport. Aided up the junior ladder by fellow Spaniard and former F1 driver Adrian Campos, Fernando Alonso impressed almost instantly in the unfancied Minardi car during his debut season. The two-time champion is attributed with bringing Formula 1 to the mainstream in Spain, as media interest and ticket sales for the Spanish Grand Prix surging during his most successful seasons. Alonso's first win at home came in 2006 – his second title-winning year – though he finished as runner-up in both the 2003 and 2005 events. A further three podiums would follow at Catalunya before Alonso took his 32nd and final F1 victory at the Spanish Grand Prix in 2013. In addition to his home wins in 2006 and 2013, Alonso also won the 2012 European Grand Prix, which was held at the Valencia Street Circuit.
Other Spanish drivers to compete in F1 since the turn of the millennium include Jaime Alguersuari and Roberto Mehri. Alguersuari is the only one of those two drivers to have scored a point at home, finishing tenth for Toro Rosso in the 2010 Spanish Grand Prix. He also scored four points in the following season's European Grand Prix, which was held at the Valencia circuit. In his only Spanish Grand Prix appearance, Mehri finished eighteenth for Manor. Dani Clos and Daniel Juncadella have also appeared in F1 events, Clos driving for HRT in six practice sessions in 2012 and Juncadella making three practice appearances for Force India in 2014.
For the first time since 2002, Fernando Alonso was not present on the grid for his home Grand Prix in 2019. Instead, Carlos Sainz became the focus of the partisan crowd. Having previously driven for Toro Rosso and Renault, Sainz took his childhood hero's seat at McLaren for 2019. Between 2015 and 2018, Sainz was never beaten by Alonso at the pair's home race, and he is still yet to finish the Spanish Grand Prix outside of the points-paying positions. 
After a three-year absence, Alonso returns to the grid for the Spanish Grand Prix with Alpine in 2021, while Sainz has moved to another of Alonso's former teams: Ferrari. Since their last time battling on home soil, Sainz has become Spain's fourth F1 podium finisher, and recorded the nation's 100th podium result at the 2019 Brazilian Grand Prix. Who will win the Spanish battle in 2021?