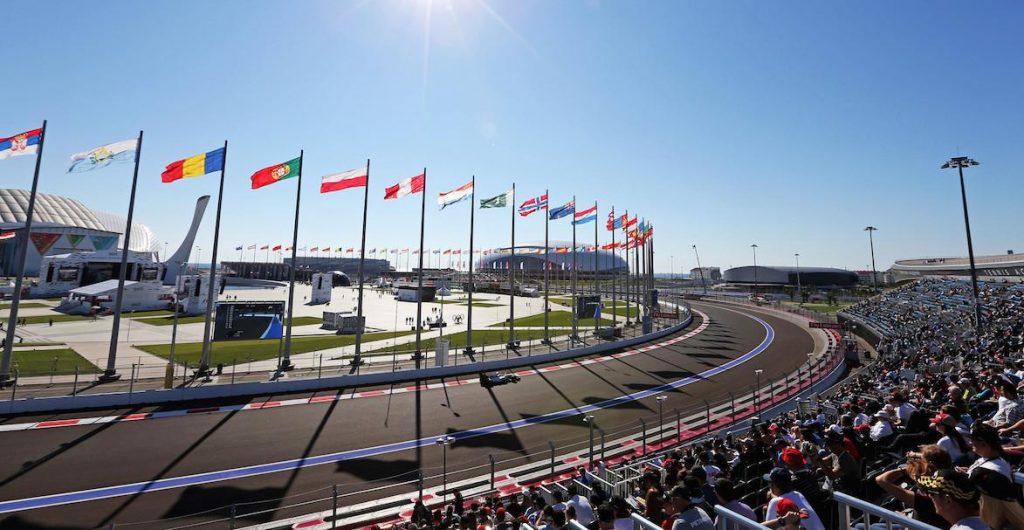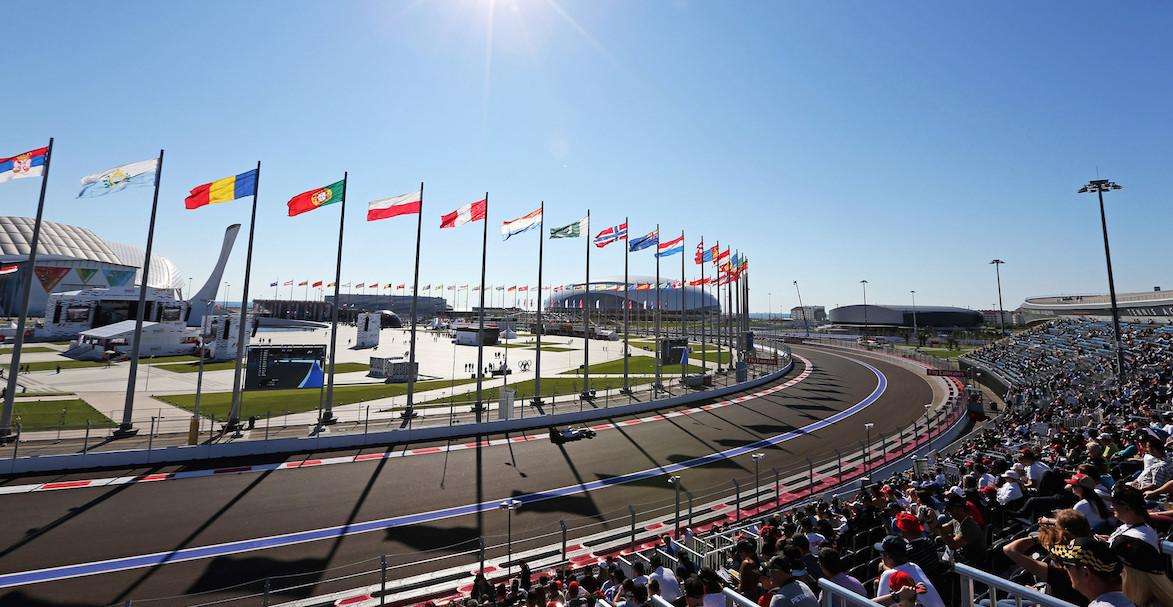 How to get to Sochi for the 2019 Russian Grand Prix, plus information on getting to the track and around the city. The next race is on September 28-30, 2018.
Images courtesy Sochi Autodrom.
The Sochi Autodrom is located in the Adler district of Sochi, just 7km south of Sochi International Airport (AER), and around 35 kilometres south of the city center.  The airport was comprehensively refurbished for the 2014 Winter Olympics, but the bad news for international fans is that it's hardly an international hub. There are plenty of regional flights, but no direct flights from Western Europe. Most visitors from the West need to transit in either Moscow (with Aeroflot or several other Russian carriers) or Istanbul (Turkish Airlines).
S7 (Siberia Airlines) offer the cheapest fares from London Heathrow: as little as £320 return with a stop in Moscow. KLM offer similarly cheap fares but also involve a change – there are no direct flights from London to Sochi.
Flights from Paris are cheapest with AeroFlot via Moscow at around

€

420 return (this airline offers the shortest transit too.) Cheaper fares with longer connections can be found with KLM for around

€

340.
KLM is also the cheapest (though not the speediest) choice for F1 fans travelling from Frankfurt, with fares starting at

€

340. AeroFlot offer a wider range of flight options – all with stops – for a slightly higher fare.
From Australia, the cheapest return fares ($1700 AUD) from Perth to Sochi are with Emirates, stopping in Dubai and Moscow. Fares of around $2000 AUD are available from Melbourne with Qatar Airways.
From the USA, there are flights from LAX to Sochi for as little as $1100 USD with Turkish Airlines and AeroFlot , and from Tampa for a similar fare, also with AeroFlot.
How to get to Sochi Autodrom
The best way to get to the circuit is by train or bus. Extra services are normally put on for Grand Prix weekend. Suburban trains and buses run from central Sochi to the Imeretinskiy Kurort station, which is 200 meters from the circuit entrance. The journey time on the train is around 50 minutes from the center of Sochi. Several buses also go direct to Sochi Autodrom, see the numbers below or ask your hotel for information and timetables. Note: if you have a hire car, driving to the circuit is not recommended. Parking in the vicinity is restricted and there are several checkpoints where you will be turned away if you don't have a valid ticket to park at the circuit.
SOCHI AIRPORT TO AUTODROM & CITY
Bus 51 goes from the airport to the center of Adler, whilst Bus 57 also goes to Adler with a stop at Olympic Park (Sochi Autodrom) and Bus 105/124 go to the center of Sochi.
Trains are also a convenient way to get from the airport to your hotel or the track. Take the R2 to central Sochi or the R4/R5 to Olympic Park (Sochi Autodrom)
A taxi to your hotel (or the Autodrom) is the fastest way, but be warned that the taxi service at the airport can be a little disorganized and you'll need to be prepared to bargain well. You should expect to pay 400-800 RUB ($7-14 USD) for a ride to Adler and up to 1700 RUB ($30 USD) for a ride to central Sochi. The best idea is to book your transfer in advance, via your hotel.
57 – Airport – Adler Railway Station – Noviy Vek Shopping Center – Imeretinskii Kurort Station
125c – Moremall Shopping and Entertainment Centre – Sochi Railway Station – Adler Railway Station – Imeretinskii Kurort Station – Sovkhoz Rossiya
124с – Sochi Railway Station – Adler Railway Station – Noviy Vek Shopping Centre – Imeretinskii Kurort Station
FS1 – Western part of Imeretinskaya Lowland (Imeretinskiy, Radisson Blu Congress Center, Tulip Inn, Parking P8)
FS2 – Eastern part of the Imeretinskaya Bay (Azimut 3*, Aleksandrovskiy Sad, Chistiye Prudy, Radisson Blu Resort, Bridge, Yekaterininskiy Kvartal, Russkiy Dom)
Getting Around in Sochi
Thanks to the Winter Olympics in 2014, Sochi is a city geared for tourism so its infrastructure is excellent and you won't struggle to make your way around by public transport. Modern trains ply the coastline from the city center of Sochi to the Adler district in the south, with stops at both Olympic Park (Sochi Autodrom) and the airport. You can even take the same train out to Krasnaya Polyana, Russia's 'billion-dollar ski resort' where most of the games were held. Click here to search in English for Sochi bus and train connections.
The city itself also has a good network of buses and trolleybuses, all very cheap and easy to use (most short trips will cost you $1-2 USD maximum). You can hire bicycles for free in Sochi for a small returnable deposit, and much of the city can be explored comfortably on foot. In terms of taxis, both Uber and it's Russian competitor Yandex Taxi are both popular in Sochi, as it GetTaxi. You can also get your hotel to arrange a taxi to make sure you get a reputable company.
Have you been to Sochi Autodrom? Leave a comment below with your tips!
The last race in Europe in the 2019 season sees F1 head to Sochi. Here's everything you need to know ahead of the Russian Grand Prix weekend on September 27-29, 2019!
Tags: getting around sochi, how to get around sochi, how to get to sochi autodrom, public transport sochi, russian grand prix public transport, russian grand prix transport, trains to olympic park sochi