German F1 Travel Guide
Start planning your trip to the Hockenheimring circuit for the German F1 Grand Prix in the beautiful Upper Rhine valley. The next race is on July 25-28, 2019.
Where to stay near Hockenheim for the German Grand Prix. This year's race is on July 20-22, 2018.
Your guide to buying tickets and the best places to watch the action at the Hockenheimring for the 2019 German Grand Prix on July 26-28.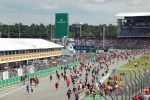 How to get to the Hockenheimring for this year's German Grand Prix on July 20-22, including detailed info on trains and driving to the circuit.
The best things to do away from the Hockenheimring at the 2018 German Grand Prix, including the most interesting nearby attractions. The Mercedes-Benz and Porsche museums in nearby Stuttgart and the incredible Technik Museum Sinsheim top our list!
Germany is home to the all-conquering Mercedes AMG F1 team plus 4-times World Champion Sebastian Vettel. It has two iconic tracks; the Hockenheimring and the Nurburgring.
Planning a trip to the 2018 German Grand Prix at the Hockenheimring on July 20-22? Read our budget planner to work out the cost of your trip!