Blog/News
Mercedes head to their homeland while Sebastian Vettel searches for home redemption. Here are the talking points ahead of the 2019 German Grand Prix!
The Dutch Grand Prix returns to the Formula 1 calendar in 2020 after an absence of 35 years and demand for tickets has unsurprisingly far exceeded supply. Here's what to do if you missed out on getting tickets.
Silverstone signs a new deal, Hamilton searches for a record-breaking British win and are Red Bull overtaking Ferrari in this year's development race? Here are the talking points ahead of the 2019 British Grand Prix!
Silverstone has concerns over the addition of a London Grand Prix, Spa-Francorchamps seeks a lowered hosting fee and preparations continue for the 2020 Dutch Grand Prix.
John Watson, a 5-time race winner, was the teammate of Niki Lauda at Brabham in 1978 and McLaren in 1982/83. We spoke one week after the funeral of 3-time World Champion Niki Lauda, who died at the age of 70 on May 20.
Mercedes search for a record-equalling victory as Ferrari and Red Bull look to end their winning streak. Elsewhere, will the McLaren resurgence continue and will we see a tight battle for pole position on Saturday? Here are the talking points ahead of the 2019 Austrian Grand Prix! A record weekend for Mercedes? Mercedes stand on [...]
After a controversial weekend in Canada, Formula 1 heads to Le Castellet for the first of two back-to-back weekends of racing. Here are the talking points ahead of the 2019 French Grand Prix weekend!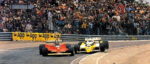 René Arnoux reminisces with Károly Méhes as the 40th anniversary of his classic wheel-to-wheel battle with Gilles Villeneuve at the 1979 French Grand Prix in Dijon approaches.
With a long and illustrious motorsport history, plenty of French drivers have experienced success at home, particularly at Circuit Paul Ricard. We take a look back at France's home race heroes!