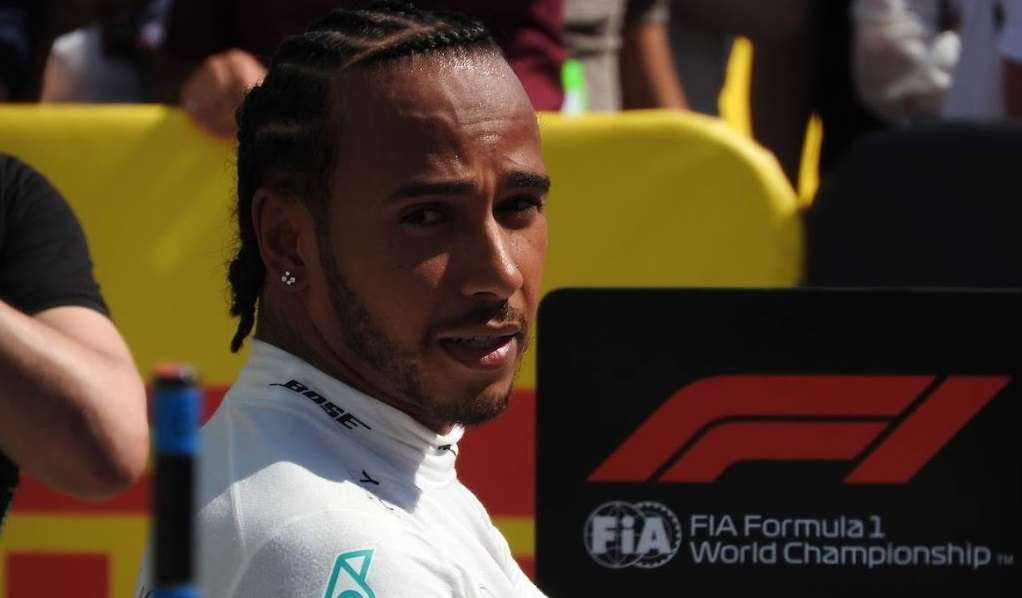 From Stirling Moss to Lewis Hamilton, twelve British drivers have shared 27 home wins at the British Grand Prix. We take a look back at the British drivers who've enjoyed success at their home event!
British drivers have excelled at the British Grand Prix. At Silverstone alone, British drivers have taken three times more wins and almost three times more poles than any other nation. In terms of podium finishes, British drivers have had 44 podiums compared to 18 for nearest rivals Germany.
The British Grand Prix was first held in 1927 at Brooklands. The first event saw British driver Malcolm Campbell finish as runner-up. There was just one more British Grand Prix before the Second World War, held one year later on the same course. When the event returned after the war, it was held at former RAF airfield Silverstone. In both 1948 and 1949, Bob Gerard finished on the podium, before the event hosted the first World Championship Formula 1 race in 1950. No less than ten British drivers partook in the event and Reg Parnell became the first driver in F1 to finish on the podium at his home Grand Prix, with a third place finish for Alfa Romeo.
Moss becomes first British home winner
Mike Hawthorn would be the next British driver to finish on the podium at home, finishing second in 1952 and third in 1954. The British Grand Prix moved to Aintree for 1955, where Stirling Moss took victory, becoming the first British driver to win their home event. He won at the track again in 1957, this time in a shared drive with Tony Brooks.
Peter Collins also took a home victory, this time at Silverstone, in 1958. Having previously finished as runner-up in the 1956 event at Silverstone, the 1958 British Grand Prix marked the last of his three Grand Prix wins; and it was deemed to be one of his best. Following a tumultuous period in his relationship with the Ferrari team, Collins kept the superior Vanwall of Stirling Moss behind him until Moss' engine blew 25 laps into the race.
Jim Clark: Star of the 60s
The result of the 1958 race saw all of the top four positions filled by British drivers. The late fifties and early sixties were a Golden Age for British drivers, with Mike Hawthorn, Graham Hill, Jim Clark and John Surtees all winning the Drivers' Championship. The quality of British drivers is reflected by their home races successes. In 1958, 1963 and 1965, three Silverstone races saw all-British podiums, while the 1964 event at Brands Hatch also saw an all-British rostrum.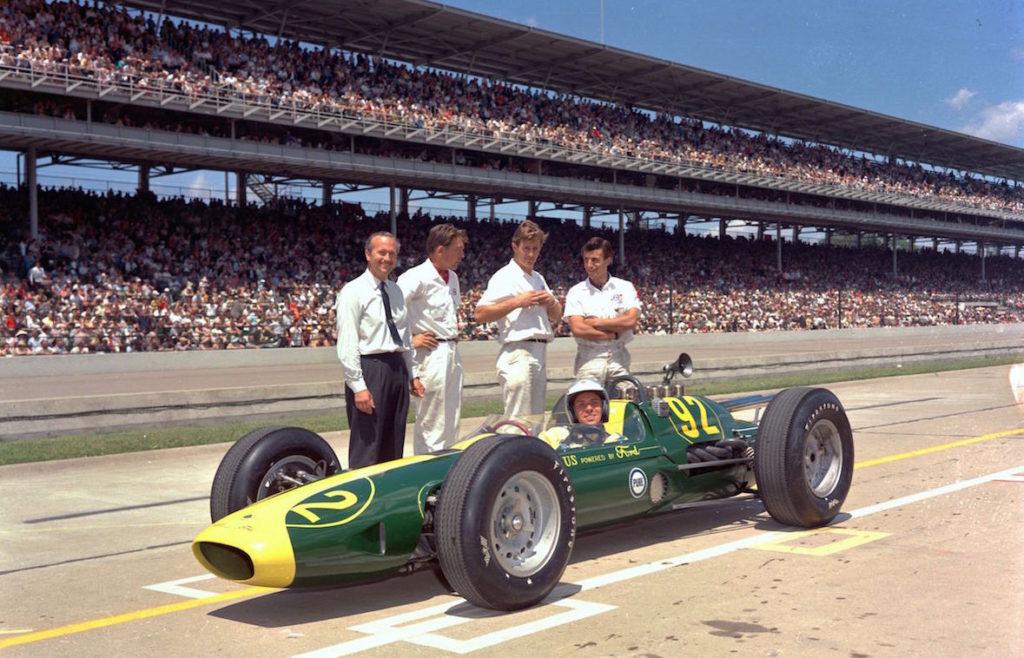 It was Clark who was the most successful home star in the sixties, winning no less than five British Grands Prix between 1962 and 1967. Three of those wins (1963, 1965 and 1967) came at Silverstone. He also won at Aintree in 1962, where John Surtees finished second in a British 1-2. Clark's other home victory was at Brands Hatch in 1964. All five of Clark's British Grand Prix victories were won from pole position.
Until 2015, Jackie Stewart was the only British driver to have won the World Championship three times. He triumphed twice at Silverstone, each time in championship-winning years – 1969 and 1971. The 1969 event featured an interesting tussle between Stewart and Jochen Rindt. The pair slipstreamed each other for the lead throughout the race, until Stewart signalled to Rindt that there was damage on the Austrian's car. Rindt was obliged to pit, and Stewart ultimately won the race by over a lap.
James Hunt took his only home victory at the 1977 British Grand Prix – though he'd crossed the line first at the event in the previous season. The 1976 race at Brands Hatch was highly controversial. A first lap crash saw the race red-flagged, with Hunt's car damaged. Stewards ruled that no spare cars could be used, so McLaren had to quickly repair the Englishman's car. Following a backlash from the partisan crowd, the stewards decided that Hunt would be allowed to restart the race. He went on to win after overtaking Niki Lauda's ailing Ferrari. However, Hunt was stripped of the win two months later. It was decided in an FIA tribunal that, under the regulations, cars had to complete one lap in order to be eligible to take part in a restart.
Hunt went on to triumph at Silverstone in 1977, finishing eighteen seconds ahead of 1976 championship rival Lauda.
When John Watson took his sole home victory for McLaren at Silverstone in 1981, James Hunt's 1977 Japanese Grand Prix victory had been the team's most recent win. Watson had previously taken two podiums at the British Grand Prix, but both came at Brands Hatch in 1976 and 1978. Watson's victory in this race marked his first win in five years, plus the first time that a car with a carbon fibre monocoque won an F1 race. Read our exclusive interview with John Watson.
Nigel Mansell suggested that the home crowd can give a driver a few tenths advantage on track – and the statistics seem to back his claim up! He took the fastest lap of the race at Silverstone in six consecutive races between 1987 and 1992. Mansell won twice at Brands Hatch. Having previously taken a podium at the track in 1983, the first time he won there it was under its guise as the European Grand Prix in 1985. The second time he won at the track was in 1986, which was the last time the British Grand Prix was not held at Silverstone.
Mansell won three times at Silverstone – in 1987, 1991 and 1992 – when Mansell Mania had gripped the nation. He took victory at Silverstone following a close fought battle with Williams team-mate Nelson Piquet in 1987. His epic move on Piquet in that race is often cited as one of Formula 1's greatest overtakes. After two further podiums at the event in 1988 and 1989, he won by over 40 seconds in 1991. In iconic scenes, Mansell gave Ayrton Senna a lift back to the pits after the Brazilian's McLaren ran out of fuel.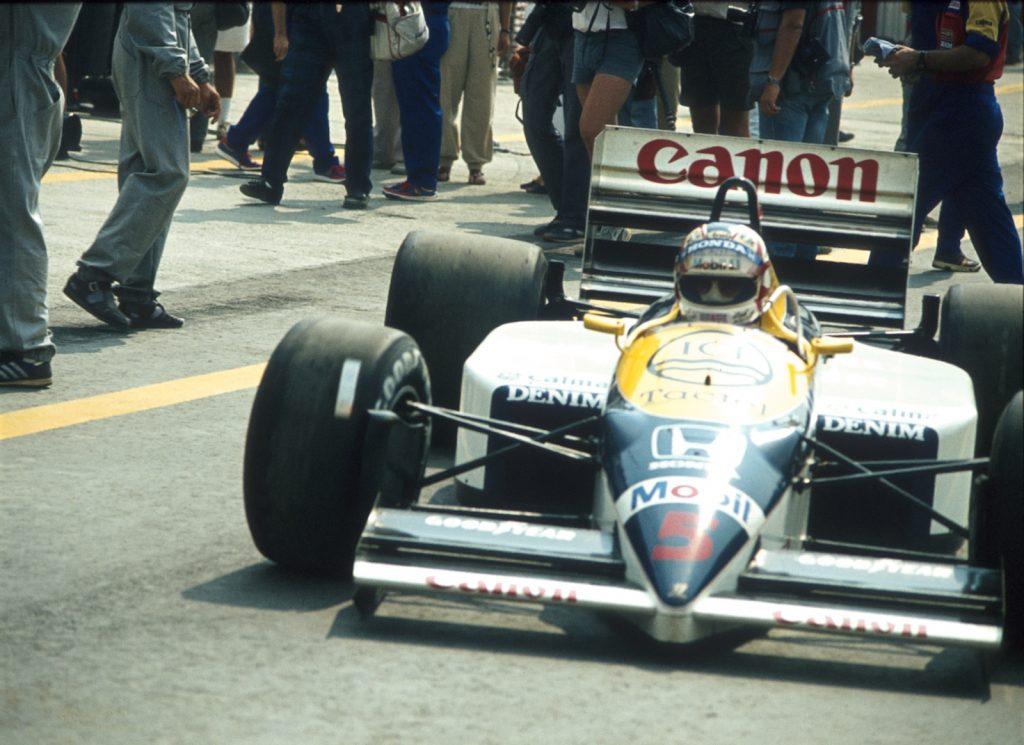 Finally, in 1992, the crowd invaded the track after Mansell stormed to another British Grand Prix victory. His route eventually became completely blocked by fans, so he was taken to the podium by track marshals. This Grand Prix victory made Mansell the most successful British Formula 1 driver at the time, surpassing Jackie Stewart's 27 wins. There were two Brits on the podium in 1992, as Martin Brundle came third for Benetton.
The 1992 British Grand Prix also marked the first race appearance for Damon Hill. He finished 16th in that race, but he'd go on to be Britain's next home winner in 1994. Hill had also finished on the podium at the 1993 European Grand Prix. The event took place at Donington – the final European Grand Prix to be held in Britain. Damon was the first of three British drivers to win at home during the 1990s. Johnny Herbert claimed his debut F1 victory at Silverstone in 1995. Hill had started from pole in the race, but was eliminated following a crash with Michael Schumacher. A stop-go penalty for Williams' David Coulthard helped Herbert on his way to his first win with Benetton.
Coulthard's day would come at the end of the decade though, as he won the 1999 British Grand Prix. Team-mate Mika Hakkinen lost a wheel at a pit-stop, aiding Coulthard to take the lead. The Scot withstood pressure from Ferrari's Eddie Irvine to claim his first home victory. With Irvine finishing second, the 1999 British Grand Prix marks the most recent time that two Brits finished in the top two positions at their home race. Coulthard went on to win again in 2000, nursing a failing gearbox to cross the line just one and a half seconds ahead of Hakkinen.
Button, Hamilton and the future
For much of the early 2000s, British hopes were pinned on Jenson Button – but the Brit never stood on the podium at Silverstone. From his seventeen appearances, he retired five times and finished fourth on three occasions, in 2004, 2010 and 2014.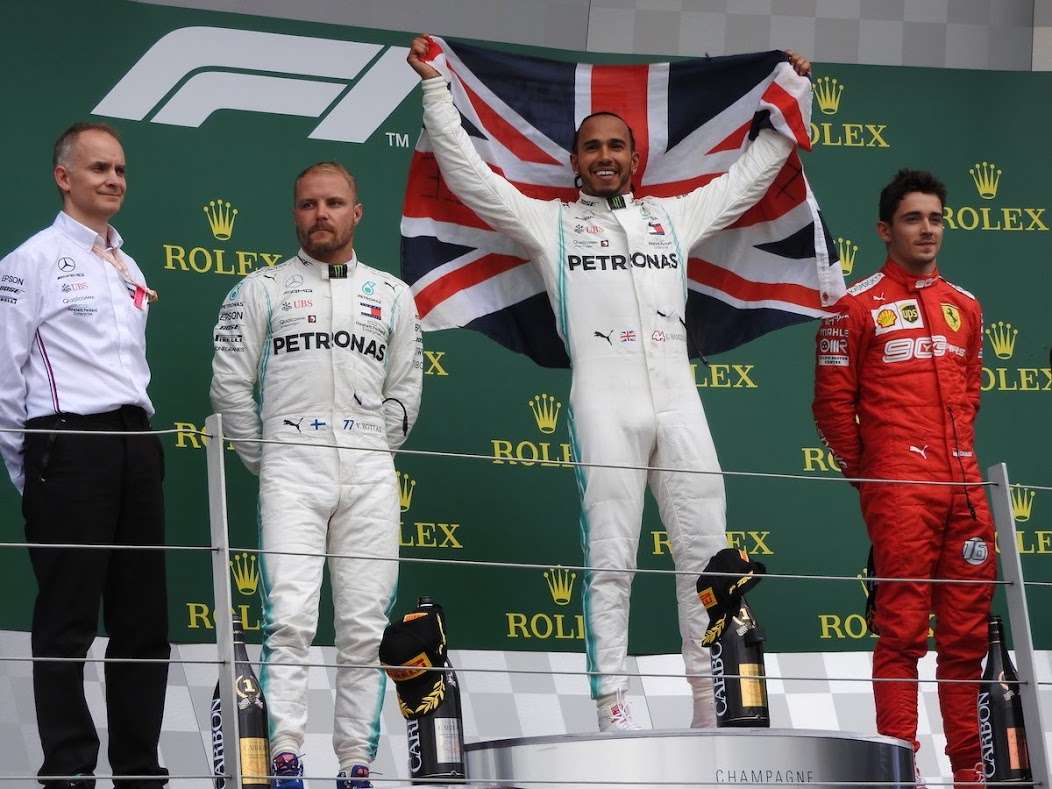 In 2007, Lewis Hamilton made his debut and took pole position at the British Grand Prix. Although he failed to win that year, he has gone on to be as successful at his home event as Jim Clark. A supreme win in wet weather in 2008 saw him take victory by over a minute. He then went on to win in every year between 2014 and 2017 and secured a record-breaking sixth win at the track in 2019. Hamilton became the driver to have won his home race on the most occasions in 2020, despite crossing the finish line with only three fully inflated tyres!
The future of British talent in Formula 1 looks to be in safe hands, with Lando Norris now a proven podium finisher and George Russell seemingly destined for a bright future with Mercedes. With the British Grand Prix at Silverstone now confirmed until 2024, perhaps we'll see more home winners added to this list in the years to come.
Who's your favourite British F1 driver? Leave a comment below!