Start planning your trip to Baku for the Azerbaijan F1 Grand Prix. The second edition of the race takes place on June 23-25, 2017.
The city of Baku, located on the Caspian Sea, is the capital of Azerbaijan. The city is divided into three sectors – the ancient city, the soviet-built section, and the newest part – making it a fascinating tourist destination bursting with history and culture. Baku is so much more than an F1 destination, so try and allow a few days for sightseeing to soak it all up. Its recent appearance on the F1 calendar has seen Baku catapulted into the world's consciousness: a city where Stalin-era architecture is rapidly giving way to skyscrapers and dazzling glass structures reminiscent of Dubai.
Visa Overview
The visa application process for Azerbaijan is relatively simple, and passport holders from the UK, the USA, Australia and most of Europe can apply for the Easy e-Visa online in advance of their trip with just a copy of their passport. For a tourist stay of up to 30 days you can apply for the simple package for 70 EUR if you already have your accommodation booked. Applications can be processed online here using a credit or debit card, and can be processed in as little as three working days.
Safety
Baku is not a dangerous city. Exercise common sense as you would whilst travelling in any foreign city, and you should have a stress-free time in the city. The most significant issue for tourists is probably driving in Baku, since many road users fail to stick to the speed limits – keep your wits about you! Don't forget that the government in Azerbaijan is known to be repressive and authoritarian, so avoid any form of criticism in public.
Money
The Azerbaijani currency is the manat (AZN), which is divided into 100 qəpik. The manat lost half its value against international currencies when the government removed a peg to the US dollar around 18 months ago. This is bad news for the average Azerbaijani, but good news for international tourists to the Grand Prix. Currently, 1 AZN is equal to around €0.52 EUR and $0.55 USD. ATMs can be found all over the city, especially near metro stations.
Need to know
Time zone: Baku is UTC +4
Tap water in Baku is not considered safe for human consumption; bottled water is readily available and cheap.
You drive on the right side of the road in Azerbaijan.
The country telephone code for Azerbaijan is +995.
In case of a general emergency, call 103 for ambulance, 101 for fire brigade and 102 for the police. Be warned that you will need to speak Azeri, Russian or Turkish, so keep a phrase book handy at all times.
Azerbaijan uses type C and F power sockets, just like the rest of Europe. Bring an adaptor if you are coming from the UK, USA or Australia.
Language & Culture
Having played host to oil industry expats for the past fifteen years, you can get by with English all over Baku, especially in shops, hotels, bars and restaurants. You'll be equally comfortable talking Russian in Azerbaijan, but we'd strongly advise getting hold of an Azeri phrasebook or app before you arrive here. Turkish is another language that most Azerbaijanis can understand, so if you know a little Turkish, try it out slowly and see how you go.
Climate
Did you know that Baku's average annual temperature stays within one tenth of a degree of the temperature of the Earth's entire landmass? Typically, Baku enjoys a Mediterranean climate, which means an average temperature of 14 degree Celsius with hot summers and wet, windy winters. In late June when the Grand Prix is held, you can expect very comfortable temperatures of mid to high twenties (degrees Celsius) so remember to pack your sunscreen!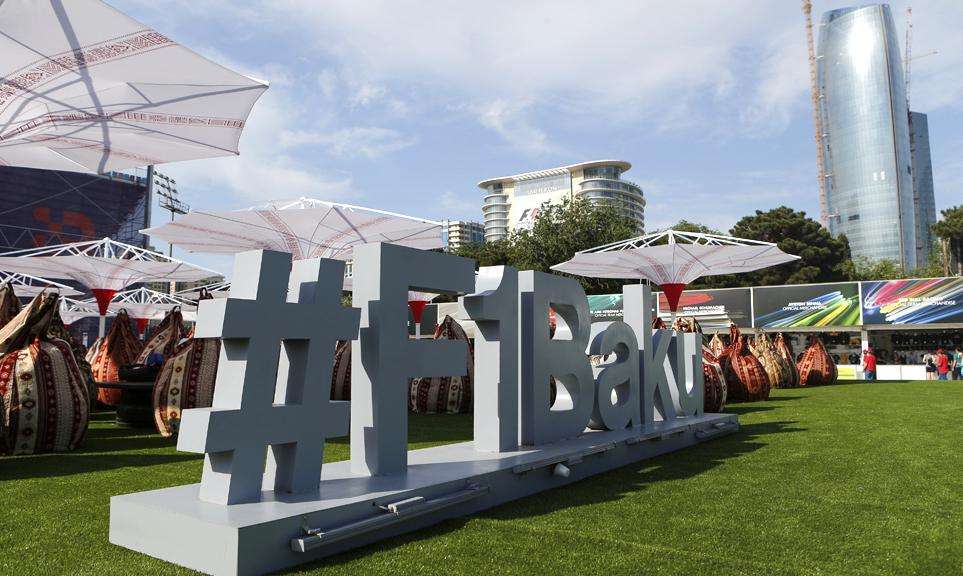 How to get to Baku for the Azerbaijan Formula 1 Grand Prix, plus advice on getting around in the city. The next race takes place on April 27-29, 2018.
Tags: azerbaijan grand prix, azerbaijan visa f1, baku grand prix, travel advice azerbaijan, travel to azerbaijan