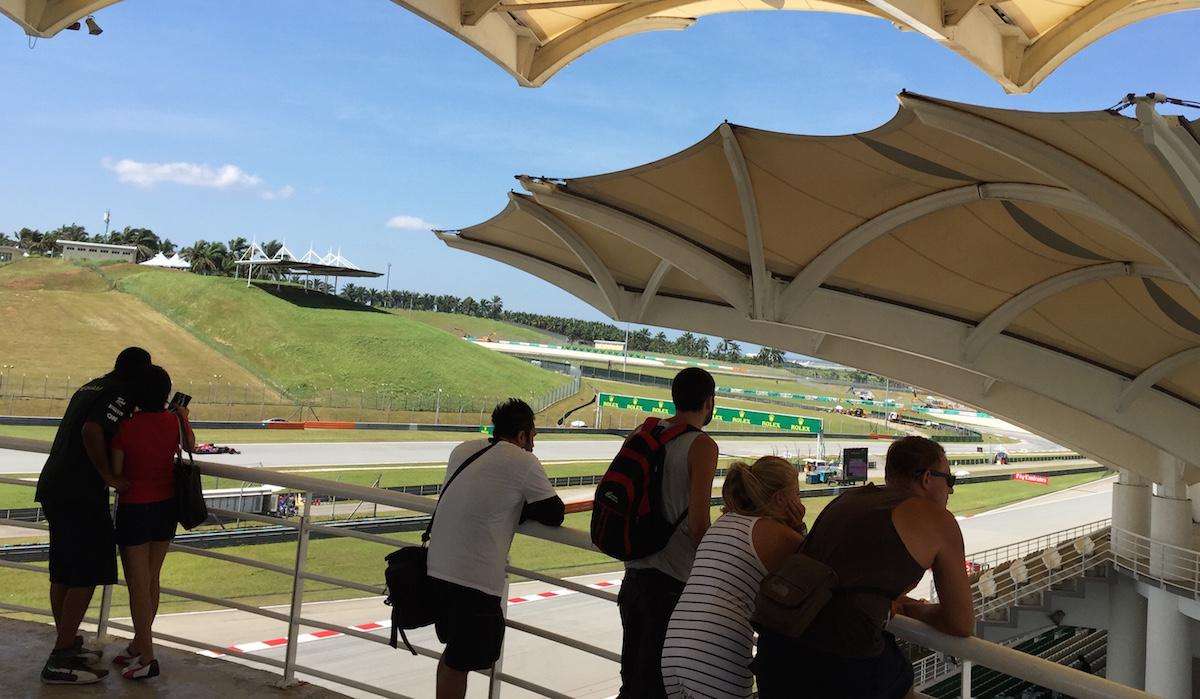 Your trackside guide to the Sepang International Circuit (SIC) for the Malaysia Formula 1 Grand Prix. The final F1 race in Malaysia for the foreseeable future will take place on September 29 – October 1, 2017
All photos © F1Destinations.com. The Editor attended the 2015 Malaysia Grand Prix at Sepang. This post will be fully updated around 2-4 weeks before this year's race. We've left last year's content below for reference; much of the advice will remain unchanged.

After signing a three-year contract extension last year, the Malaysia Grand Prix moves from an early-season calendar slot to an October date just two weeks after the F1 night race in Singapore. With fairly low attendances, Sepang is lacking some of the atmosphere found at other circuits, but this can also be an advantage. There's plenty of seats – especially on Free Friday when you can sit in any grandstand – and very few queues for food/drink and toilets. Trackside prices are expensive by Malaysian standards, but still pretty affordable.
Need to know
The heat and humidity can be stifling, so dress appropriately. Wear light pants or shorts and take along a spare shirt or T-shirt to change into later in the day. Don't forget to wear comfortable shoes and to keep yourself hydrated throughout the day.  Avoid spending too long in the sun, particularly in the hottest hours between 11am-3pm. Check the weather forecast and be prepared if any rain is forecast, which it often is! The ongoing renovation of the circuit has delivered some new and updated facilities for fans, but grandstand roofs are still known to leak during heavy tropical downpours which can hit the circuit on race weekend.
Access & Orientation
Arriving on the transit bus from the airport (KLIA)? You will be dropped off in the parking area a few minutes walk from the circuit entrance, which is close to the K1 grandstand and not far from the main grandstands and mall area. Read 'Getting Around' for more information on how to get to Sepang.
If you hold a ticket for one of the other parts of the circuit (F Grandstand, Start Stand or C2 Hillstand for example), then it's recommended to wait for internal circuit shuttle bus to take you to your gate, saving you a hot and sweaty walk. Buses run every 15 minutes over the weekend, but the service can be overcrowded and disorganized, particularly after qualifying and the race when there is a rush for the buses. There is also no rain shelter for fans waiting for the bus when a downpour hits.
Driving to Sepang? Be sure to enter the car park area which corresponds to your ticket and entry point. There are around 18000 parking spaces at Sepang and parking tickets can be bought together with race tickets on the main Sepang website. They cost from 50 RM for 3 days (for spaces close to the C2 Hillstand) up to 200 RM for spaces closer to the main grandstands and mall area.
Remember that it is forbidden to bring in any food or drink into the circuit.
Gates open at 08:00.
On-track action
The good news is that the GP2 and GP3 feeder series are returning to Sepang after being absent for the past two years. Two other support series will also feature – Porsche Carrera Cup Asia and TCR International Series for touring cars. Unusually, the provisional schedule includes on-track action from both all support categories on Thursday afternoon, in addition to Friday-Sunday. Click here to print/download the full provisional schedule.
Thursday, September 29
15:15-15:45: GP3 practice
16:05-16:35: GP2 practice
16:55-17:25: Porsche Cup practice
17:50-18:20: TCR Series practice
Friday, September 30
08:40-09:10: TCR Series qualifying
10:00-11:30: Formula 1 free practice 1
11:55-12:25: Porsche Cup qualifying
14:00-15:30: Formula 1 free practice 2
15:55-16:25: GP2 qualifying
16:50-17:20: GP3 qualifying
17:45-18:15: TCR Series race 1 (11 laps / 25 mins)
Saturday, October 1
10:30-11:15: GP3 feature race (19 laps / 40 mins)
11:50-12:55: GP2 feature race (31 laps / 60 mins)
14:00-15:00: Formula 1 free practice 3
15:30-16:00: TCR Series race 2 (11 laps / 25 mins)
17:00-18:00: Formula 1 qualifying
Sunday, October 2
10:05-10:40: GP3 sprint race (14 laps / 30 mins)
11:20-12:10: GP2 sprint race (22 laps / 45 mins)
12:35-13:10: Porsche Cup race (14 laps / 30 mins)
13:30: F1 driver's track parade
15:00-17:00: 2016 Formula 1 Petronas Malaysia Grand Prix (56 laps / 120 mins)

Make the most of Free Friday!
There's free access to all grandstands on Friday for holders of all tickets. It's worth checking out the Tower grandstand and some of the areas outside the mall area, especially the K1 and F grandstands and C2 hillstand (take the internal shuttle bus for the latter two areas). Check out some of the views below or read more in our guide to buying Malaysia Grand Prix tickets, which includes our own pictures and videos from all main spectator areas at Sepang.
Fan's Pitlane Walk
Details of the fan's pitlane walk have not been released yet for 2016. Last year, this took place at the end of the racing on Friday afternoon (at around 18:30). A queue formed several hours earlier in the center of the mall area and the pitlane was accessible via an underpass.
Driver autograph sessions
In 2015, the driver's autograph session was held early on race morning (around 10am) near the welcome centre. More information will be available on race weekend. As with similar sessions at other F1 races however, the chances of getting your favourite driver's autograph are hit and miss. Some drivers show up late or fail to put in an appearance.
Welcome Centre, Mall Area & F1 Village
The Welcome Centre at the entrance to Sepang serves as a focal point for many of the trackside attractions on offer at Sepang. As well as being housing a restaurant, gift shop and trade displays, it is also the entrance to the Mall area which separates the Main North and South Grandstands. Many fans make the F1 Village in the Mall area their hub for the weekend away from their grandstands. This is where the best food and drink, merchandise and sponsor stands can be found. There's also a small stage, ferris wheel and mini fun fair. Access to the grandstand part of the mall area is restricted to ticket holders on Saturday and Sunday; however, we were able to pay 20 RM last year near the end of the race to participate in the podium ceremony on the track.
After-race concert with Usher
After being regularly upstaged by rivals Singapore and Abu Dhabi in the past few years, the Malaysian organisers have stepped up their game a little bit in recent years. Guns N'Roses performed in 2014 and Lenny Kravitz was booked to play last year, but cancelled a few weeks before race weekend. For 2016, Usher has been confirmed to play from 18:30-20:00 on Sunday, after the race. The concert takes place in the new Star Stand area (check map above). Gates open at 17:00 and entry is free to all ticket holders. Click here for the Usher poster with support act details and times.
Amenities
Food and drink options at Sepang are limited, but thankfully not as overpriced as at many other F1 circuits on the calendar. Water and other soft drinks cost around 5 RM ($1.20 USD) and most meals between 15-30 RM ($4-8 USD). The best food and drink stands are located in the Mall area between the North and South Grandstands, where there are around 15 different choices including Pizza Hut, KFC and a satay bar. The hamburgers and hot dogs are best avoided, as the food is pre-cooked and left to sit in the heat rather than being cooked to order.There are several bars with beers costing around 15 RM (under $4 USD). If you are sitting in any of the spectator areas away from the Mall area (K1, K2, C1, C2, C3, F) then your options are limited to a food and beverage kiosk selling basic and unhealthy fast food fare, a drinks tent and icecreams. Consider a trip to the Mall area when you are getting hungry.
Don't miss any of the action
All grandstands at Sepang have access to large TV screens. However, the screens are not large and not all grandstand seats get equal views. It's worth taking along a pair of binoculars so you can read lap times and positions on the screen. There is also trackside broadcasting with commentary in English and Malaysian (also available on FM radio). If you are seated in one of the Hillstand areas which don't have viewing screens, it's even more important that you have a radio to listen to the trackside commentary. Alternatively, if you have got an internet enabled smart phone, it's worth paying for the F1 App which will provides all the on-track info you will need.
Been to Sepang? Leave a comment with your trackside tips!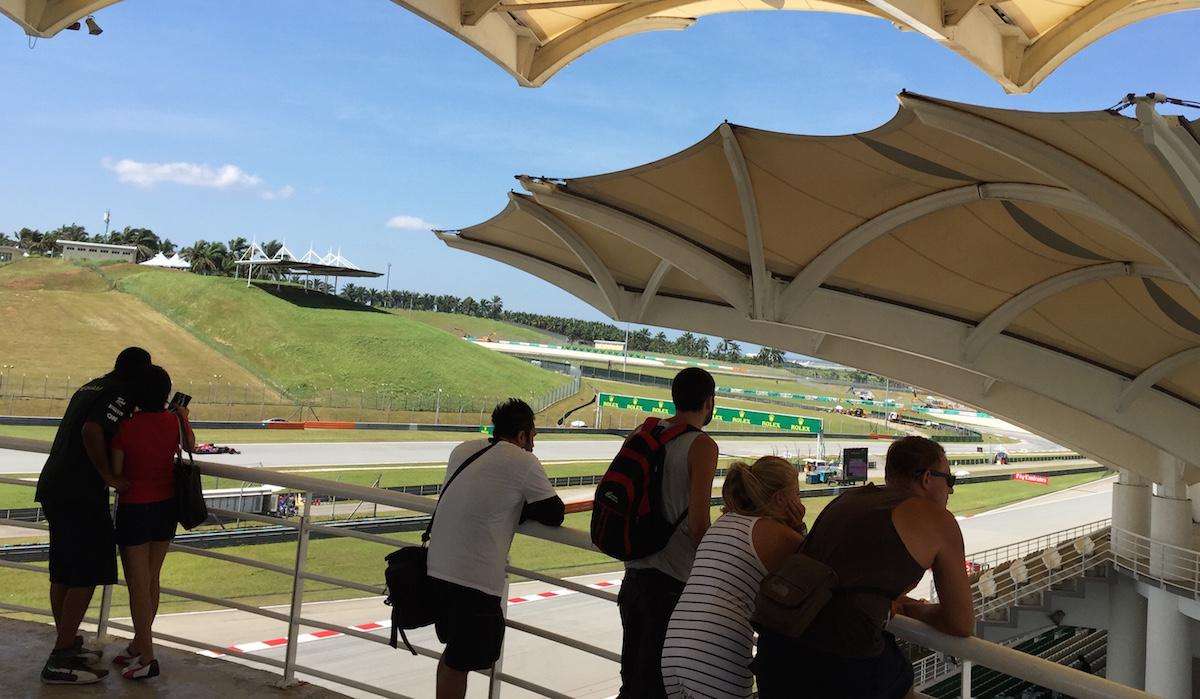 Your trackside guide to the Sepang International Circuit (SIC) for the Malaysia Formula 1 Grand Prix.
Tags: amenities at sepang circuit, food and drink sepang, malaysia f1 grand prix, merchandise sepang, sepang f1 circuit, trackside sepang