Learn about the trackside experience at the Hungaroring circuit for the Hungarian Formula 1 Grand Prix. This year's race is on July 28-30, 2017.
All pictures © F1Destinations.com. This post will be fully updated around 2-4 weeks before this year's race. We've left last year's content below for reference; much of the advice will remain unchanged.

The Hungaroring attracts fans from all over Europe. The weekend is generally well organised for fans and the trackside atmosphere is great. Aside from the on-track action, there is little in the way of extra entertainment put on for fans at the track. Luckily, there is cheap beer and this seems to keep the majority of fans happy.
It pays to be well prepared before you head to the track. More often than not, it's very hot on Grand Prix weekend –  wear light clothing and make sure you pack a hat and sunscreen. If you are taking the free bus or the train, wear comfortable shoes as both services terminate a long distance from the track and you will have to walk a long way.
Access & Orientation
For more information on getting to the Hungaroring, please read the Getting Around section of this guide. A total of ten gates provide access to the circuit. Free parking is offered to fans at carparks dotted around the outside of the circuit. Our favourite parking is behind the hill near turn 1. Check the map opposite. If you are driving,  you'll need to be patient at peak times, as the roads near the circuit get easily congested. Remember that you cannot bring any glass into the circuit but plastic bottles are allowed. More info in the FAQ here.
Thursday Pitlane walk for fans
A popular pitlane walk for fans is held on Thursdsay afternoon between 17:00-19:00. You'll need a valid 3-day ticket to take part. We went in 2014 and estimate at least 5000 fans turned up, making it a little crowded at times. We didn't manage to get any driver autographs, there was just too many fans. Nevertheless, the atmosphere was lively and it was a great opportunity to check out the teams at work in the garages; check out some of our photos below.
2016 Hungarian Grand Prix On-Track Schedule
As well as Formula 1, there will a full weekend program for GP2 and GP3 (including two races for each category), as well as Porsche Supercup action. After the race, fans are granted track access – join the hordes for the podium celebration on the main straight, a great experience to end your weekend.
Friday July 22, 2016
07:00: Gates open (expected)
10:00-11:30: Formula 1 (Free Practice 1)
12:00-12:45: GP2 (Practice)
14:00-15:30: Formula 1 (Free Practice 2)
15:55-16:25: GP2 (Qualifying)
16:45-17:30: Porsche Supercup (Practice)
17:50-18:35: GP3 (Practice)
Saturday July 23, 2016
07:00: Gates open (estimated)
09:45-10:15: GP3 (Qualifying)
11:00-12:00: Formula 1 (Free Practice 3)
12:25-12:55: Porsche Supercup (Qualifying)
14:00-15:00: Formula 1 (Qualifying)
15:40-16:45 GP2 (Race 1 – 37 laps)
17:20-17:55 GP3 (Race 1 – 17 laps)
Sunday July 24, 2016
07:00: Gates Open (estimated)
09:25-10:00: GP3 (Race 2 / 17 laps)
10:25-11:15: GP2 (Race 2 / 28 laps)
11:35-12:10: Porsche Supercup (Race – 14 laps)
12:30: F1 Driver's Track Parade
12:45-13:15: F1 Grid Presentation
14:00: 2016 Formula 1 Grand Prix of Hungary (70 laps)
Amenities
As the Hungaroring is a permanent track, the quality of trackside facilities is quite good. The circuit is 30 years old however, so is showing its age in some places. The toilets, a mixture of permanent facilities and portaloos, are generally clean and free of queues.
The area behind the Super Gold grandstand on the pit straight is the hub for fan action on the weekend. Here you will find lots of  most food and drink stalls plus the F1 Village with merchandise and product displays. It's also a good place to grab a seat and some shade.
Food & Drink
The food on offer at the Hungaroring during our most recent visit (2014) was a big improvement from our first visit in 2007. It's still on the pricey side and there isn't much in the way of healthy fare, but there is more variety on offer apart from hot dogs and hamburgers, including langos (Hungarian deep-fried flatbread), gyros and pizzas. Expect to pay around €5-10 for most meals .
Drinks are more reasonably priced and you can also fill up your water bottle for free at lots of points around the circuit. Local Dreher beer costs 800 forints (€2.50) for half a liter, whilst Czech Pilsener is the same price for 400ml. Water and soft drinks are cheaper. Keeping hydrated is essential in the hot summer sun and you should also be careful about your alcohol consumption at the track. Check the pictures for examples of food and drink at the track, including prices.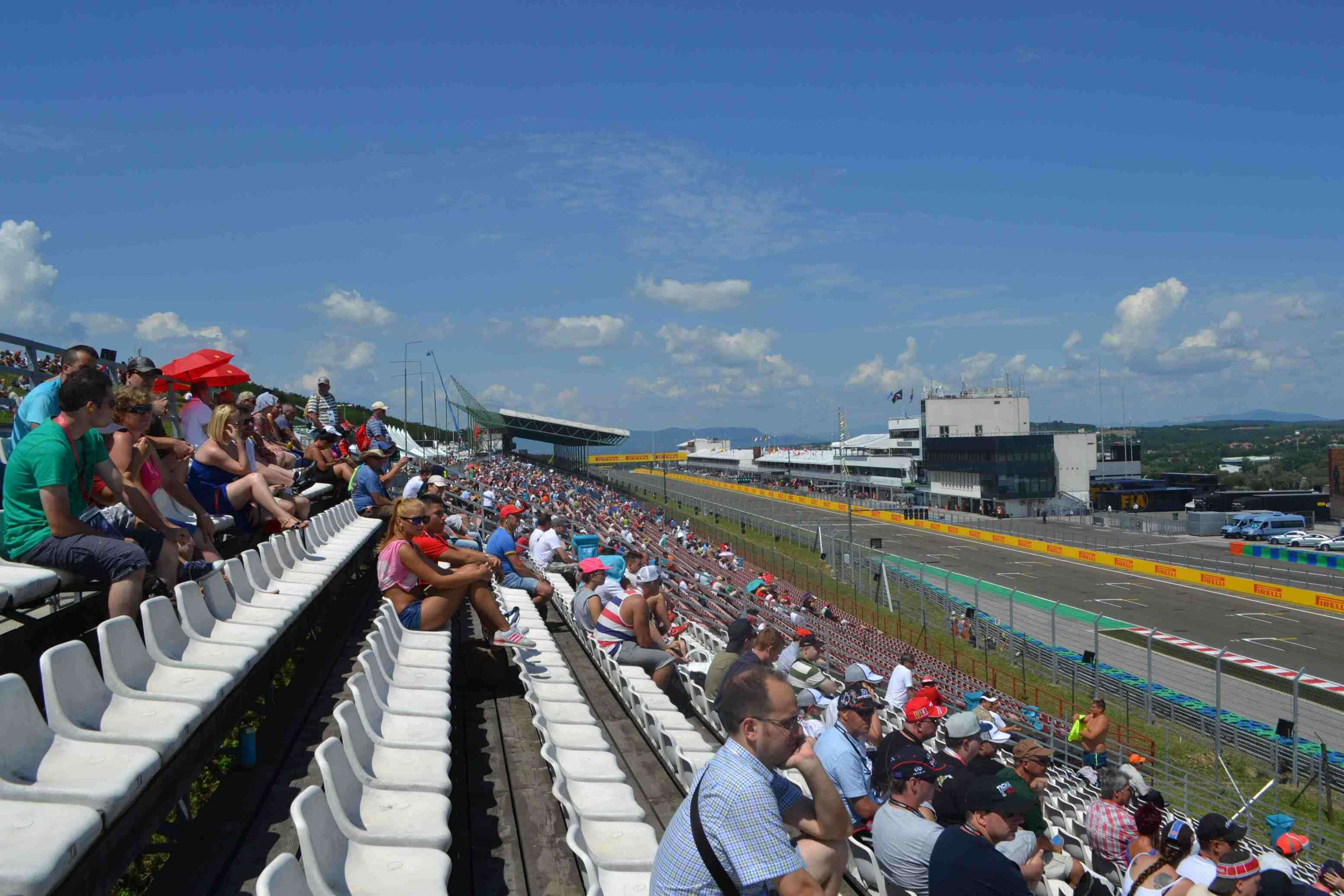 Learn about the trackside experience at the Hungaroring circuit for the Hungarian Formula 1 Grand Prix
Tags: 2016 hungarian grand prix, 2016 hungarian grand prix schedule, amentites hungaroring, budapest grand prix, facilities hungaroring, food drink hungaroring, hungaroring schedule of events, trackside hungaroring