Your guide to getting the most out of your trackside experience at Shanghai International Circuit for the Chinese Formula 1 Grand Prix. The next race is on April 13-15, 2018.
This guide will be fully updated for 2018 around 2-4 weeks before the race weekend.
Shanghai's circuit is an impressive facility, capable of accommodating around 200 000 fans. The race has not been a sell out since it was first held in 2004, but crowd sizes have been increasing in recent years and the ticket sales for 2017 look healthy, with many grandstands already sold out less than 2 weeks before the race.
Need to know: Shanghai International Circuit
If your able to make it to the track on Friday, then you can make the most of open access to all the grandstands (the so-called 'Free Friday') and check out views from different parts of the circuit.
Rain is common in China on Grand Prix weekend! Don't forget to check the weather forecast and be prepared when you head to the track. Even if you are in a covered grandstand, this doesn't mean you won't get wet!
There are no restrictions on bringing in folding chairs (useful for general admission) or food and drinks in plastic bottles, but alcohol is prohibited.
The organizers don't allow fans on to the track after the race. If you don't want to miss the podium celebrations after the race, you will need to have a seat in the Main grandstand.
The metro can get very congested, particularly when leaving the circuit on Sunday after the race. Be patient or stay a little longer to avoid the peak crowds.
On-track action for 2017
This year's Formula 1 schedule for the Chinese Grand Prix is yet to be released, but we don't expect any changes from last year. Sadly, there isn't a big schedule of support events in Shanghai, so it can get quiet trackside between the action. In recent years, the only other on-track action has been from the Porsche Asian Supercup; this series returns for 2017.
Thursday, April 6

16:00-17:15: Driver's autograph session for fans (pit straight); access for 3-day ticket holders. This is in place of the usual fan's pitlane walk.
Friday April 7

10:00 – 11:30: Formula 1 free practice 1
14:00 – 15:30: Formula 1 free practice 2

16:00-16:45: Porsche Carrera Cup Asia (practice)
Saturday April 8

10:40-11:10: Porsche Carrera Cup Asia (qualifying)
12:00-13:00: Formula 1 free practice 3
15:00-16:00: Formula 1 qualifying
16:30-17:05: Porsche Carrera Cup Asia (race 1: 12 laps / 30 mins)
Sunday April 9

11:20-11:55: Porsche Carrera Cup Asia (race 2: 12 laps / 30 mins)
12:30-12:40: F1 driver's track parade
14:00 – 16:00: 2017 Formula 1 Chinese Grand Prix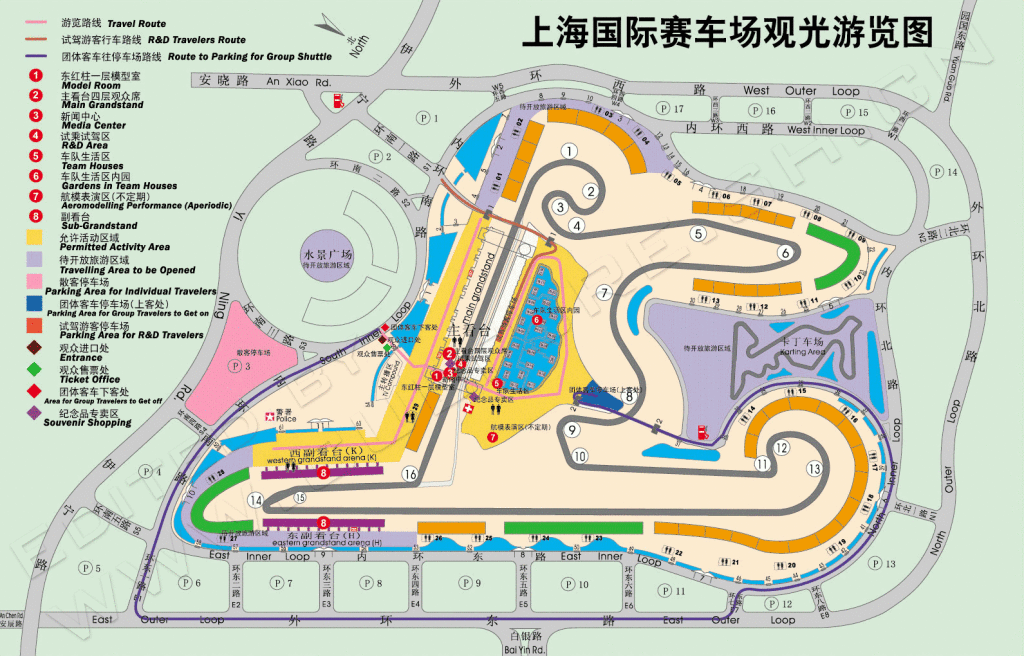 Access & Orientation
For more information on getting to the track, read the Getting There & Around section of this guide. If you have taken the metro to the circuit as we recommend, getting inside the circuit after you have alighted at the Shanghai Circuit metro stop is easy and the way is well signposted. The closest entrance is through Gate 1, behind the main grandstand. Gate 11 (behind grandstand K) is also just a few minutes walk from the metro station.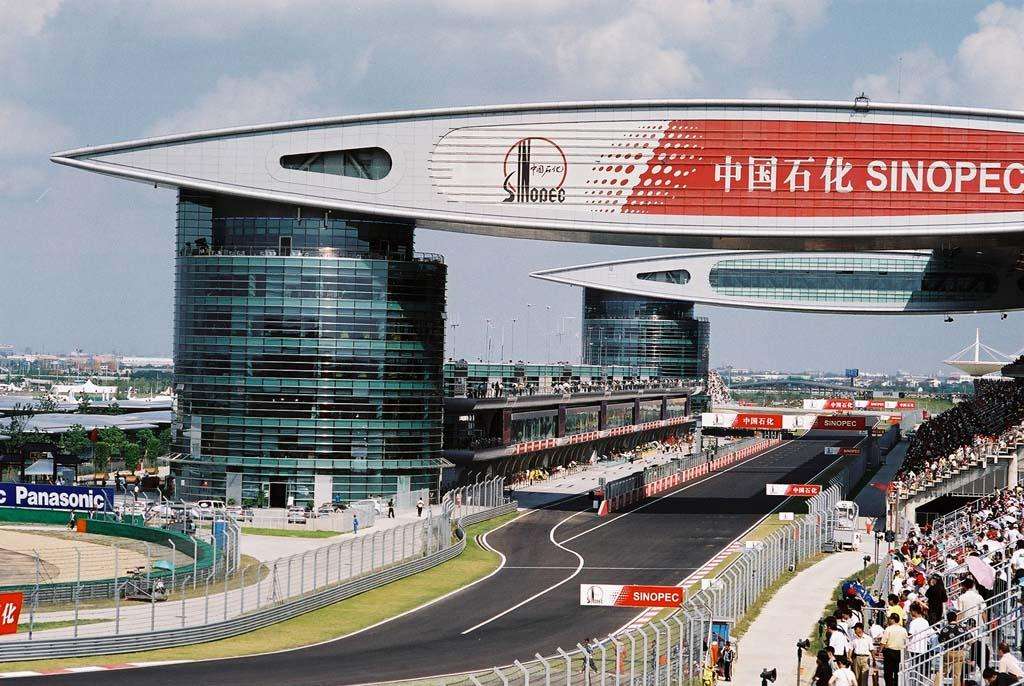 Facilities
The trackside facilities are generally good. Food and drink is not expense by F1 standards, but still feels overpriced in such a cheap F1 destination (especially alcohol.) Fans have complained about both the lack of choice and the fact that there are just not enough places to buy food and drink. This lack of choice also applies to merchandise; there is a limited offer in China.
Beware
A major complaint from English-speaking fans is that fact that people stand in the walkways and block their grandstand seat views. Unfortunately, there is a lack of security/stewards to control this (or they have been paid off), which is not made any easier by the language gap. You may have luck in getting them to move on by asking politely!
If you haven't already bought your ticket online ahead of time, it is possible to purchase tickets at the circuit. Just be sure to steer well clear of the ticket touts near the circuit entrance as you could end up with a counterfeit ticket.
Been to the Shanghai circuit? Leave a comment below with your tips for fellow fans!
There's plenty to keep you occupied away from the track in Shanghai at the Chinese Formula 1 Grand Prix.
Tags: 2015 chinese grand prix, 2015 chinese grand prix in shanghai, shanghai circuit facilities, shanghai grand prix circuit, shanghai international circuit facilities, trackside shanghai grand prix