Our guide to getting the most out of your trackside experience at Silverstone for the British Formula 1 Grand Prix The next race takes place on July 14-16, 2017.
This post will be fully updated around 2-4 weeks before this year's race. We've left last year's content below for reference; much of the advice will remain unchanged.
The organizers always manage to pack in a full schedule of events at the British Grand Prix. Off-track activities include air displays, concerts (Texas, Mike & the Mechanics and The Feeling already confirmed), static displays  and amusement rides. The weekend begins on Thursday with the traditional pitlane walk for fans. It should be hot and sunny in the UK in July, so pack light clothing and some sunscreen. General Admission areas have plenty of shade available from trees and temporary buildings, and there's a choice of covered and uncovered stands. If the weather forecast predict any kind of rain, be sure to pack a light rain jacket or poncho and umbrella – hopefully wellies will not be required this year.
Access & Orientation
Read Getting Around for more information about getting to Silverstone, including public transport and circuit parking. The circuit and surrounds are very well signposted and easy to navigate. Entry is straightforward, just remember not to bring any glass bottles.
Fan's Pitlane Walk
Silverstone puts on a pitlane walk for 3-day ticket holders on Thursday. There's always big crowds, so it's worth either getting there really early and queuing, or waiting until the initial rush has died down. Sky TV is also recording their 'F1 show' live this year, which should be good fun.
Free Friday
Don't forget that Silverstone operates a Free Friday policy; this means that you have free 'roving access' to most grandstands for the first day of practice sessions. This is a great opportunity to check out the views from different parts of the track. Just don't forget to wear comfortable shoes.
On-Track
In addition to 6+ hours of on-track F1 action over the weekend, there will also be GP2, GP3 and Porsche Supercup racing at Silverstone this year. Feature races for GP2 and GP3 are held on Saturday afternoon after F1 qualifying, followed by a shorter sprint race for both categories on Sunday morning. There's just one race for the Porsche Supercup cars, also on Sunday morning.
Thursday, July 7
Gates open to 3-day ticket holders from 14:00-19:30 (entry via Gates 10, 15, 16)
15:15-19:00: Public Pitlane Walk
18:00-19:00: Live Sky F1 show (viewing from International Pits Straight Grandstand)
20:00: Gates Close
Friday July 8
Gates open from 07:00-22:00 (roving grandstands until 19:00)
10:00-11:30: F1 practice 1
12:00-12:45: GP2 practice
14:00-15:30: F1 practice 2
15:55-16:25: GP2 qualifying
16:45-17:30: Porsche Supercup practice
17:50-18:35: GP3 practice
Saturday, July 9
Gates open from 07:00-21:00
08:45-09:15: GP3 qualifying
10:00-11:00: F1 practice 3
11:25-11:55: Porsche Supercup qualifying
12:00-12:08: Typhoon air display
13:00-14:00: F1 qualifying
14:40-15:45: GP2 feature race (29 laps / 60 mins)
16:20-17:05: GP3 feature race (20 laps / 40 mins)
Sunday, July 10
Gates open from 06:00-19:45
08:15-08:50: GP3 sprint race (15 laps / 30 mins)
09:25-10:15: GP2 sprint race (21 laps / 45 mins)
10:35-11:10: Porsche Supercup race (21 laps / 45 mins)
11:30: F1 drivers track parade
11:40: F1 Legends Parade (TBC)
12:20: Red Arrows air display
12:46: National Anthem
12:47: Red Arrows fly past
13:00-15:00: 2016 Formula 1 British Grand Prix (52 laps / 120 mins)
Silverstone activities
Take a wander around the track if you have the time, as there's plenty going on to keep the fans entertained throughout the weekend, and much more going on than is officially billed on the Silverstone website. Expect pop-up exhibitions from the major teams, talks and driver appearances (especially after qualifying), taster sessions, samples and plenty of shopping opportunities. Make sure you have a good look through your race program when you arrive to makes sure you don't miss anything.
Main Stage Concerts & More
The main stage at Silverstone has played host to several big (and small) names in music over the years, and this time around visitors will be treated to performances by Texas, Scouting for Girls, Mike & the Mechanics, The Feeling and The Dolls. Here 's the schedule for the concerts and some of the other activities being held on the main stage at the E-Zone in the middle of the circuit:

Friday 18:45-19:45: Scouting for Girls concert
Friday 20:15-21:45: Texas concert
Saturday 17:30-18:00: Driver's Fan Forum
Saturday 19:30-20:45: Mike & the Mechanics concert
Sunday 15:45-16:30: The Dolls concert
Sunday 16:30: Driver's appearance and special guests
Sunday 18:00-19:00: The Feeling concert
Silverstone Food & Drink
Food is pretty expensive at Silverstone, so be prepared to shell out or pack your own sandwiches. Bringing plenty of your own bottled water is never a bad idea either, especially with the potential heat and sunshine, and the need to stay hydrated whilst out and about all day. Expect to pay £10 for a large slice of pizza and a beer or soft drink from the many food stands at Silverstone. The same sort of price will get you a large pot of noodles and a drink, or a burrito and something sweet.
The range of food on offer at Silverstone is getting better each year, and there's plenty to suit vegetarian visitors as well. Food stalls are dotted all over the place, but the main food arena at Silverstone is a large grassy area near the main stage with plenty of picnic tables and a friendly, festival feel. There are also one or two champagne bars and smarter places to sit, but again expect to pay over the odds for the privilege. Bathrooms are plentiful and clean at Silverstone, and you shouldn't experience unbearably long queues at any time of the day.
Follow The Action
Live commentary is available trackside over the whole F1 weekend. You can also tune in to Silverstone radio on 87.7 FM. Alternatively, download the F1 App from iTunes or the Google Play store and get all the latest information at your fingertips. It costs $4.50 per month or $42 for the whole year and is worth having when you watch races live.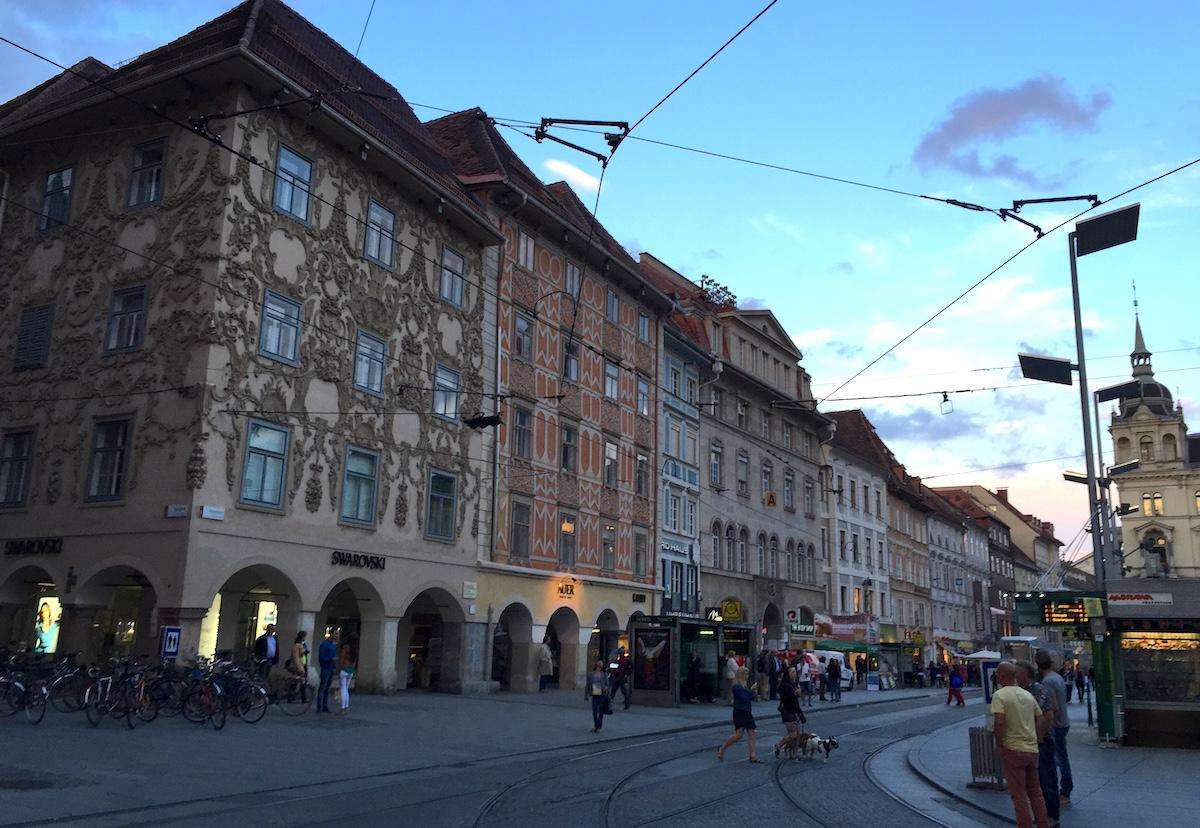 The lowdown on off-track activities at the Austrian Grand Prix, including things to do in Graz and the region of Styria.
Tags: amenities silverstone, british formula 1 grand prix silverstone, british grand prix pitlane walk, food and drink silverstone, madness concert british grand prix, off-track action silverstone, trackside british formula 1 grand prix, trackside british grand prix