Your comprehensive guide on buying tickets and where to watch the action at the 2017 Monaco Grand Prix on May 25-28.
All images © F1Destinations.com.
Not surprisingly, Monaco sells some of the most expensive Grandstand seats on the current F1 calendar. The bad news is that after remaining virtually unchanged for the past few years, prices have risen between 10-20% for 2017. The tight confines of the principality don't lend themselves well to large seating areas, meaning less than 40 000 grandstand seats are sold in Monaco.
Buying tickets at Monaco is a little different to at other Grands Prix, where you would normally choose a 3-day ticket and sit in the same seat for the whole weekend. At Monaco, tickets are sold in various combinations, with the majority being one and two-day tickets. This gives you the opportunity to buy tickets for different grandstands each day and experience views from different parts of the track. Grandstand tickets are cheapest on Thursday (all priced between €70-80) Entry on Friday is free and whilst there is no F1 action, support categories are on track in the morning before the circuit is opened to fans in the afternoon. Weekend tickets start from around €500 for the cheaper grandstands, or just over €140 for the Rocher general admission zone.
Buy Monaco Grand Prix tickets from our exclusive Monaco-based partner Gootickets.

Need to Know
Children aged between 6-15 get free entry on Thursday and a 50% discount on weekend tickets.
Not all grandstands at Monaco have access to big screen TVs, so take this into account when buying tickets if this is important to you.
None of the Grandstands at Monaco are covered, so remember to pack your hat/suncream or poncho/umbrella, depending on the forecast.
Best Grandstands at Monaco?
The largest and best grandstands at Monaco are located in the harbor complex – this is also where the best atmosphere can be found. The K grandstands are a safe bet, as are O and T. In our opinion, the Casino (B) grandstand is overpriced and doesn't offer good views – but it's an iconic location and worth checking out on Thursday or Friday. Grandstand seating at Monaco is either benches or individual seats without backs; bring along a cushion to make your day more comfortable. On a budget? We prefer the Z1 general admission area over Rocher, but be quick as it's a small space and race day tickets sell out early.
2017 Monaco Grand Prix tickets
Name + Location
Thursday
Saturday
Sunday
Sat + Sun
A + A1
Sainte-Dévote
€80
€234
€450
n/a
B
Casino (TV)
€80
€301
€670
n/a
C
Virage du Portier
€70
€156
€346
n/a
K
Quai Albert 1 (TV)
€80
€254
€542
€761
K1 & K2 Premium
Quai Albert 1 (TV)
n/a
n/a
€594
n/a
L (Pit Views)
Piscine Rainier III (TV)
€80
€246
€542
€761
N
Piscine Panne Nord (TV)
€70
€156
€402
n/a
O
Piscine Plongeur (TV)
€70
€246
€542
€761
P
Piscine Panne Sud (TV)
€70
€172
€434
n/a
T Upper (Pit Views)
Cale de Halage (TV)
n/a
€246
€542
n/a
T Lower
Cale de Halage (TV)
n/a
€193
€401
n/a
T
Cale de Halage (TV)
€80
n/a
n/a
n/a
V
Virage Anthony Noghes (TV)
€80
€257
€558
n/a
X1 + X2
Boulevard Albert 1
€70
€156
€346*
n/a
Z1
General Admission
€50
€89
€167*
n/a
Rocher
General Admission
n/a
€55
€86
n/a
*Sold out
Grandstand A (Virage) and A1 (Place): Sainte-Devote
A & A1 are small grandstands located on either side of the opening Sainte Devote corner. Neither grandstand has access to a big TV screen. Following the start/finish straight, the track narrows considerably at Sainte Devote – you can almost guarantee some action here on the opening lap of the race. Given the choice, we recommend A1 on the inside of the track – from the top of this grandstand you can also see the cars entering the harbor section of the circuit, right behind the stand.
Grandstand B: Casino
Grandstand B at Casino square is the most expensive on sale at Monaco. Located opposite the Casino and close to Hotel de Paris, you get a view of the cars taking the tricky Casino corner before heading down the hill to Mirabeau. This grandstand offers big screen TV viewing. Given the high price and lack of panoramic views of the circuit, there are better options for a 3-day pass to Monaco – but Grandstand B is worth considering for one day.
Grandstand C: Virage du Portier
Grandstand C is located on the Portier Corner before the tunnel entrance, an important section of the circuit where drivers try to line up overtaking moves. Tribune C is a good value option on both Thursday and Saturday but lacks the atmosphere found in the Harbor section, which offers better race-day Grandstand choices. There is no big screen for this small grandstand.
Grandstand K: Quai Albert 1
Grandstand K is a large and popular harbor grandstand with good views from the exit of the Nouvelle Chicane (K1), the Tabac corner then up to the first corner of the Swimming Pool complex. If you are lucky enough to get seats in the highest row of K, you can also turn around and see the action on the main start/finish straight and the opening St Devote corner. The stand is separated into eight sections, the best of which are K1 and K2 closest to the Tabac corner – these have now been made into a 'premium' ticket offer at a slightly higher price for race day.
Grandstand L: Piscine Rainier III
Grandstand L is located on the Rainier III swimming pool and offers views of the last turn in the Swimming Pool complex as well as the pits. Not the cheapest Grandstand at Monaco, but a safe choice for a first-time visitor who wants to be at the heart of the trackside action. Click here for a video of the view from Grandstand L.
Grandstands N & P: Piscine Plongeur
Grandstands N (Piscine Panne Nord) and P (Piscine Panne Sud) are wide and low and flank the higher, more expensive O grandstand in the centre. All three grandstands are actually located over the water in the harbor and with views of the swimming pool complex of the circuit.
Grandstand O: Piscine Plongeur
Grandstand O (Piscine Plongeur) is the highest of the three grandstands in the harbor facing the swimming pool section of the circuit. If you can afford it, O is a better choice than N or P, as the views are more panoramic and you also get a distant view of the pits – bring binoculars! All three grandstands have views of a big screen TV.
Grandstand T: Cale de Halage
Grandstand T is one of the larger grandstands at Monaco and is located in the Harbor area opposite the pits. The grandstand is divided into lower and upper areas – the higher seats have views of the pits and are more expensive. All seats in T have a view of the big screen TV. On the track, you will see the cars taking the last turn of the Swimming pool complex before heading down the short straight to La Rascasse. Click here for a video view from Grandstand T.
Grandstand V: Virage Anthony Noghes
Grandstand V is a small grandstand located very close to the circuit on the outside of the Anthony Noghes corner, after La Rascasse and before the main start-finish straight. This grandstand also provides a view of the cars entering pit lane. This stand is good choice for at least one day but there are better 3-day grandstand choices.
Grandstands X1 and X2: Boulevard Albert 1
Grandstand X1 and X2 are small low grandstands on the main start-finish straight which do not offer big-screen viewing. Apart from offering a good view of the race preparations and start, these stands are not the best choice and their cheaper price reflects this. If you do decide to buy here, choose X2 as it is closer to the start/finish line.
Monaco General Admission Tickets
Monaco has two general admission zones for F1 fans on a budget. Rocher is a hill which overlooks the last two corners of the lap and Z1 is located near the entrance to the Harbor section of the track between the Nouvelle Chicane and Tabac. Having checked out both areas in 2014, we would choose Z1 due to its harbor location, where you feel like you are much more a part of the atmosphere at the circuit, as opposed to Rocher, where you are looking on from afar.
> Rocher
The largest General Admission zone at Monaco is only open on Saturday and Sunday. A steep hill with little in the way of creature comforts and set back some distance from the track, it is difficult to get a good spot to view the action from here. You will improve your chances by arriving early, but regulars will still have reserved the best spots. The big screen set up for Grandstand V is visible (but distant) from Rocher, so bring along some binoculars. Click here to see a video of the view from Rocher.
> Z1: Enceinte
Unreserved standing only areas on the straight between the chicane at Nouvelle and Tabac. It's also very close to the opening Saint Devote corner. There isn't much room and the views are somewhat restricted, but it's still a good place to hang out and take in the Monaco atmosphere and it's much cheaper than the grandstands. As a bonus, there are also several bars and restaurants in the zone with lots of outdoor seating. Very limited big screen TV viewing. Click here to watch our YouTube video with the view from Z1. Z1 offers the cheapest race day tickets in the heart of the action: you'll need to buy such tickets almost one year in advance.
Terraces, Yachts & VIP tickets
There is also a dizzying array of VIP tickets on offer in Monaco. You can watch the race from various vantage points on restaurant or apartment terraces and balconies through to yachts moored in the harbor. If you plan on just turning up to Monaco and have plenty of Euros in your pocket, it is possible to purchase tickets on the day to a balcony, terrace or yacht, but be careful of unscrupulous touts and make sure you see exactly what you are paying for before you hand over any cash. We recommend buying via our partner Gootickets, who have a range of VIP terraces and yacht tickets in their offer, starting at €396 for a Silver terrace on Saturday with catering and an open bar.
Have you been to the Monaco Grand Prix? Leave a comment with your tips on where to watch the action.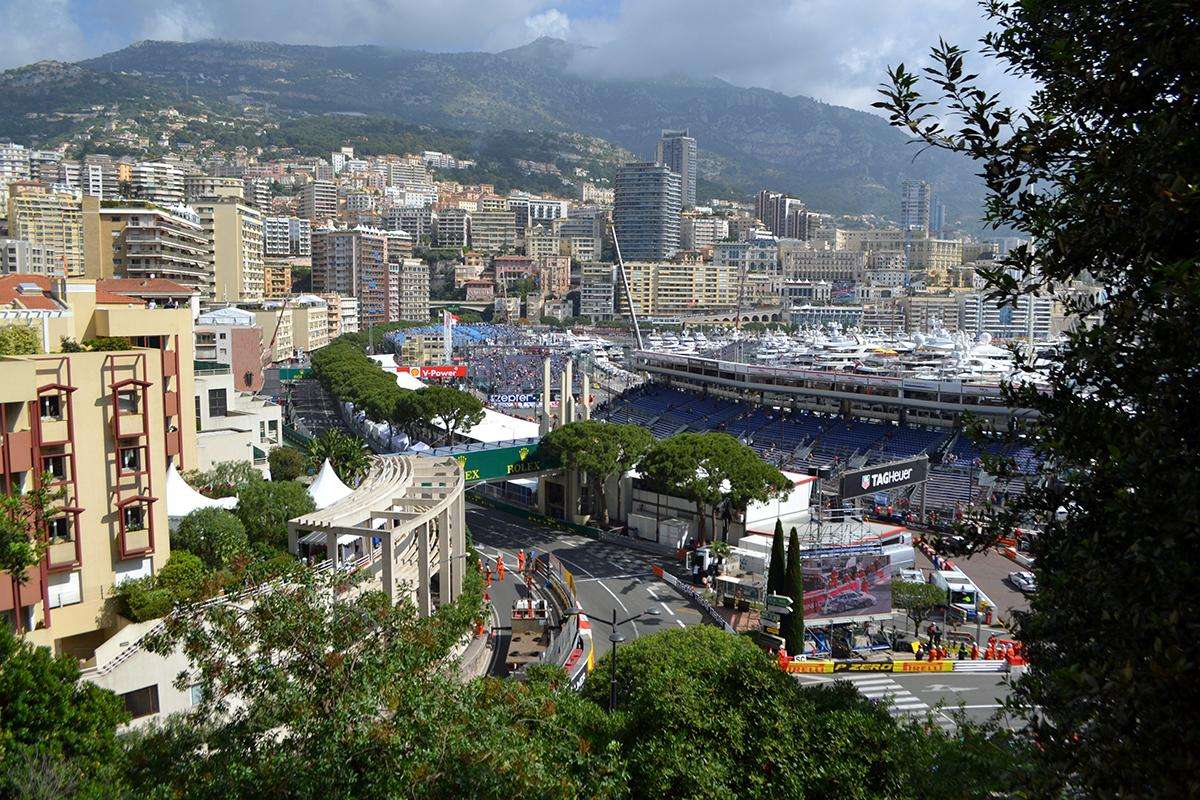 Where to stay for the Monaco Grand Prix. Best rated hotels in Monaco, Nice, and further afield.
Tags: best grandstands at monaco grand prix, best grandstands monaco f1, buy monaco f1 tickets, cheapest monaco f1 tickets, full-image, grandstands at monaco f1, monaco f1 race, monaco f1 tickets, monaco tickets, where to sit monaco f1, where to sit monaco grand prix