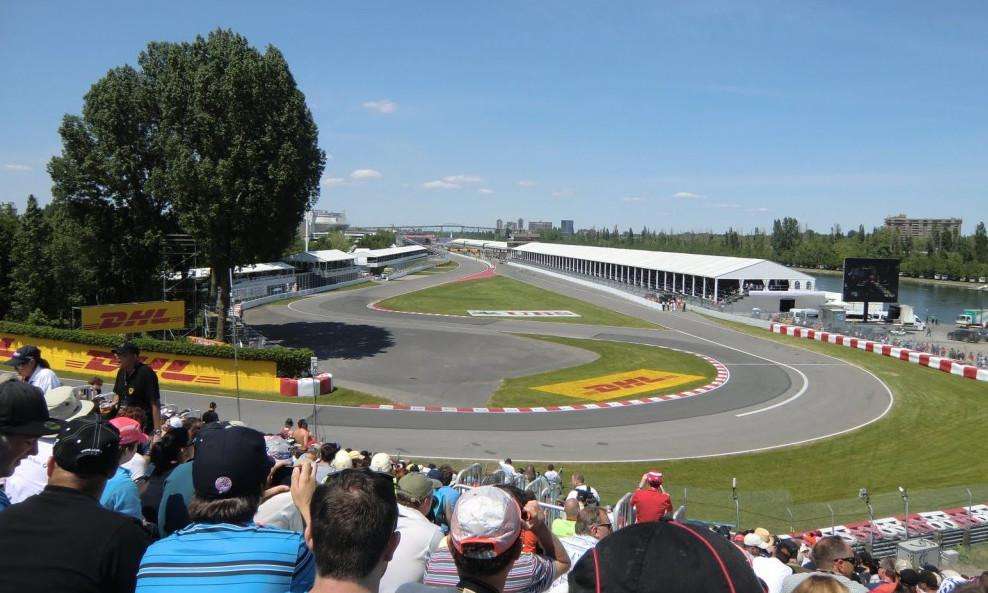 Where to watch the action at Circuit Gilles Villeneuve for the 2017 Canadian Formula 1 Grand Prix in Montreal on June 9-11.
When the provisional 2017 F1 calendar was published in September, there was an asterisk next to the Canadian Grand Prix indicating that the race was 'subject to confirmation'. Thankfully, contractual negotiations have been successful and the Major of Montreal confirmed this week that the race would go ahead. Tickets for the event, which celebrates 50 years of Formula in Canada (1967-2017), went on sale yesterday with prices largely unchanged from last year. With Lance Stroll confirmed to drive for Williams, local fans will also have the first opportunity to cheer on one of their own since Jacques Villenueve left the sport in 2006.
Buy your Canadian Grand Prix tickets at the best prices from our exclusive partner, Gootickets.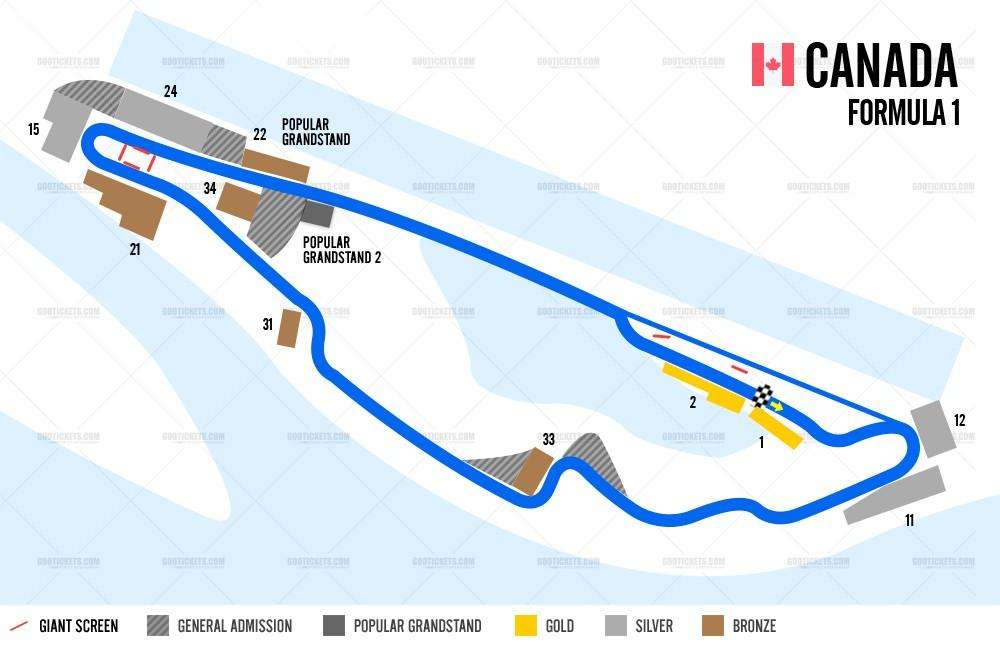 Montreal Grandstands
The grandstands at Circuit Gilles Villeneuve are temporary structures with hard aluminum planks for seats (the only exception is the most expensive Grandstand 1 seats on the pit straight, which have proper seats with backs).  None of the grandstands at Circuit Gilles Villeneuve are covered, so be sure to check the weather forecast and come prepared (remember the 2011 race?) Buying a seat cushion is also a worthwhile investment for the weekend. All grandstands have a large TV screen in front so you can follow the on-track action.
2017 Canadian Grand Prix: 3-day tickets
| Grandstand | Price $CAD |
| --- | --- |
| Grandstand 1 | $575 |
| Grandstand 11 / 12 | $395 |
| Grandstand 15 / 21 /24 | $385 |
| Grandstand 34 | $315 |
| Grandstand 31 / 33 | $275 |
| Popular | $175 |
| General Admission | $130 |
Single-day & concession tickets
General Admission tickets are priced at $45 on Friday, $70 on Saturday and $99 on Sunday (all prices in CAD). Popular Grandstand tickets are priced at $75 on Friday, $110 on Saturday and $150 on Sunday. Childen under 11 are free in General Admission if accompanied by an adult, but you'll need to reserve a free ticket when you buy your own. Other tickets for children under 11 are priced from $100 to $295 for 3 days, depending on the grandstand. Children aged 12 and above need a full priced ticket.
Senna Curve – Grandstands 11 & 12
The two grandstands at the Senna curve offer some of the best viewing opportunities at Circuit Gilles Villeneuve. There is always lots of action at this corner, particularly at the start of the race. If you get a good seat, you will be able to see the cars from the start finish line up until they disappear around turn 3. We recommend choosing a seat as close to the other grandstand as possible – low section numbers for Stand 11, high section numbers for Stand 12. This gives you the best view of the main straight while also providing a very good view down to turn 3.
The high section numbers of grandstand 11 can have their views obstructed by the trees inside the Senna curve, so it's better to choose a low section number in this stand.

The low section numbers of grandstand 12 can have views obstructed by the hospitality suites – if you choose a low section in Grandstand 12, get a high row seat so you will see all the action.
Hairpin –  Grandstands 15, 21, 24, 34 and Popular
Five grandstands are located on the hairpin. Seats here are a good choice and there's an excellent stadium atmosphere, making it a popular place to sit for the weekend. The hairpin grandstands are also the closest to the metro station.
Grandstand 15 faces the hairpin so all the action is in front of you and it is possible to see a long way down the entry and exit straights. It is however separated from the track by a gravel trap, so you are a bit further away from the action and noise.
Grandstand 21 is closest of all to the metro station. Views from the lower rows, which are very close to the track, are limited by the new catch fencing. Higher rows in this stand have unobstructed views but are further from the track.
Grandstand 24 has a good view and there are good food stalls and proper toilets right behind it, but it can be a squeeze to get in and out of as you access it via the front of grandstand 15. You are very close to the track in Grandstand 24 with a ringside seat of the cars accelerating out of the chicane.
Located in the middle of the hairpin, Grandstand 34 is an affordable stand with good views  – get in quick as this grandstand always sells out first. The above video also gives you a good idea of the trackside commentary you can expect in Montreal, which is split between French and English.
You don't get to see the cars for as long in Grandstand 31 in comparison to the Senna Chicane or the hairpin, but the stand is decent value and still an option worth considering.
We recommend seats in the lower section numbers, which give you a better view of the approach than higher section numbers.
Popular is the worst positioned grandstand, but also the cheapest, and single-day tickets are available, unlike in most other grandstands. For those who know the track, there is a small left kink after the hairpin. If there has been a lot of rain, there can be standing water in this area and it tends to catch out a lot of drivers, particularly in the support categories – the Popular Grandstand provides the best views of the action which can ensue. There is no big screen TV for the Popular Grandstand.
General Admission Tickets
General admission tickets for the Canadian Grand Prix are cheap, but don't offer the best viewing opportunities. The Circuit Gilles Villeneuve is known for its long straights and slow corners, and grandstands take up the best viewing spots. This means that General Admission ticket holders either need to find a spot between the grandstands – and be packed in like sardines –  or settle for watching the cars scream past on the straights. There is more room to move in General Admission on Friday, before bigger crowds turn up on the weekend for qualifying and the race. If you are only able to attend for a day or two of the weekend, General Admission tickets can be bought for single days – see prices above.
Best General Admission vantage points?
There are decent vantage points close to some grandstands, but you need to get there early to secure your spot. Either side of grandstand 24  is raised and fills up quickly. There is also space between and in front of Grandstands 11 & 12. The straight behind grandstand 31 provides shaded viewing, but doesn't offer big screen viewing.
Premium & VIP Tickets
Gootickets offers a range of VIP tickets at Circuit Gilles Villeneuve, from the Privilege 12 package priced at $1207 CAD for 3 days (tickets include a seat in Grandstand 12 on the Senna curve plus access to a special covered tent with catering) to the Elite Restaurant located between the Start-Finish line and the Senna corner with 3-day tickets including full catering priced at $3079 CAD. Contact us if you are interested in purchasing Paddock Club tickets.
Wheelchair Access

Montreal has two grandstands set aside for wheelchair users – 21A and 41A. Each wheelchair-bound fan is entitled to park in a special zone and can be accompanied by a non-disabled friend, who pays the same price.  Tickets need to be reserved by calling the ticket office (514) 350 4731. Prices are no longer published but grandstand 21A is more expensive than grandstand 41A
Grandstand 21A, which is covered, is right next to grandstand 21 at the entrance to the hairpin.
Grandstand 41A is on the inside of the track opposite grandstand 31. The stand is not covered and access is more difficult as you have to cross the Pont des Isles (Island Bridge) to get to the inside of the track.
Been to Circuit Gilles Villeneuve? Leave a comment and tell us your favorite place to watch the action!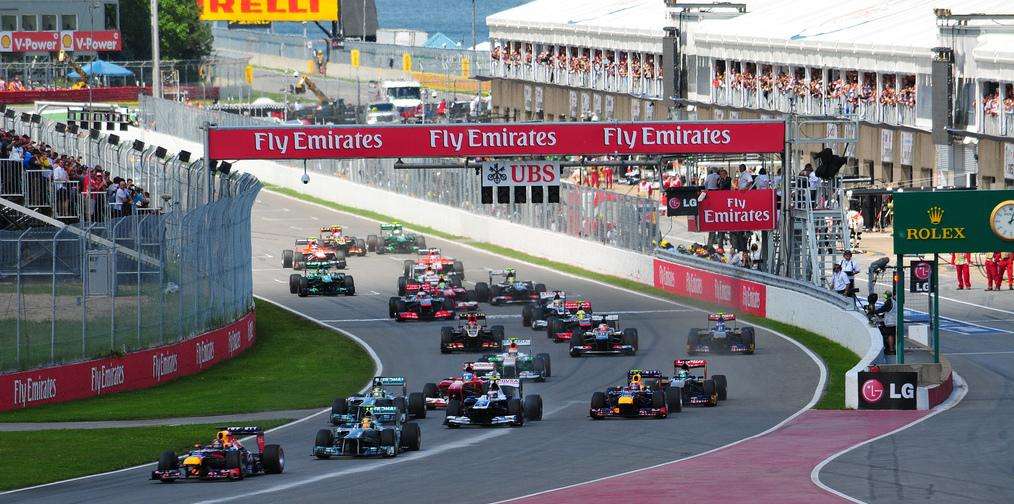 Useful advice and information to help you plan your weekend at Circuit Gilles Villeneuve for the Canadian Grand Prix in Montreal.
Tags: 2017 canadian grand prix, accommodation montreal f1 weekend, canadian grand prix tickets, cheap tickets to canadian grand prix, circuit gilles villeneueve tickets, circuit gilles villeneuve f1 tickets, circuit gilles villeneuve grandstands, formula 1 montreal tickets, full-image, general admission f1 tickets canada, gilles villeneuve formula 1 tickets, where to sit circuit de catalunya