Tag: 2018 german grand prix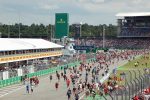 How to get to the Hockenheimring for this year's German Grand Prix on July 20-22, including detailed info on trains and driving to the circuit.
Planning a trip to the 2018 German Grand Prix at the Hockenheimring on July 20-22? Read our budget planner to work out the cost of your trip!
The German GP returns to the F1 calendar next year at the Hockenheimring on July 20-22. Svenja Reber went to the last race in 2016 and gives us her tips on getting the most out of the weekend. I live close to the Hockenheimring, so I never miss the German Grand Prix when it is [...]