Tag: 2017 russian grand prix
Your trackside guide to the Sochi Autodrom and the Russian Formula 1 Grand Prix, including the on-track schedule.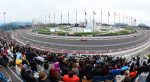 Planning a trip to the Russian Grand Prix? Read our guide to help you choose the best tickets for the Sochi Autodrom.
How to get to Sochi for the Russian F1 Grand Prix, plus information on getting to the track and around the city.