History, facts and background of the Monaco Formula 1 Grand Prix. This year's race is on May 25-28, 2017.
Monaco is arguably F1's most famous track. It was on the calendar for the first year of the modern Formula 1 World Championship in 1950 and has been held every year without interruption since 1955. The circuit has been revised several times over the years, but still retains the basic layout it has had since 1929. The last major change occurred in 2004 when a permanent pit complex was built in the swimming pool section of the circuit, replacing the cramped temporary facility previously used. Monaco's tight and twisty layout presents a unique challenge for F1 drivers. Nelson Piquet famously compared driving at Monaco to 'riding a bicyle around your living room'. Overtaking at the F1's shortest track is virtually impossible, there is no room for error given the tight confines of the circuit and there is little downtime each lap – over the course of the 78 lap race, a driver will make almost 5000 gear changes.
Monaco Masters
Ayrton Senna famously burst onto the F1 scene with a storming performance in the rain-soaked 1984 race and holds the record for most wins at Monaco with six, including five consecutive victories between 1989-1993.
Graham Hill took five of his fourteen F1 wins on the streets of Monaco between 1963-1969.
Michael Schumacher also took five victories in the principality between 1994-2001.
Alain Prost won four times in the 1980s, while Stirling Moss and Jackie Stewart each won three times at Monaco.
Did you know?
Monaco holds the all-time record in the modern F1 era for the least number of cars to finish a race – only four cars saw the chequered flag at Monaco in both 1966 and 1996. Olivier Panis in a Ligier was the unlikely and popular winner of 1996's race of attrition.
The oldest person to ever start a Formula 1 race was Louis Chiron, a local, who competed in the 1955 Monaco Grand Prix. He was 55 years old and went on to finish sixth in his Lancia, five laps down on the winner Maurice Trintignant.
Monaco Grand Prix Facts
Circuit Name
Monaco
Race first held
1950
Track Length (number of turns)
3.340km (16)
Race Distance
78 laps (260.520 km)
Lap Record
1:14.439, Michael Schumacher (Ferrari), 2004
2016 result
1st Lewis Hamilton (Mercedes) 1:59:29.133
2nd Daniel Ricciardo (Red Bull) + 7.252
3rd Sergio Pérez (Force India) + 1.825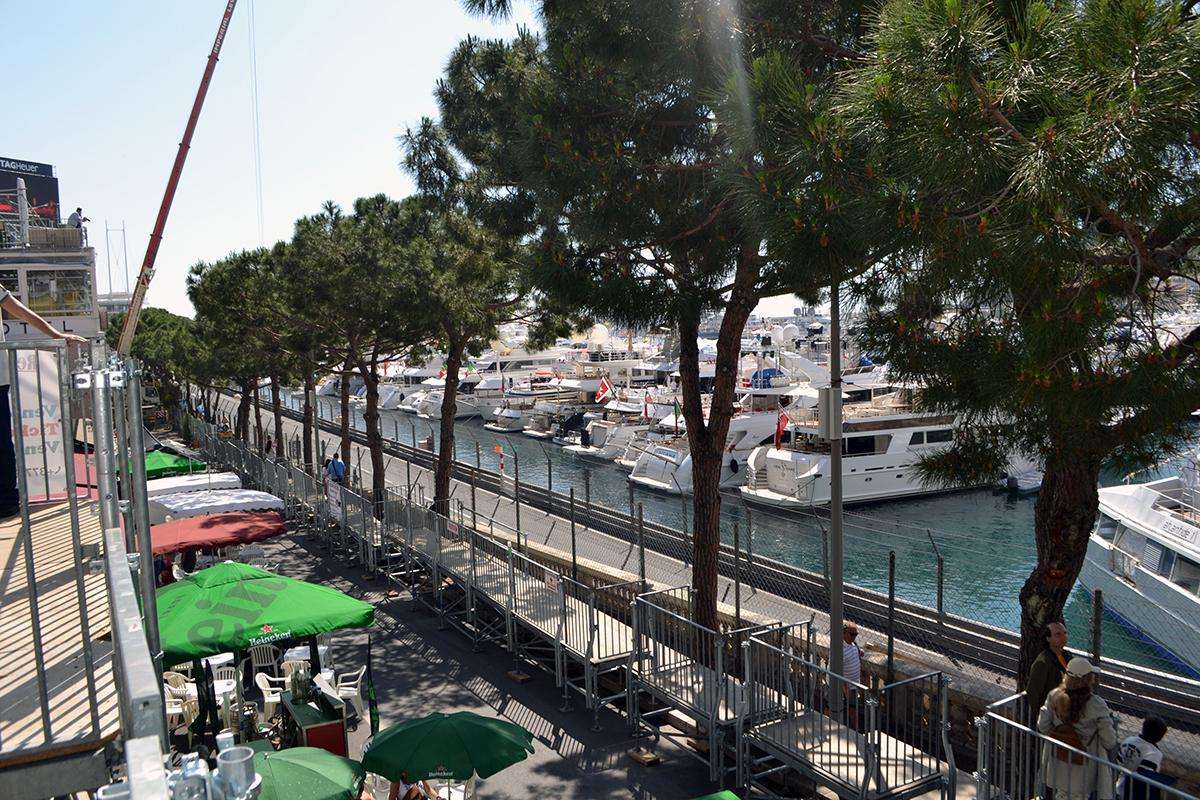 Use our budget planner to help plan the cost of your trip to the Monaco Formula 1 Grand Prix.
Tags: 2014 monaco f1 grand prix, history monaco f1 grand prix, race facts monaco f1 grand prix