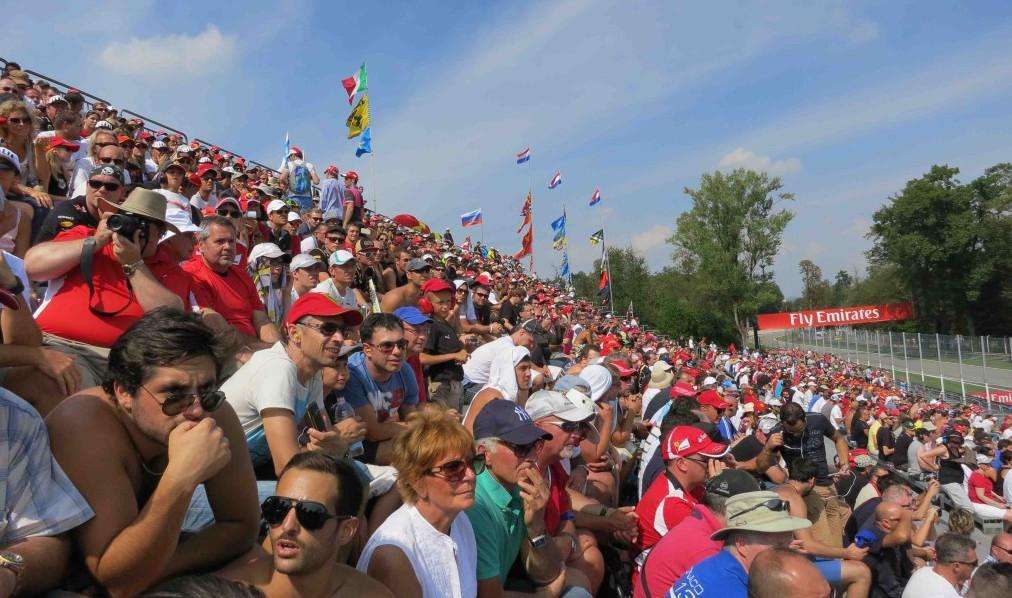 An introduction to the history of the Italian Formula 1 Grand Prix at Monza. This year's race takes place on September 2-4, 2016.
The oldest circuit on the current Formula 1 calendar, Monza can trace its history back to 1922, when it hosted the Italian Grand Prix for the first time. The original circuit layout stretched to over 10km and included a 5.5km road section broadly similar to today's layout plus a 4.5km loop, which was redeveloped into a high-speed banked oval in the 1950s. Monza was one of four current Formula 1 circuits which formed part of the inaugural Formula 1 World Championship in 1950 and since then, has only been absent once (in 1980, when the Italian Grand Prix was held at Imola).
The 10km layout of the circuit including the banked oval was used for four races in the late 1950s before the organisers reverted to the shorter layout over safety concerns following several fatal accidents. Further circuit alterations have taken place over the years to reduce speeds at Monza , including the addition of the Variante del Rettifilo and Variante Ascari chicanes.
Set in the grounds of the largest city park in Europe, Monza has a special home in the hearts of F1 fans, not least the fanatical local 'tifosi', most of whom support Ferrari. The circuit has grandstand capacity for just over 50 000 fans and can accommodate well over 100 000 fans including general admission areas.
The current five-year deal to run the Italian Grand Prix at Monza ends this year and there is no guarantee it will be extended. Negotiations are ongoing, but the future of Monza on the current F1 calendar remains in doubt. Millions of F1 fans in Italy and around the world will be hoping that a solution can be found to keep F1's most historic circuit on the calendar beyond 2016. Read more in our recent article on this subject: Monza's uncertain future.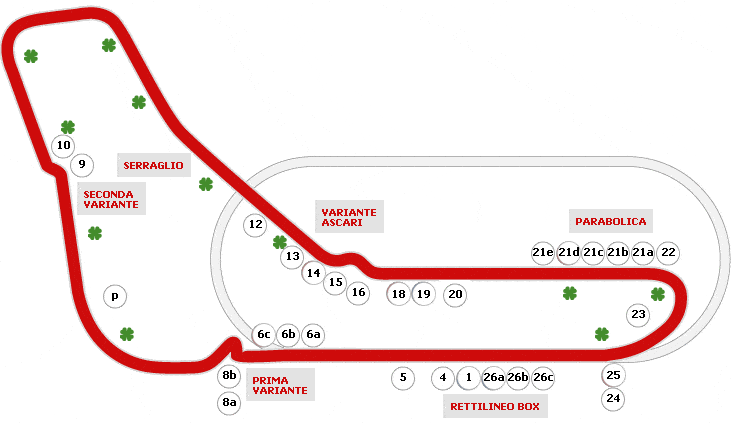 Did you know?
Michael Schumacher holds the record for the most wins at Monza with five, followed by Nelson Piquet who won on four occasions.
Ferrari are the most successful team at Monza, having won the race 18 times, the most recent of which was with Fernando Alonso in 2010.
Sebastian Vettel's surprise win at Monza in 2008 for Torro Rosso made him the youngest ever winner of a Grand Prix at 21 years, 2 months and 11 days old.
Juan Pablo Montoya set the fastest lap in a Formula 1 car at Monza in 2004. His time of 1m19.525s was achieved at an average speed of 162.949 m/ph (262.241 km/h)
Monza – A Unique Challenge
The circuit is unique on the current Formula 1 calendar for its mix of long straights and slow chicanes. The low downforce circuit puts strain on engines, which are on full power for 80% of the lap, and gearboxes, which are used heavily in the chicanes. See below a hot lap of Monza from 2014, on-board with Fernando Alonso in the Ferrari. 
Monza - Key information at a glance
Circuit Name (type)
Autodromo Nazionale di Monza (permanent circuit)
Race first held (number of races held)
1950 (65)
Track Length (number of turns)
5.793km (10)
Race Distance
53 laps (306.72 km)
Lap Record
1:21.046, Rubens Barichello (Ferrari), 2004
2015 result
1st Lewis Hamilton (Mercedes) 1:18:00.688
2nd Sebastian Vettel (Ferrari) + 25.042
3rd Felipe Massa (Williams) + 47.635
Your trackside guide to the Baku City Circuit and the Azerbaijan Formula 1 Grand Prix.
Tags: 2016 italian grand prix, history of monza, italian gp history, italian grand prix facts, monza did you know, monza facts, monza seating capacity, race facts italian f1 grand prix