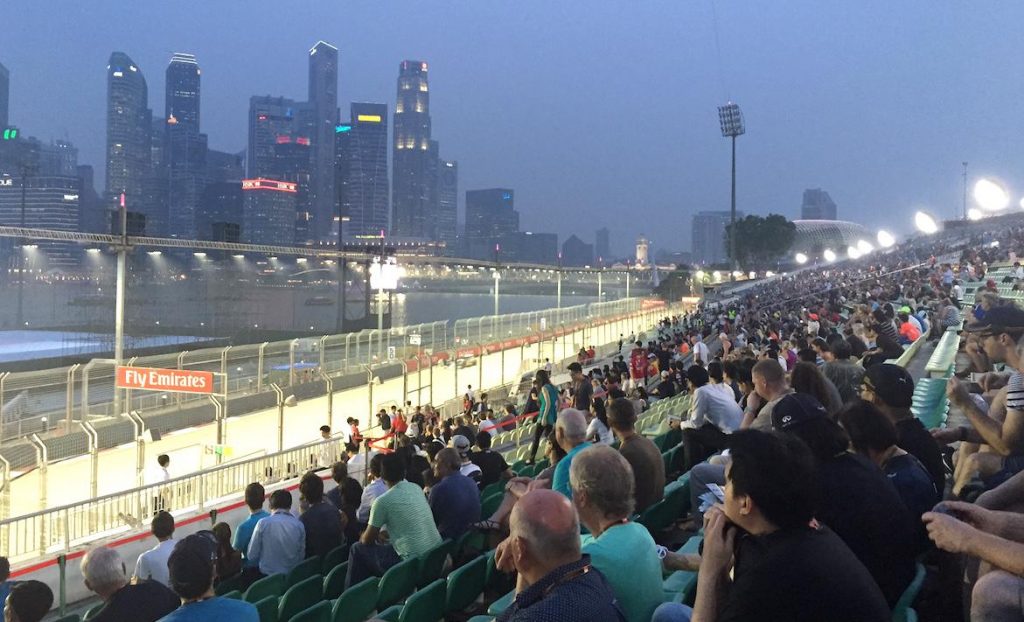 The best ways to get to Singapore for the Singapore Formula 1 Grand Prix, plus how to get to the Marina Bay Street Circuit and around the city. The tenth edition of the F1 night race is on September 15-17, 2017.
Singapore is a compact city with an excellent public transport network and honest, reasonably priced taxis. And with the Marina Bay street circuit located in the heart of the city, it couldn't be easier to get to and from the track each night on Grand Prix weekend.
Singapore Changi Airport
Singapore's Changi airport is a major global air transport hub, ranked the fifth busiest airport in the world by international passenger traffic. More than 100 airlines operate over 6000 weekly flights connecting Singapore with 250 destinations in 60 countries. The airport regularly wins awards for the quality of its customer service and extensive passenger facilities. In addition to shopping, dining and bar options, the airport offers gardens and comfortable seating areas, free wifi, cinema and games area and various other comforts.
Changi is the home of the city state's flag carrier, Singapore Airlines, which is also the title sponsor of the Grand Prix. Like Changi, Singapore Airlines regularly wins accolades for the quality of its service and has an excellent safety record, plus one of the most modern fleets in the world, including 19 A380 super jumbo jets. It serves 62 routes from Singapore, including long-haul flights to Australia, Europe and the USA. In addition, Changi is a major hub for budget airlines including Scoot (owned by Singapore Airlines), Air Asia, Tiger Air and Jetstar.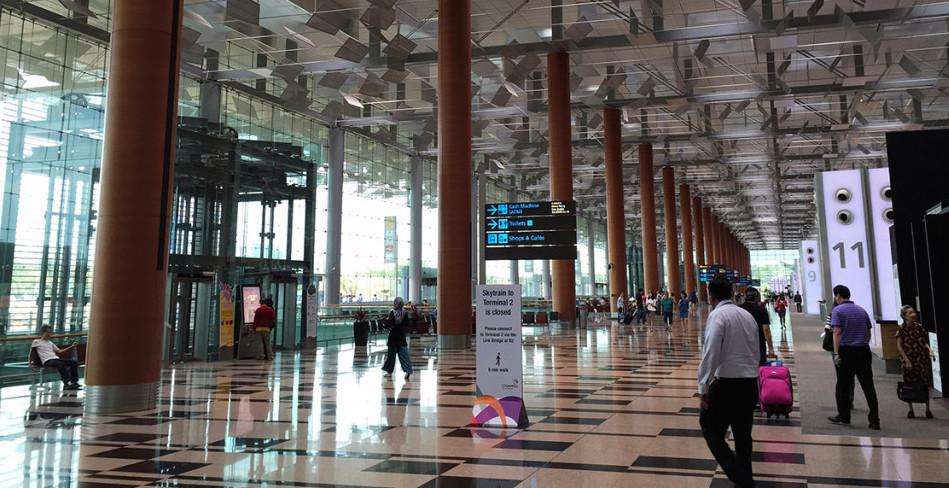 Flights from Australia
Australians are spoiled for choice when it comes to getting to Singapore. Regular direct flights from both full service and discount carriers connect most Australian capital cities to Singapore, with a flight time from 4.5 hours (Darwin), 5.5  hours (Perth) and 7-8 hours (Adelaide, Melbourne, Sydney, Brisbane). Return flights with discount carriers should set you back $400-800 AUD, more for flag carriers.
Flights from Europe
Several airlines fly direct from major European cities to Singapore including Singapore Airlines, British Airways, Lufthansa and Air France/KLM (flight time around 12-13 hours.) Middle-eastern carriers such as Emirates and Qatar are also worth considering, as they service a much wider range of European cities. On the downside, the combined flight time is longer as you will make a stopover in their home hub. Expect to pay €500-800 for return economy flights.
Flights from the USA
Up until 2012, Singapore Airlines flew direct from Singapore to both New York and LA, but these super-long flights (up to 19 hours) were discontinued due to higher fuel prices and lack of demand. That means a flight time approaching 24 hours and at least one stopover if you want to visit Singapore from North America. Singapore Airlines flies via Frankfurt to the USA, whilst other airlines tend to make their stop in eastern Asia (Japan, China, Korea). Expect to pay $800-1200 USD for return economy flights.
Want to save money?
Changi airport is a major regional air hub with hundreds of daily flights to a range of destinations in South East Asia and beyond, including Malaysia, Thailand, Indonesia, the Philippines, Japan, Hong Kong and China. If you are on a budget, or just want to see more of the region, it's worth considering long-haul flights to other regional hubs such as Kuala Lumpur or Bangkok. You can get cheap onward flights to Singapore with discount carriers such as Air Asia, Tiger Air and Jetstar.
Overland to Singapore
If you have more time to explore the region, the Southeast Asian rail network is well worth considering. Trains are comfortable and fares are extremely cheap. Singapore is connected to Kuala Lumpur to the north by several daily trains – the day train takes just 6 hours and the overnight train with sleeper cabins takes 8 hours. Buses also run regularly between KL and Singapore, taking around 5 hours and costing approximately $20 USD. Click here (or here) for more information and to book tickets.
Feeling adventurous? You can even go all the way from Singapore to Bangkok (2 nights) or make a stop at Penang or Koh Samui along the way. Comprehensive information can be found on the Seat61 website. Click here for a South East Asian rail and bus network map.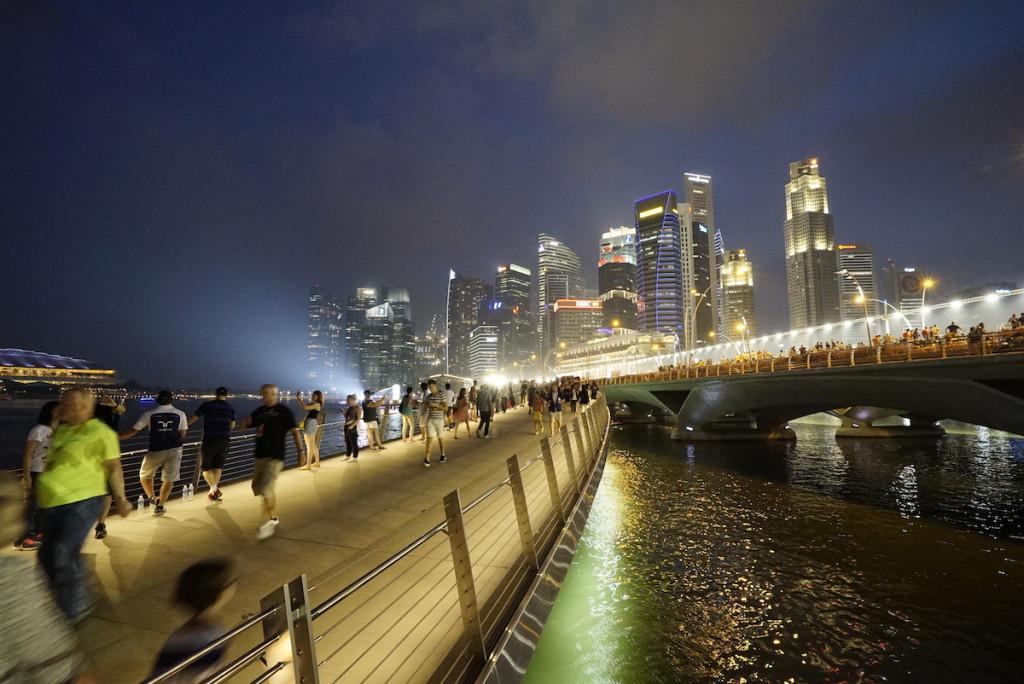 Getting to the Marina Bay Street Circuit
If you are lucky enough to be staying downtown, you may be in a position to walk to the circuit. Given the heat and humidity in Singapore however,  it may be more comfortable to take public transport, even if it is only a few stops. See the table below for the closest MRT stations and entrance gates for each grandstand. Be patient when leaving the circuit, as some gates (particularly for the Bay Grandstand) and paths can get congested. MRT services are extended to 1am on Grand Prix weekend.
Entrance gates & MRT stations
Grandstand (Zone)
Closest Gate (MRT station)
Pit, Marina Pit, Turn 1, Turn 2 & Turn 3 Premier (Zone 1)
Gate 1 (Nicoll Highway or shuttle from Lavender)

Gate 2 (Promenade)
Gate 10 (Bayfront)
Bay (Zone 3)
Gate 7 (Esplanade or City Hall)
Esplanade Waterfront (Zone 4)
Gate 6 (Raffles Place)
Gate 7 (Esplanade or City Hall)
Padang (Zone 4)
Gate 3 or 4 (City Hall)
Gate 5 (Raffles Place)
Stamford (Zone 4)
Gate 3 (City Hall or Esplanade)
Connaught (Zone 4)
Gate 5 or 6 (Raffles Place)
Using Public Transport
Singapore's public transport system is clean and efficient, as you would expect. All ticketing for the Singapore MRT (Mass Rapid Transport) is handled by Transitlink. Ticket machines (with an English option) and booths are located at MRT stations. Single tickets cost between $1 – 2.30 SGD depending on the length of the journey and can be recharged for up to six trips in a 30 day period.
The best bet for F1 fans is to purchase a Singapore Tourist Pass which provides you with unlimited travel on public transport for one day ($20 SGD), two days ($26 SGD) or three days ($30 SGD). Get the pass from major Transitlink offices, including Changi airport. The passes include a $10 SGD refundable deposit which you can redeem within 5 days at Transitlink offices. (Please note: the passes are not valid for some late-night bus services.)
The other option is to purchase an EZ-Link or NETS Flashplay card, which cost from $12 SGD ($5 is a deposit, the balance is usable credit). The cards can be purchased at Transitlink offices and in 7Eleven convenience stores. Don't forget you need to tap the ticket reader on boarding and on leaving your train/bus so that the correct fare will be calculated and deducted – otherwise you will be charged the full fare. The cards can be topped up via ticket machines in MRT stations and at Transitlink offices.
From the Airport to the City
The fastest way to get from the airport to the city is to hop in one of the taxis which you will find in the arrivals area. The trip to the city center should take around 30 minutes and costs between $20-40 SGD depending on the time of day and traffic (an airport surcharge of $3-5 is added to the fare).
Taking the metro (MRT) from the airport is also pretty easy. Go downstairs from the Arrivals hall to the MRT station and take the train to Tanah Merah MRT station where you can connect with West-bound trains on the Green metro line and get to virtually any part of the city.
Buses are also available – bus nr 36 goes from the Terminals 1, 2 and 3 to the city center. Most downtown hotels also offer an Airport Shuttle Bus, which costs around $10 SGD but can take a while if you are one of the last to be dropped off. The Changi Airport website has good advice on getting to and from the city with the various modes of transport available – more information here.
Taxis
More than 25 000 taxis ply the roads in Singapore. All taxis are metered and can be hailed from the street or by phone. The flag fare is between $3-4 SGD and most short trips around the city centre should cost no more than $10-20 SGD, but be aware of surcharges which increase the fare (by 25% during morning and evening peak hour and by a hefty 50% between midnight-6am.) The cars are air-conditioned and the vast majority of taxi drivers are honest. SMRT runs a large taxi fleet – call 6555 8888.
Map of Marina Bay Street Circuit
Been to the Singapore Grand Prix? Give us your tips on getting around in the comments below.
Your guide to getting the most out of your trackside experience at the Marina Bay Street Circuit for the Singapore Formula 1 Grand Prix.
Tags: best way to get to marina bay street circuit singapore, entry gates to marina bay street circuit, getting around in singapore mrt, getting around singapore f1 grand prix, getting to marina bay circuit, how to use the MRT in singapore, using the MRT in singapore