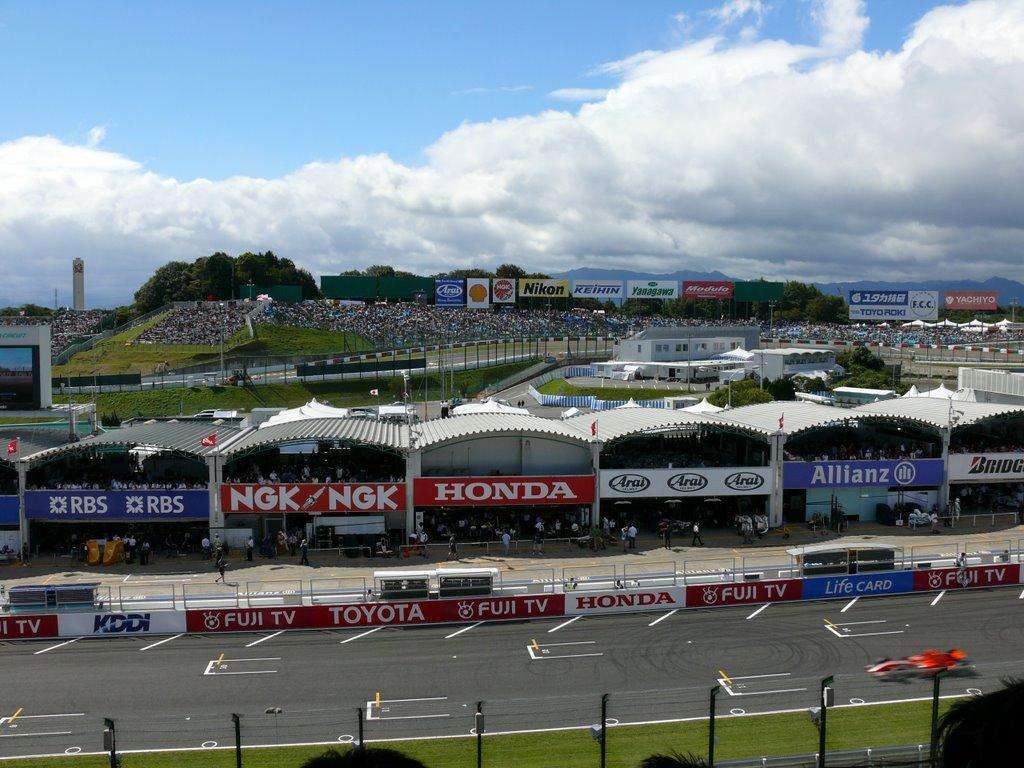 Here's the best ways to get to Japan and the Suzuka circuit for the Japanese Grand Prix. The next race is on October 6-8, 2017.
We recommend staying in Nagoya, the closest major city to the Suzuka circuit. Most intercontinental flights fly into Tokyo's Narita airport (NRT) and Osaka's Kansai airport (KIX). From Tokyo, there are domestic flights to Nagoya's airport, Chubu (NGO). Alternatively, you can make your way to Nagoya from both Tokyo or Osaka via high speed train or bus. The Suzuka circuit where the race is held is around 60km (1 hour on the train) from Nagoya.
Flights from the USA
Several airlines fly from the United States to Tokyo, with most airfares priced from $800-1500 USD.
Direct flights from Los Angeles to Tokyo or Osaka take around 12 hours. Delta, United Airlines and Japan Airlines serve these routes.
From New York, you can fly to Tokyo or Osaka from Newark, JFK or La Guardia. There are no direct flights; travel time is at least 15.5 hours.
United Airlines & Japan Airlines offer a direct route (just over 8 hours) between Honolulu (Hawaii) and Tokyo / Osaka.
Vancouver to Tokyo: Air Canada has a 10-hour direct flight to Tokyo from $1100 CAD.
Flights from Europe
Tokyo and Osaka are about an 11 hour direct flight away from most major European hubs.
From Paris, Air France and ANA fly direct to Tokyo or Osaka. Direct return flights from €1,000.
Lufthansa flies direct from Frankfurt to Tokyo and Oksa with return flights from €800 return. Alternatively, Qatar Airlines offers return flights under €700 with a stop in Doha.
British Airways, Virgin Atlantic and ANA have direct flights from London, but fares start are expensive. If you don't mind a stop along the way, Turkish Airlines has flights from as low as £500 and there are plenty of options around £600, including Emirates.
Flights from Australia
Sydney is the only Australian city offering direct flights to Japan (9.5 hours). If you are flying via other cities, expect a layover in Kuala Lumpur, Singapore, Hong Kong or Seoul and a combined travel time of 14-15 hours on average.
Qantas, Virgin Australia and Cathay Pacific have the best connections, including direct flights and short layovers in Singapore or Hong Kong. Flights from $800-1500 AUD.
AirAsia offers some one of the lowest fares from Melbourne or Perth to Tokyo / Osaka. The shortest travel time is around 15 hour with a layover in Kuala Lumpur. Prices from $650 AUD return.
Japan Airlines has flights ex Brisbane from $750 AUD, but with long Hong Kong layovers.
Getting to Nagoya
Domestic Flights: for as low as US$130, you can take a one-hour domestic flight to Nagoya's Chubu International Airport once you have reached Tokyo. The Tokyo-Nagoya route is offered by Japan Airlines and All Nippon Airways several times throughout the day. There are no direct flights coming into Nagoya from Osaka.
Trains: Tokyo and Nagoya are connected by the JR Tokaido Shinkansen. Travel times are dependent on the type of train you choose; 100 minutes on Nozomi trains, 110 minutes on Hikari trains and 3 hours on Kodama trains. For a single trip, expect to pay from approximately $85 USD. The Japan Rail Pass is valid on the Hikari and Kodama trains. You can also take conventional trains from any train station in Tokyo to any train station in Nagoya. While it is cheaper at around US$50 for a basic ticket (or just US$20 if you have the Seishun 18 Kippu), the trip require multiple transfers and takes upwards of hours.
Buses: A one way bus trip from Tokyo to Nagoya takes 5-6 hours and cost around $25 USD, check Willer Express.
How to get to Suzuka
The Suzuka circuit is located in Inou, Suzuka City, which is in the Mie Prefecture, about 30 miles (50km) south of Nagoya. It's an isolated, mainly industrial area where companies like Sharp and Honda have their factories. The best way to get to the track is to take the train. At first glance, it can appear that there is a confusing array of connections and operators for trains. In reality though, if you ask for help in getting to Suzuka Circuit, the ticket staff at the train station should be able to help get you on to the right train.
The best train to take from either Nagoya or Osaka to Suzuka is the Kintetsu train to Shiroko station. This is not the nearest station to the circuit (that would be the Suzuka Circuit Inou Station), but you won't have to make any transfers and there's English signage at Shiroko station to help you find the shuttle bus to the circuit.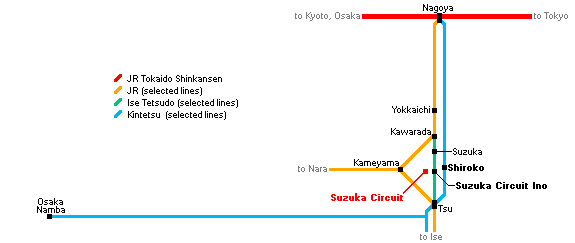 Getting to Suzuka using Kintetsu Railways
The Kintetsu Railways trains offer services from both Nagoya and Osaka to Shiroko Station, which is the nearest station on this line to the Suzuka Circuit. From Shiroko, you'll need to follow the signs to the shuttle buses, which take around 20 minutes to get you to the circuit and cost roughly $3 USD each way. The buses run fairly regularly on Grand Prix weekend (Friday-Sunday). You can pay for your ride on these trains using the Kintetsu Rail Pass.
> From Nagoya: the journey from Nagoya Station to the Shiroko Station will set you back around $14 USD for the limited express train (tokkyu) or $6.60 USD  for the express train (kyuko). A one-way trip on these trains takes 40-50 minutes and there are regular services on Grand Prix weekend.
> From Osaka: there are two hourly limited express train services from the Osaka-Namba Station to the Shiroko Station. One is a direct train between the two stations, while the other will require you to transfer at the Tsu Station. You will need to purchase and reserve your seat at least a day before you plan to travel. This ride takes approximately 100 minutes and cost approximately $50 USD for a return ticket, which you can pay by using the Kintetsu Rail Pass. Note: We don't recommend taking the slower express train service from the Osaka-Namba station. A one-way ticket is just US$14.50, but but you will need to endure a 2.5-hour train ride with two transfers along the way.
From Nagoya with Japan Railway & Ise Tetsudo
This is the less preferred option as the connections are more complicated and you have a longer walk of around 30 minutes from the train station to the circuit. A single journey between Nagoya Station and Suzuka Circuit Inou Station takes around 60-90 minutes and costs around US$9. There are several services which can get you to the Suzuka Circuit station, some of which will require a transfer (if in doubt, ask!) There are also regular express trains on Grand Prix weekend tagged as "Suzuka Grand Prix" which run non-stop between Nagoya Station and Suzuka Circuit Inou Station. Travel time is shorter (under an hour), but the price is higher at approximately US$20 each way. You need to reserve your seat on these trains at least a day in advance to be sure of a seat.
Note: You can use the Japan Rail Pass but it will only partially cover the cost of your train ride as some of the trip is on another operator's line. This means you need to pay the remaining fare i.e. US$2.50 one way for the normal service trains or US$5 one way for the limited express trains.

Japanese Public Transport
Japan has one of the most well connected public transport networks in the world, with the train being the most preferred option in most cities.  A great app to download is Hitachi's Hyperdia, which will help you find the best routes to take while you navigate around town. In smaller towns, local buses are the way to go. Click for more information on getting around in Nagoya or Osaka.
Japanese Taxis
It is easy to hail a taxi anywhere in Japan – they are safe and relatively inexpensive (especially if you split the ride with other travellers), with fares starting from US$6. They are also the only option after midnight when trains and buses have stopped for the night. While taxi fares are metered, most taxi drivers give you an estimated fare – if the meter runs over the estimate, the taxi driver will stop the meter and refuses any extra fare. You can hail a taxi anywhere but if you are calling for a taxi at a transfer point such as a train station, you should only hail a taxi at the taxi stand. Always have the address of your destination written in Japanese so that your taxi driver will be able to take you to where you want to go without any miscommunication.
Car Hire in Japan
Foreigners are generally advised against hiring cars in Japan. Even if you are used to driving on the left like the Japanese, there is a good chance you will get lost! When there are road signs, they are in Japanese kanji script. There's also traffic congestion and tolls to deal with. If you are determined to hire a car and explore more of the region around Suzuka, don't forget you will need to have a valid international driving licence with you.
Been to the Japanese Grand Prix at Suzuka? Leave a comment below with your tips on getting to the circuit!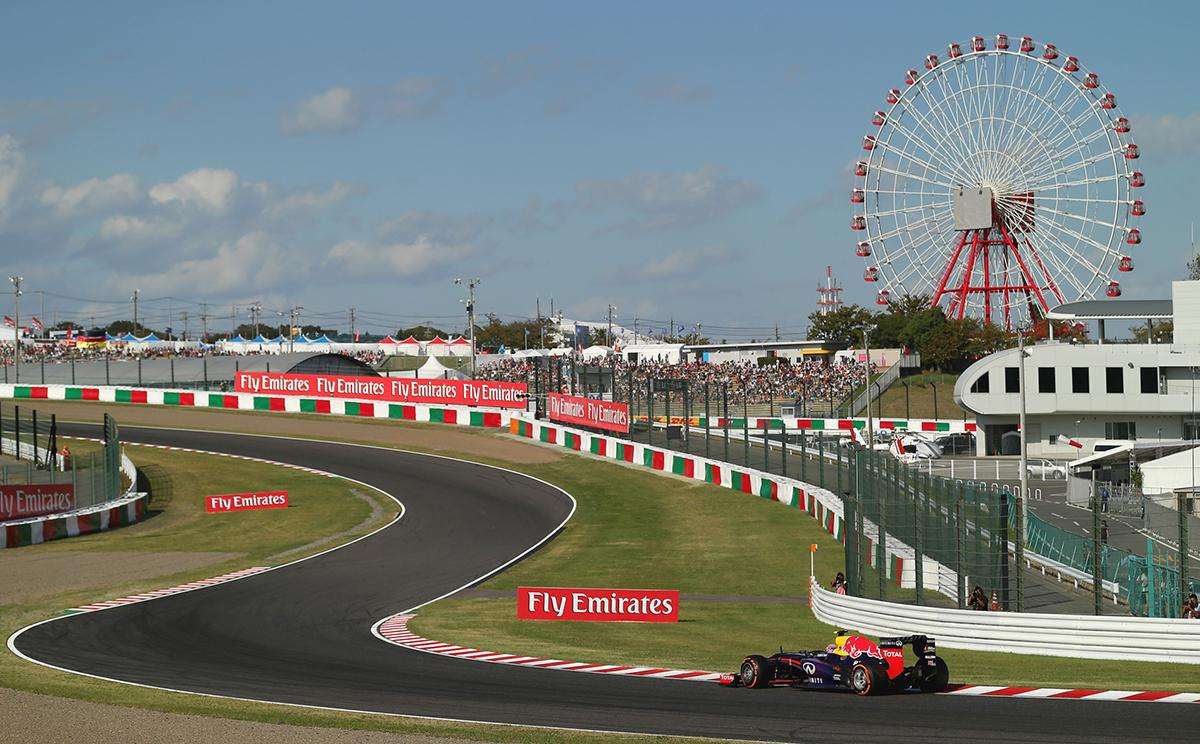 The best places to stay in Nagoya and Osaka for fans on all budgets attending the Japanese Grand Prix at the Suzuka Circuit.
Tags: getting around japanese grand prix, how to get to suzuka, how to get to suzuka circuit japanese grand prix, japanese grand prix getting to the track, japanese grand prix transport, suzuka circuit train, trains to suzuka