How to get to
São Paulo for the Brazilian Formula 1 Grand Prix, plus the best ways to get to

the Interlagos circuit. The next race is on November 10-12, 2017.

Alice West attended the Brazilian Grand Prix in 2013.

Being the biggest city in all of South America let alone Brazil, São Paulo has several airports. Its main hub is Guarulhos (GRU), while the second-busiest is Congonhas (CGH) and Viracopos (VCP) is the smallest and lesser-known airport of the three. Wherever it is you're flying in from, you're sure to find a flight option that suits your dates and your budget. Fancy making a holiday of it? Why not fly onward to Rio de Janeiro for a week on the beach after your F1 weekend? It's just an hour's journey by air from São Paulo.

When it comes to getting around in São Paulo, heavy traffic and big delays are a way of live, despite the government's best efforts to reduce the number of cars on the congested roads. For this reason, it's worth trying to avoid arriving in São Paulo during rush hour. Landing in the small hours will mean a far speedier journey to your hotel.
Flights from the USA
Several airlines fly direct to São Paulo from the USA, with prices starting under $900 return flights. The best value carriers are Azul, LATAM, Avianca and Copa Airlines, which all offer lots of connections and the most competitive prices. Azul offers flights from Orlando to VCP for around $850 return and Avianca has the best deals for fans flying from New York. Copa Airlines serve much of the west coast with reasonably-priced flights to GRU, all with stopovers but mostly for under $600 return.
Flights from the UK
Brazilian national carrier LATAM operates non-stop flights to São Paulo Guarulhos from the UK, as does British Airways. LATAM's fares looked significantly cheaper than BA's at the time of writing: £580 return from London Heathrow, versus around £800 with BA. Slightly cheaper flights can be booked with Portuguese carrier TAP (via Porto) from under £500 return. As always, it pays to get ahead of the game and get your seat booked well in advance as prices rise closer to race weekend.
Flights from Europe
LATAM operates non-stop flights to GRU from Milan from €600, whilst Air France offer slightly cheaper options with stopovers. You can fly direct from Paris to São Paulo with LATAM for around €600 return, with several other airlines offering cheaper fares with a layover. Those travelling from Munich can fly with Brazilian carrier Azul to Viracopos for just under €600, whilst Turkish Airlines fly from several European cities to Guarulhos for around €600 return via Istanbul.
Flights from Australia
Return flights from Sydney to São Paulo for Grand Prix week cost upwards of $1350 AUD and most airlines stop twice en route. Flying from Melbourne tends to be cheaper, with Etihad flights costing upwards of $1100 – though the cheaper flights usually involve two stops en route. Flying in from Perth usually means just one transit stop, and flights start at AUD 1100 with Etihad offering the lion's share of the flights.
Domestic flights within Brazil
Sao Paolo's largest airport Guarulhos (GRU) is also a major hub for domestic flights to some of the biggest destinations,  including Galeao International Airport (GIG) in Rio de Janeiro. Other popular destinations include the capital Brasilia, the only city worldwide built in the 20th century to have world heritage status, Manaus (gateway to the Amazon), Recife and Fortaleza. The best airlines for in-country travel in Brazil are Avianca, Gol and LATAM.
Getting Around
São

Paulo

If you don't want to get stuck in the city's terrible traffic jams, then public transport is the way to go, especially the metro. Buy yourself a Bilhete Único smartcard which is used for paying bus, metro and train fares. Issued at underground stations, these cards can be topped up at supermarkets and newspaper stands – just look for the logo. Generally, a three-hour period of travel costs about BRL 3.50 (just over $1 USD) with one of these cards. Click here to learn more.
Getting to Interlagos

Taking the metro is undoubtedly the safest and cheapest option for getting to and from the track, provided you keep your wits about you and remember the basics (don't flash your cash, keep your bag where you can see it). Armed with your trusty Bilhete Único, you can take the metro from virtually anywhere in the city to the Autodromo metro station in Interlagos, which is just 600 meters (walking uphill) from the track entrance. Allow around an hour to travel from Vila Madalena and 45 minutes from Pinheiros, plus walking time. Be warned that the road from the train station to the track borders a favela, so always walk within a group and never stray from the populated areas. Several bus lines also serve the circuit; click here for a full list. Check the subway map opposite: the Autodromo stop is near the southern terminus of the light green Line 9 (Esmeralda)
Aiport to City
From Guarulhos (GRU) airport: use Uber to book a taxi from the airport, or use one of the Guarucoop cabs waiting outside the terminal, which can be prepaid. Expect to pay between 100-150 BRL ($30-45 USD), depending on your final destination in the city. Be warned that the journey from GRU to Centro can take anything from 45 minutes to three hours. Shuttle buses run between Guarulhos and various city destinations and metro stations, costing around 40 BRL ($12 USD) one way. Other buses (257 and 299, for example) also shuttle passengers from airport arrivals to Tatuape metro station, which takes you into the city. LATAM and Azul passengers can jump on a complimentary airport shuttle bus to Congonhas airport, which will bring you much closer to the city center.
From Congonhas (CGH) airport: located just 14km (9 miles) from the city and a similar distance from the Interlagos circuit, there plenty of buses running from CGH airport to central locations like Paulista Avenue for as little as BRL 4 (just over $1 USD). Airport buses also travel to metro stations like São Judas and Conceição, which will skip the traffic jams and speed you into the city. Likewise, taxis are plentiful but try to get an idea of what the traffic is like before you commit to a taxi ride. It might be better to head for the metro.
Been to Interlagos? Leave a comment and tell us your tips on getting around in São Paulo.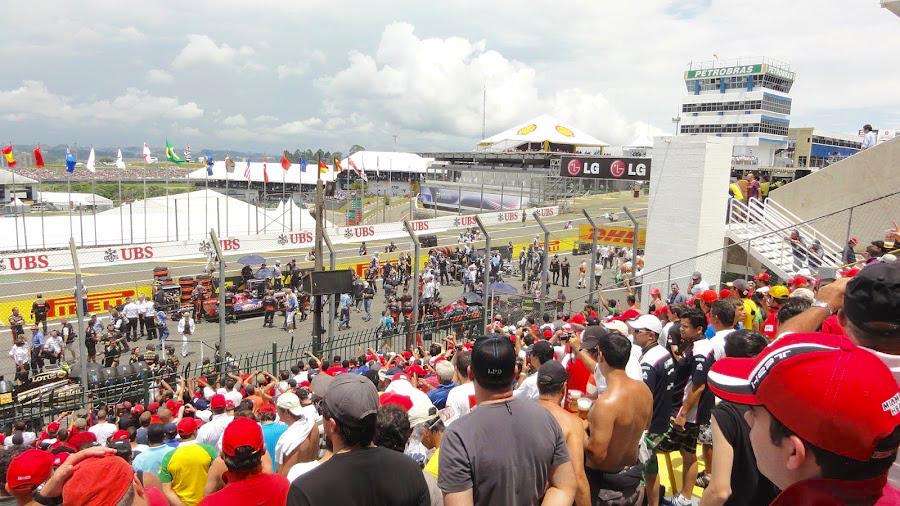 Your guide to buying tickets and the best places to watch the action at the Interlagos circuit for the Brazilian Formula 1 Grand Prix. This year's race is on November 10-12, 2017.
Tags: best way to interlagos, flights to brazilian grand prix, getting around sao paulo, getting to interlagos, getting to sao paolo, how to get to interlagos, metro station interlagos circuit