2018 F1 Calendar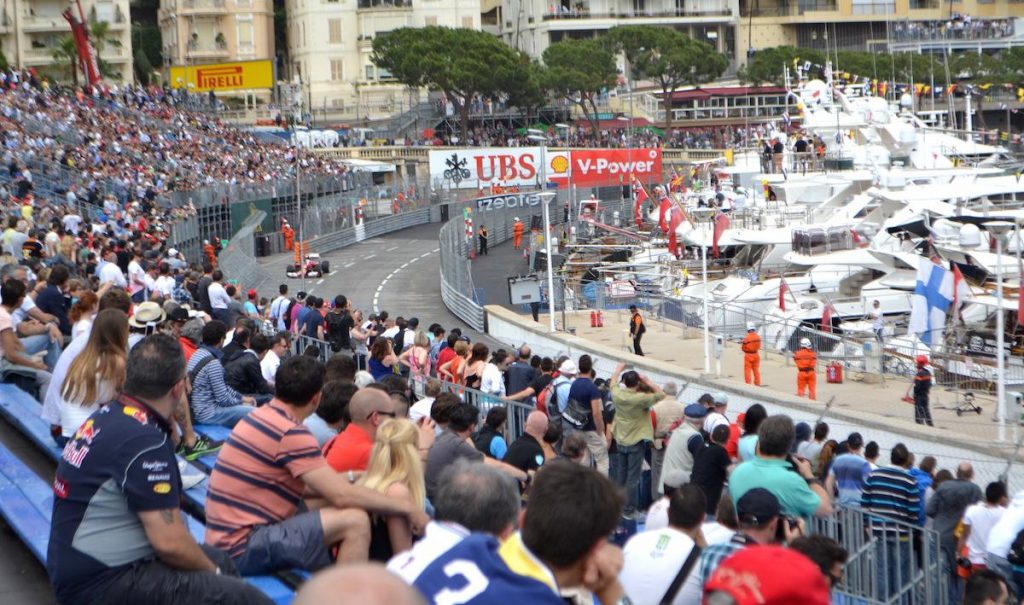 Start planning your 2018 F1 holiday
Note that 2018 dates are provisional until confirmed by the FIA in late 2017. Your tickets will be valid even if the event date changes, but be careful with booking other travel arrangements that cannot be changed or refunded.
Click here for more information about the 2018 Formula 1 calendar.
Where to buy F1 tickets
After you have decided to go to a race, choosing which ticket to buy – and from where to buy it – is one of your key decisions. Some race organizers handle their own ticket sales via an official channel (e.g. the circuit website), while others outsource to ticket agencies. The quality of customer service, information on available tickets and purchase process can vary in efficiency, depending on the destination.
The Formula1.com website also offers tickets, but they are generally overpriced and you are normally better off buying from an established F1 ticket agent. You will pay a small premium over the official ticket price, but with better customer service and a more personal touch. You can also purchase tickets for multiple races from one source and build a long-term relationship.
We've co-operated with several of the biggest and most reputable F1 ticket companies, all of whom supply tickets to all the races on the current Formula 1 calendar. For 2017, we are working solely with Gootickets.
Gootickets is part of the Platinium Group, based in Monaco. As well as offering tickets to all current F1 races, Platinium's technology powers the ticketing solution for F1.com and for several races on the current calendar. They have been around for years (previously as Global Grand Prix) and also offer MotoGP, the ATP tennis and Motocross tickets.
General advice on buying Formula 1 tickets
Buy in advance! For most races, it's possible to take advantage of 'early-bird' discounts (normally 10-30%) on F1 tickets when you purchase well ahead of time. At some events, the best grandstands also sell out well before the race, providing another reason to buy as early as you can. The Formula 1 calendar normally gets finalized for the new season at least 4 months before it gets underway (in December of the previous year), though some tickets go on sale up to a year in advance.
Most fans purchase a ticket for the whole event (Friday-Sunday), which includes two F1 practice sessions on Friday, a third practice session and qualifying on Saturday and the race on Sunday. If you are restricted in either budget or time, it is possible to purchase either one day or two-day (weekend) tickets for most races on the current calendar.
> General Admission Tickets
On a budget?  General admission tickets are the cheapest type available. They do not provide you with your own seat, just the right of entry to most parts of the circuit. The quality of general admission entry to races around the world is varied. Some races offer excellent raised viewing areas and bench seating, whilst others provide little in the way of either vantage points or creature comforts for fans. If you are buying a general admission ticket, be ready to walk a lot over the weekend. A certain level of general fitness is required, not to mention a comfortable pair of shoes.
> Grandstand Tickets
Each race has a variety of different grandstands scattered around the track to choose from. Some grandstands are covered and provide protection from either the rain or the sun, whilst others are exposed to the elements – prices will reflect this. A good rule of thumb is to try and get a seat higher up in the grandstand – your view is likely to be more panoramic and less obstructed by the high trackside catch fencing. Even if you have bought a grandstand seat, you are also granted access to general admission viewing areas around the track. Many fans only use their seat for qualifying and the race itself, spending the rest of the time checking out the action from different vantage points around the circuit. Some races – Australia and Canada, for example – offer grandstand ticket options which provide you with seats in different grandstands on each day of the event, a good choice if it's your first visit to a race.
> Pit Straight Grandstands
Every F1 race has large grandstands situated on the pit straight, which overlook the start/finish line and the team garages. You won't see much on-track action, but it is a great spot to immerse yourself in the world of Formula One. You will also be in a prime position to watch the race build up, start and podium celebrations at the end of the race. As a rule, the seats closer to the start/finish line will be more expensive than those further away. But a good option is to consider seats that offer a view of both the first or last corner and the pit straight.
> Paddock Club / VIP Tickets
Tickets for the Paddock Club access are the most expensive available on offer and are generally bought by sponsors to entertain their clients, and high net worth individuals. The Paddock Club is located directly above the pits, providing an excellent view of pit activity, pit stops and the start of the race. Along with free catering, Paddock Club pass holders are also entitled to pit-lane walks and access to the support race paddock. Private suites (corporate boxes) are also available at most races. If budget isn't a concern, this is the way to experience the glamour of F1 and perhaps meet a celebrity or two. Be ready to spend around $5000 USD for a weekend ticket.