Use our Budget Planner to estimate the cost of your F1 weekend at the Malaysia Grand Prix. The next race is on September 29 – October 1, 2017.

Malaysia offers some of the cheapest F1 tickets on the current calendar and Kuala Lumpur is an affordable city by global standards with excellent cuisine, hotels and shopping. Local prices have increased a little in recent years, notably for race tickets and the fast train from the airport/circuit to the city, yet the Malaysia Grand Prix remains extremely cheap when compared to other F1 races. International fans also benefit from recent weakness in the value of the local currency; the Malaysian ringgit (MYR) has fallen around 10-15% against major currencies in the past 2 years.
All photos © F1Destinations.com. The Editor attended the 2015 Malaysia Grand Prix at Sepang. Average costs are per person based on a stay of 3 nights in Kuala Lumpur with race ticket, accommodation, train to the circuit and spending money. The prices do not include air travel (or other travel costs) required to reach Malaysia.
Cheap Charlie
Weekend cost approx 839 MYR ($189 USD)
3-day covered C2 Hillstand ticket = 114 MYR
Budget hotel in KL for 3 nights  (double/twin share) = 225 MYR per person
3-day KLIA express train ticket (to get to Sepang and back each day) = 200 MYR
Daily budget =  100 MYR x 3
The Cheap Charlie stays in a hostel, buys the cheapest weekend ticket (General Admission),  takes their own food and drink to the race, doesn't drink alcohol trackside and either makes their own food away from the track or eats at budget restaurants such as McDonalds. If possible, the Cheap Charlie will look to eliminate the cost of accommodation altogether and either stay with friends or couchsurf.
Average Joe
Weekend cost approx 1938 MYR ($438 USD)

3-day Main Grandstand ticket  = 613 MYR
Mid-range hotel in KL for 3 nights (double/twin share) = 525 MYR per person
3-day KLIA express train ticket = 200 MYR
Daily budget = 200 MYR x 3
The Average Joe buys a low to mid-range Grandstand ticket for the weekend, stays in a 3-star hotel or apartment, buys food and drink trackside, and can afford a reasonably priced restaurant meal at night as well as a few drinks at the pub. Average Joe's budget doesn't stretch to anything more than the cheapest of the merchandise items on sale at the track.
Extravagant Eddie
Weekend cost approx 4185 MYR ($946 USD)

3-day Team Tribune ticket = 1335 MYR
Five-star hotel in KL for 3 nights (double/twin share) = 1200 MYR per person
Daily return taxi to Sepang: 150 MYR x 3 = 450 MYR
Daily budget = 400 MYR x 3
The Extravagant Eddie buys the most expensive Grandstand seat on offer, stays in a decent hotel and goes out to some of the city's best restaurants and clubs. They will take taxis rather than public transport and spend up big on merchandise at the track. They may risk blowing their budget with a trip to the trackside Casino.
Click here for a breakdown of the average daily tourist costs in Kuala Lumpur. How much did you spend on your weekend at the Malaysia Grand Prix? Leave a comment below.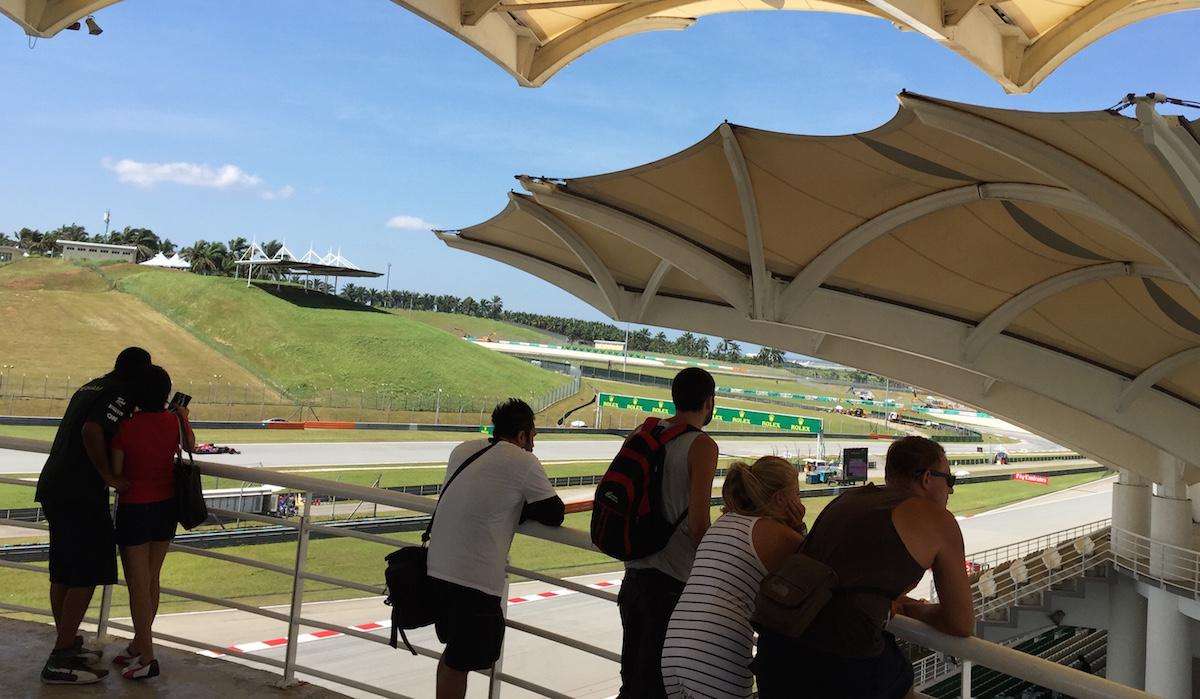 Your trackside guide to the Sepang International Circuit (SIC) for the Malaysia Formula 1 Grand Prix.
Tags: budget malaysia f1 weekend, budget malaysia grand prix, cost of going to malaysian grand prix, cost of malaysia grand prix, malaysia grand prix prices, sepang f1 cost