Editor
Andrew Balfour is the Founder and Editor of F1Destinations.com. He originally hails from Adelaide, where he went to his first F1 race way back in 1987. He's been resident in Europe for almost 15 years and travels regularly to F1 races around the world.
Editor's Latest Posts
Test your knowledge of Circuit Paul Ricard and the French Grand Prix in our new F1 travel quiz!
Your trackside guide to Circuit Paul Ricard for the upcoming 2018 French Grand Prix on June 21-24.
Igor Rabelo from Cubatão, Brazil tells us about his first "in loco" F1 experience at the 2017 Brazilian Grand Prix.
How well do you know Montreal and the Canadian Grand Prix?
Hungarian F1 journalist Károly Méhes remembers his first race outside Europe, the 2007 Canadian Grand Prix. As well as witnessing Lewis Hamilton's first win (and Robert Kubica's big crash), the trip was also a personal pilgrimage to mark the 25th anniversary of the death of his childhood hero, Gilles Villeneuve.
Useful information to help you plan your weekend at 2018 Canadian Grand Prix weekend at Circuit Gilles Villeneuve, including the full on-track schedule.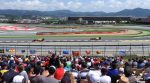 Your guide to buying tickets and watching the action at Circuit de Barcelona-Catalunya for the 2019 Spanish Formula 1 Grand Prix
Your guide on buying tickets to the 2019 Chinese Formula 1 Grand Prix at the Shanghai International Circuit.
Advice on buying tickets to the 2019 Azerbaijan Formula 1 Grand Prix at the Baku City Circuit.