From trackside camping to five-star hotels, here are the best places to stay in Budapest for the Hungarian Formula 1 Grand Prix. The next race takes places on July 28-30, 2017.
Support the future development of our site by reserving your accommodation with our partners Booking.com via the links on this page. You won't pay more!
Budapest offers accommodation to suit all budgets. Even on Grand Prix weekend the city offers exceptional value for a European capital city. The Hungaroring circuit is located around 12 miles (20km) northwest of the city center. Unless you have decided to camp at the circuit, we recommend staying downtown where there is lots to do and see.

Hungaroring Camping
Fans from all over Europe make the annual pilgrimage to the Hungaroring, and many of them choose to camp next to the circuit.  The atmosphere is excellent, though it can be rowdy and drunken at times. If you have small children or know that you need a good night's sleep, you would be better off choosing alternative accommodation in Budapest. Our pick of the camping at Hungaroring is Zengo, the only permanent campsite next to the track.
Accommodation in Budapest
> Hostels: If you are on a budget, there are plenty of well-rated hostels in the center of the city, most of which are close to the metro and offer decent access to the circuit. Dorm beds generally cost around €15-20 per night.
> Apartments: Renting an apartment for your stay in Budapest is also worth considering, particularly for a family or group of friends who are keen to keep costs down. Most apartments range in price from €80-120 per night for a studio or one-bed apartment suitable for two adults, up to €150-200 per night for larger two-bed apartments which will sleep 4-6 adults.
> Hotels: Budapest has a decent selection of hotels at prices a fraction of what you would pay in Western Europe. Even on Grand Prix weekend, the prices for visiting F1 fans are still competitive. Not too many F1 destinations offer such great value.
Below you will find our recommendations, arranged in order of prices from cheapest to most expensive. The majority are on the flat Pest side of the city, but pretty Buda also offers good access to the circuit, particularly if you get a hotel near a stop on the Western end of the red Metro line.
Budapest Budget Hostel
Quiet neighborhood close to the city center and Metro, right next to the Danube.
Clean, non-smoking rooms with free WIFI. 24 hour reception, common kitchens on each floor.
Single dormitory bed for €20 per night.
Reserve on Booking.com
Wombats City Hostel
A large, modern hostel with a funky design and central location. Aircon, modern shared kitchens and comfortable common spaces.
Bed in 4-6 bed mixed dormitory for €20 per night.
Reserve on Booking.com
Híd Hotel
A cheap and cheerful choice close to the Metro and not far from the city centre.
Basic but clean rooms with flat-screen TV and satellite channels
Non-refundable double room from just €30 per night, triple rooms also available.
Reserve on Booking.com
Danubius Hotel Budapest
Unique communist-era circular tower hotel on the Buda side of town, close to Castle district.
Close to Szell Kalman teri Metro station. Travel to the other end of the line (30 minutes) for trains to Hungaroring.
Double room from €44 per night.
Reserve on Booking.com
Mercure Budapest Buda
Right next to the Déli pályaudvar metro station on the Buda side of the city, close to the castle district and within walking distance of the chain bridge.
Free WIFI and air conditioning in all rooms.
Standard double/twin room from €63 per night
Reserve on Booking.com
Ibis Budapest Centrum
Next to Kalvin ter metro, an excellent central location close to many bars and restaurants.
Decent sized rooms with air conditioning, satellite TV and free WIFI.
Standard double room from €92 per night.
Reserve on Booking.com
Kempinski Hotel Corvinus Budapest
Modern five-star luxury in downtown Budapest.
Large well-appointed rooms with nice views of the park, city or Fashion street.
Indoor swimming pool.
Superior double/twin from €180 per night.
Reserve on Booking.com
Corinthia Hotel Budapest
Famous landmark hotels, located within reach of many of the city's best sights.
Beautiful indoor swimming pool, two restaurants.
Large air conditioned rooms with free internet (wired and WIFI) and satellite TV
Superior double/twin from €185  per night.
Reserve on Booking.com
Where do you like to stay for the Hungarian Grand Prix? Leave a comment below.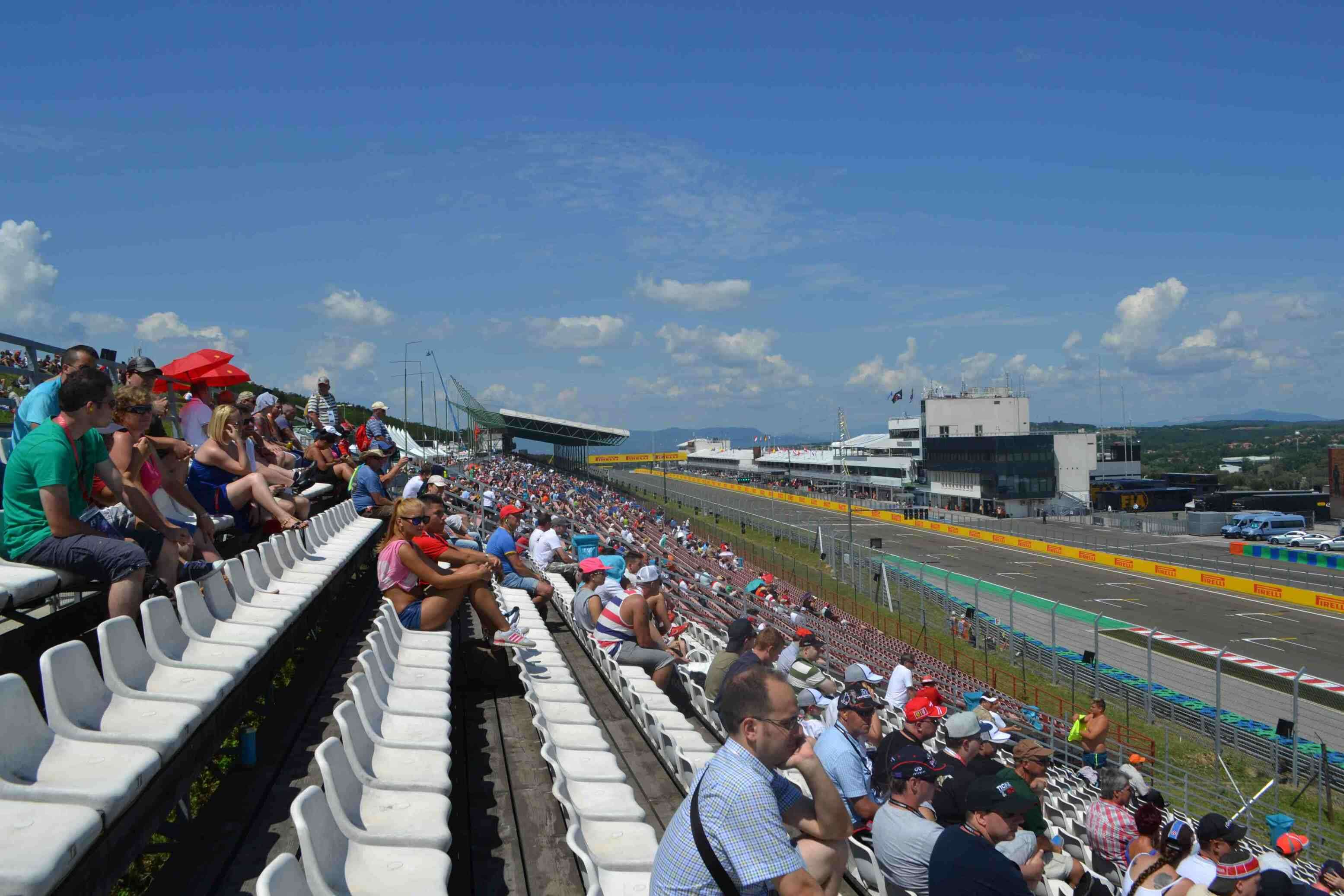 Learn about the trackside experience at the Hungaroring circuit for the Hungarian Formula 1 Grand Prix
Tags: cheap hotels for grand prix budapest, f1 hotels budapest, formula 1 grand prix hotels budapest, grand prix accommodation budapest, grand prix hotels budapest, hungarian grand prix hotels, hungaroring camping